Every year, beginning in mid-February, thousands of farmers, wine makers, cheese makers, sausage makers, and an arks'-worth of animals, makes it way to Paris for the annual Salon de l'Agriculture. The salon began in 1870 in a country that was, and still is, justly fond of its agriculture, which is celebrated on tables, in steaming cauldrons, on picnic blankets, in restaurants, and ready-to-slice on cutting boards, all across France.
The best of France converges on Paris and last year, there were nearly three-quarters of a million visitors, filling up the massive, grand halls of the Porte des Versailles, on the edge of Paris.
There are exhibitors from twenty-two countries in addition to France, as well as foods from tropical French regions. And four thousand animals are trucked to Paris from the provinces to bring the taste – and smell(!) – of the country, to Paris.
Like many agriculture fairs, there are competitions, too, honoring everything from the liveliest livestock to the best wines in France. But to me, it's really an astounding place to enjoy the best of France in one hectic visit. However, it's impossible to see it all in one day unless you have the stamina of one of those massive bulls in the pens, or the men who stir (and stir and stir and stir) the giant pots of cheese and potatoes.
When we first entered the main building, happy to escape the drizzle outside, the windows weren't steamed up from the humidity of the rain, but from the arôme of the animals and their, um, by-products.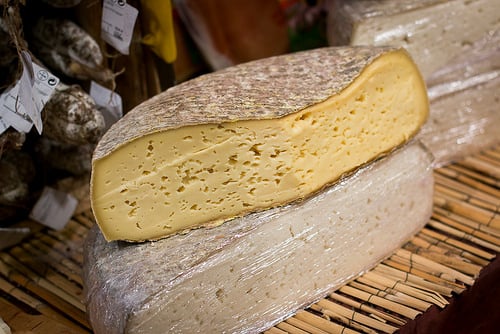 Fortunately the smell doesn't permeate the food hall where we spent most of our day. My friends Susan Loomis and Kate Hill both came from their homes out in the country to visit the salon, in the city, which sounds odd – but on the other hand, who doesn't want a trip to Paris?
And another reason is that there are foodstuffs, not just from across France, but there are entire sections devoted to the overseas regions of France, such as Martinique, Guadeloupe, and La Réunion. And you rarely, if ever, see any of these fruits – even in Paris. I was tempted to swipe some but I've caused enough trouble around here, so I enjoyed everything from a distance. But man, I could imagine all the wonderful sorbets and ice creams I could churn up with some of those fruits and berries. I'm thinking my next trip should be to one of those islands.
Susan got stuck in one of those infamous traffic jams surrounding Paris and while we were waiting for her to arrive, Kate and I both had the exact same thought when we passed a booth/bar offering glasses of rhum vieux (old rum) – "Why not?"
(Note: When I downloaded the picture of my glass after I got home, couldn't tell if it was the bar, the glass, or me, that was tilted!)
Since the Salon de l'Agriculture takes place during a school vacation period in France, I was expecting it to be mobbed. Yet it was pleasantly walk-able and people were well-behaved and having a good time; no one was grabbing at the samples they were handing out. (That's the number-one reason I avoid events with samples of free food, as they seem to bring out the worst in people.) The exposants were super friendly as well, more than happy to hand out samples, explain what they had brought, and if you wanted something, they were delighted to sell you some to take home.
I like when there are tastes, yet if you want more, you can buy a larger portion. That way, you get to truly enjoy the food. (I find those grain of rice-sized samples of anything  impossible to taste, and am happy to spring for a little bit more, and let the producers profit from the event as well.) Midway through the salon, I  wished that I had brought my wheeled trolley, because there was so much stuff I wanted to buy – from jars of dark chestnut honey to massive slabs of Cantal cheese (cut from the wedges, like the one up above), which I had to resist. So I had to get my fill while I was there.
Visitors from the U.S. are often surprised when they aren't offered samples when shopping in food stores in France. One reason is that it's hard to lop off a sliver from a round of camembert because who is going to buy a disk of cheese with a piece taken out of it? (Although you probably would, once you tasted that little bite taken from it.) When you see me in person, I can explain some of the other reasons.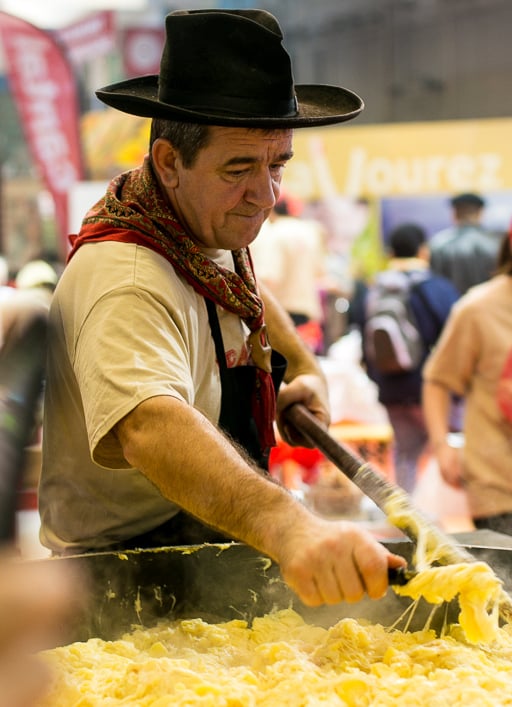 But at the salon, people were begging us to try their foodstuffs. (Who says the French aren't entrepreneurial?) And folks from other countries, with other customs, were happy to have a chance to show off their wares in Paris as well.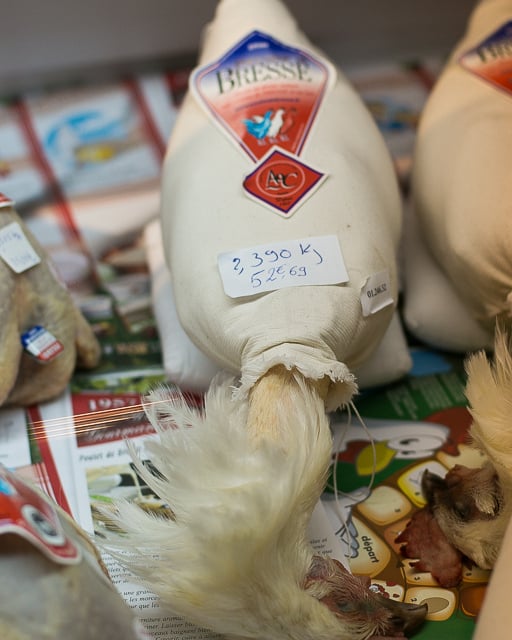 I should probably say that with 1054 exhibitors, if you can visit them all, you're a better man than I. Or, if you're a woman, you're a better woman than Kate or Susan.
There was everything, including the famed Bresse chickens, the only chicken in France with a special designation of origin and appellation, sometimes sold with their plumage still attached. Dark, wrinkled, yet highly fragrant vanilla beans from Madagascar were offered in packets. And mountain cheeses that just go by the name "tomme" were stacked everywhere.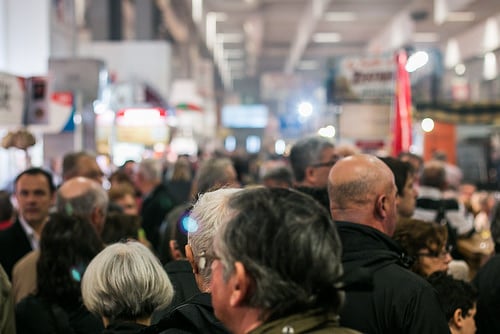 In spite of the large number of people, everyone was  happy to chat and joke around with us, as they encouraged us to try everything. And I always wish I had time to visit the other regions in France more often, to meet the people. Of course, when the vendors heard our American-accented French, they would invariably ask "Vous êtes d'ou?"("Where are you from?") And they were always delighted to meet us and happy that we were enjoying what they made.
With thousands of cheeses and meats surrounding you on all sides, with the smells wafting forth as you walk by each stand or restaurant, you start to get a little discriminating. However, I would say that it was pretty easy to pass on the âne (donkey) sausage – and yes, I've had it before, thanks.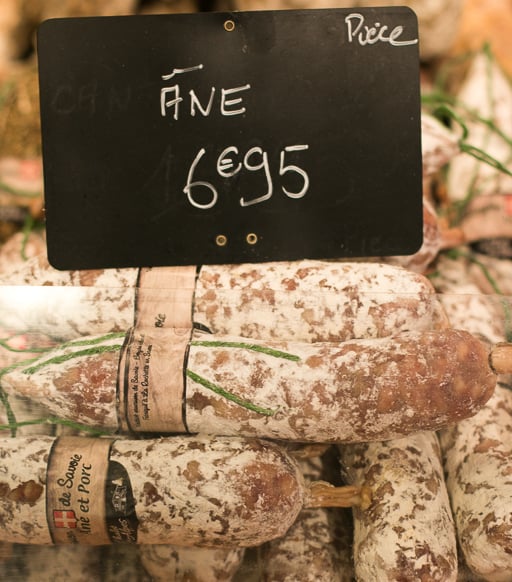 Le top du top cheese that I had was a blue called Montblueut. The women who made the cheese led us through a tasting of their blue cheeses and when one of them cut into the ashy round and showed me the creamy interior oozing forth and smeared some on a baguette, I knew one of those babies was coming home with me.
I knew I'd never see one again, unless I went to visit them in the mountains (or wherever they make their cheeses) so was happy to put the smooshy disk in my backpack to have for the weekend. (Fortunately it survived the smooshy-crowded métro car that took us home.)
I don't to be redundant about all the cheese and meats, so it's nice to know that Alsace was well represented with salty pretzels and yeasted, almond-studded kugelhofs.
And beer, of course.
A refreshing break was in order, and we stopped for an excellent little pot of ice cream from Alpérel, which lived up to its name, having been churned up in the alps  of the Haut Savoie. The nice fellow at the counter actually made me taste three different flavors before I decided. He said that that was the right order – taste first, then buy. (In Paris, it's the other way around!..but I didn't tell him that.) The jolt of café express was exactly what I needed to keep going. Although I could have used a seat – because of my advanced age – though there were people a lot older who were making it through just fine. So we carried on…
Well, until we stopped for cannelés from Bordeaux…
…and slices of gâteau Basque, one of my favorite desserts, which were brought to us along with tiny cups of anise-flavored Basque liqueur made with sloe berries.
I loved the crinkly little chiles that were probably fiery-hot.
We had crêpes made with banana flour and cane sugar.
I saw colorful (alcohol-enriched) elixirs called "punch," and vinegars made from bananas and sugar cane. And there were bottles of dark chocolate liqueur.
Finally, we decided that it was time to sit a spell and have something more substantial rather than just grazing around, like the cows downstairs. Many of the various regions of France set up restaurants, serving their regional specialties. The Bistrot Parisien was offering up that beloved, classic Parisien dish….
..les burgers.
In purple, of course.
I passed, but was happy to see just next to the Bistrot Parisien, a team of multigenerational bakers working bread ovens, under the Couou? Tu as pris le pain sign ("Hello? Did you get bread?"), and is part of an initiative started by French bakers to get more French people to eat bread, to curb the supposed decline in bread consumption.
I don't know about that. I suppose in other parts of the country, where there are fewer bakeries, that is likely the case. But there are five bakeries within a one block radius of where I live and each one has a line out the door from the moment it opens – even the two bakeries that aren't very good. (I always want to ask the people who get their bread at those not-great bakeries why they prefer it to the very good bread made at the others.) The other day a man in front of me at the (good) bakery asked for his baguette bien cuite, or "well cooked," which is how I like mine, too. I asked for one right after he did and he turned and pronounced, "Je deteste la baguette blanche!" ("I hate white baguettes!")
For those who think French people don't work hard, and long hours (and retire early), you're obviously not looking at their food industry. While many of their contemporaries are likely on vacation somewhere warm and sunny, these young and old fellows were doing what they do best – making bread. The equipe (team) was a little beehive of activity, pulling baguettes out of the oven (which you could hear crackle as they cool – I love that noise), folding batons of chocolate into pastry for pains au chocolate, and rolling up buttery dough into croissants. I wanted to jump in and join them.
Look. I like burgers. And I like Paris. (And I'm starting to not mind all the purple here.) But I was much happier to see the stacks of beautiful, simple sandwiches these fellows were putting out, stuffed with cheese and jambon de Paris, on the freshest, tastiest bread you can image. I don't need anyone coucou-ing me to come and get it, thankyouverymuch.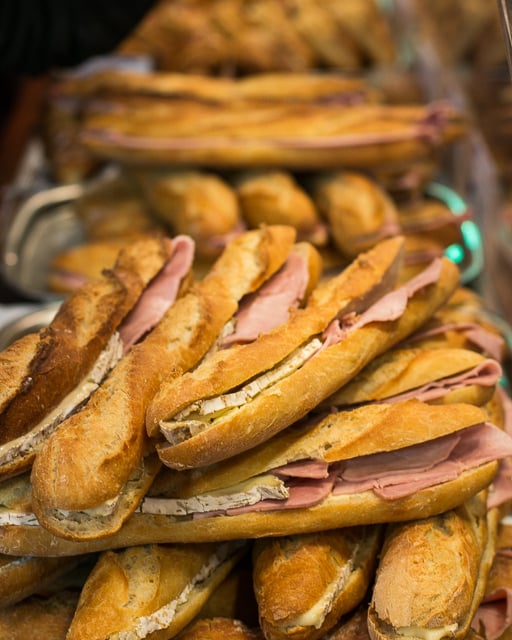 Still, I guess the lure of le sandwich américain was too great for a few. *Le sigh.*
We couldn't find a place to sit as all the restaurants were jam-packed, so we kept moving. As we continued to walk, I saw these gâteaux made with peau de lait, or milk skin. Which kind of resembled les pancakes.
Traditional Hungarian specialty Kürtőskalács resembled nothing I'd ever seen before.
When I asked the woman handing out tile-like samples if I could take a picture, she looked at me, surprised, and said "Why?" Perhaps because they are so common, the idea of taking a picture as a souvenir is unthinkable? Either that, or she doesn't have a blog.
I did like the toaster that they rigged up to make them, with spinning rolling pins they wrapped to dough around, to bake the pastries.  But I was pulled away by the wall of hams at the next stand.
And these are not just any hams. These are noir de Bigorre, a breed of jet-black pigs that make the best ham you can imagine. (They carry it in Paris at Terroirs d'Avenir.) And they were kind enough not to put these hams in the same area where the pigs are running around, which they do with some of the other charcuterie/animals.
Even though (I thought) we had reached our capacity for charcuterie, it was hard to pass up the marvelous hams from Portugal, which you don't see often outside of their country, since they don't get the press of their Spanish or French counterparts.
One was particularly pretty, a mosaic of meat and massive chunks of pork fat.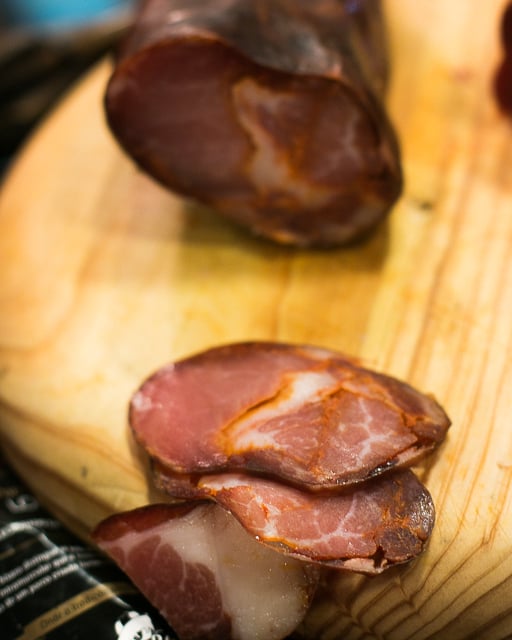 I'd never had smoked lamb neck (above), and, well,  there was no time like the present to try it. (It was great.)
I was also taken by the Portuguese cheeses, many of which are unknown outside of their country.
And if this queijo de ovelha, made from sheep's milk, in any indication, I'd love to change that.
And there were the Swiss, scraping up ruffles of Tête de moine, a squat cheese which is said to resemble a monk's head. I've heard a few stories about how it got its name and my favorite is that, at the time, people weren't enamored of paying taxes levied by the monks, and showed their displeasure by grinding down the têtes of the monks.
And it wouldn't be Switzerland without gooey fondue! I like how focused she is, creating each taste with the precision of a Swiss watchmaker.
On the way out of the food hall, we swung by the nougat de Montélimar stand
I love nougat, perhaps more than anything. Except after this salon, rhum vieux. Although nougat will always be a close second.
I thought how great this Salon would be for visitors to France because you can taste the best of the entire country in one giant hall. (Susan said that folks should plan a trip to France just around it.) And we had a hard time leaving. Not because we wanted to stay and continue tasting: We spent nearly 20 minutes trying to find the exit. And we weren't the only ones; nearly everyone else was looking for it as well, walking around in circles, walking into each other, trying to find the sortie.
A lack of exit signs notwithstanding, plus a few garbage cans here and there that would have been great for tossing the cheese rinds into, (and working escalators), it's a pretty sensational event and one that even the President of France attends.  And even though it doesn't always work in their favor, it's politically imperative to make an appearance for candidates, who work their magic (well, some…) with the crowds, and their photo-ops with all the cows, goats, and cheeses to show they are really a man or woman of "the people."
In the end, we never had the chance to have a full plat. But having had our fill of everything, it may have been for the best as I don't know if we had the fortitude to face a steaming platter of Tartiflette, the tummy-stuffing dish of sliced potatoes with cheese gratinéed over the top.
Yet it was nice to see fresh French bread celebrated…
And although not everyone shares my love of Sauternes or Barsac, I could have spent the day tasting these syrupy, gorgeous wines…
…which are made from grapes left to rot on the vine, where the funky noble rot  gives them their exquisite flavor. And some – like Château d'Yquem – are considered the finest, rarest wines in the world. I couldn't find their stand handing out free samples, but there were plenty of others.
But, pas de tout! – you don't need to be a snob to enjoy French wine.
And because I couldn't resist, here are a few parting shots…including a low-carb potato sandwich on a baguette…
…and one with foie gras poking out the sides, c'était super!….
…which came with a free glass of wine. Because everyone knows that you can't eat foie gras without drinking wine.
And there were lobes of foie gras to take home.
Well, at least back home in France.
The salon is a good place meet up with a friend for a glass of Alsatian wine, served in traditional Alsatian wine glasses.
Lunch is served all day long. And if you have more fortitude than we did, you can squeeze into the full restaurants with everyone else.
With am emphasis on the word is "full" because "hearty" doesn't even begin to describe the food.
The lightest thing I saw was this meaty salad. The heaviest dish was the result of the men stirring  big pots of aligote, a mélange of potatoes and cheese, often with a little extra crème fraîche added to enrich the whole thing (as if it needs it!), then stirred, pulled, and stretched dramatically, until it becomes glossy and smooth.
With the last bit of energy left in us, (and probably you, too! sorry about the length of this post…) we went to go check out the animals before leaving. In case you're looking for a bell, you can pick one up here. But I felt like they should sell these at the entrance, instead of the exit, because we kept getting separated from each other in the massive halls and it would have been a good way to keep us from getting separated.
Sweet little goats looked like they were enjoying their trip to Paris.
Little black piglets snorted around their hay-lined pens.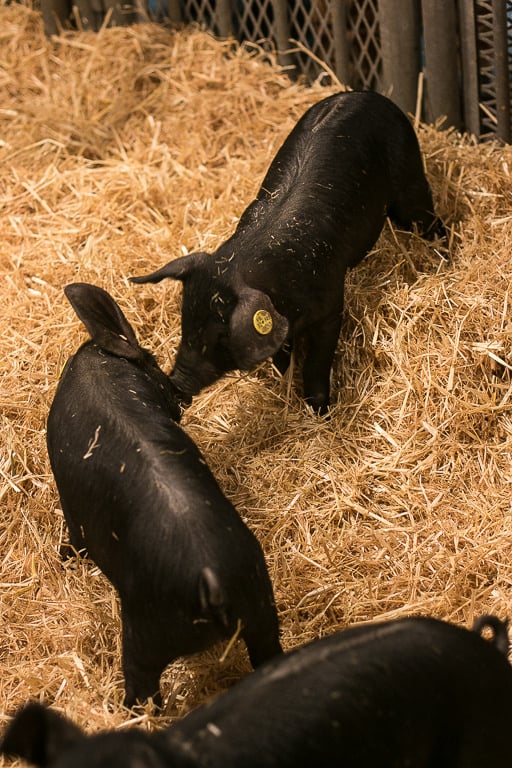 There was a bit of porigami.
And as we wound up the day, I felt like I just wanted to curl up with one of the little piggies and sleep it off, too.
Which I did when I got home.
__________________________________
Notes: The Salon de l'Agriculture takes place during the end of February each year in Paris, at the Porte des Versailles. It's a great way to see and taste a lot of different foods from France and elsewhere. As mentioned, it may be worth planning a trip to Paris just to visit! Because of its popularity, I suggest avoiding weekends and attend the salon during the weekdays. Vendors offer tastes and many items are available for purchase. If you plan to purchase, I recommend bringing a large, comfortable bag to hold items. A small bottle of water is a good idea and next time I go, I'm packing a little bag to hold cheese rinds and other cast-offs as I didn't see many garbage cans. (In fact, I only saw one.)
Wines are available to taste (in tasting portions) and many winemakers sell wine by the glass. All are happy to take orders if you wish to buy wine by the case (6 bottles) which they will deliver. (Although it's questionable whether they will, or can, deliver internationally.)
In addition to the food, there are live farm animals on display, which are popular with families. Tickets can and should be purchased in advance to avoid lines. The salon has an excellent English version of their website.