I never feel the need to be the first person to hit the latest hotspots. For one thing, I worked in restaurants and I know that the first few weeks (or in some cases, months) can be tough and it takes time to sort everything out. True, they are open to the public and serving meals, but since I'm just a regular diner, and not a food critic, I think it's better to wait and let everything fall into place. Another reason, which happens too frequently, is the throng of people who go to a hyped new place. I've been disappointed by places I've read and heard a lot about, only to find that they don't live up to the buildup. (Which has me scratching my head, because so many people are talking them up.) I figure the good places will still be open months and months later, and the bad ones will beat a hasty retreat.
Since I don't have my ear to the ground, I hadn't heard about Caillebotte. But I had heard of Pantruche, which has been around a while and is known for the quality of its food. And since a friend who loves to eat was in town, I thought it time to consult the little list I keep of places I'm eager to visit. At the end of the list was Caillebotte, which was at the end because it was the most recent addition, suggested to me by my friend Zeva, who runs Yelp in France.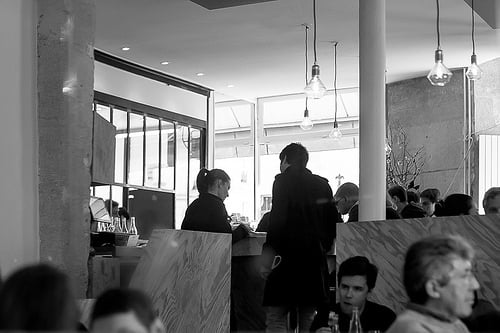 Since I was a bit early (bakers and pastry chefs are always early, or on time), after I locked up my bike, I took a mini-stroll around the area and realized why I liked the 9th arrondissement so much: Whichever way you went, and whichever street you took, there was something completely different just around the corner. Down the street from Caillebotte was a Greek caterer who had filo-wrapped triangular pies for sale in a hazy showcase in the window. Around the corner was a place called Les Madeleines Parisiennes, which, unfortunately, wasn't a shop filled with the famed buttery cookies but seemed to be famous for le brunch. A few doors down there was a wine shop with bottles stacked in the window, and a blackboard that promised hearty bistro classics.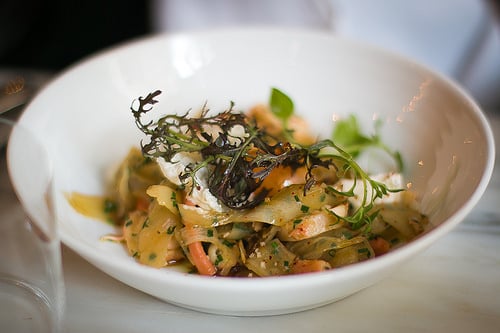 At Caillebotte, we both decided to go with the menu du jour (€19 at lunch), which included a choice of any of the first courses from the menu, and the main course of the day, which was leg of lamb with a hazelnut crust. My friend started off with a bowl of salsify (above), a root vegetable that's often called oyster plant (because some folks think it tastes like les huitres), that you don't often find on French menus – or even in markets – with octopus, egg yolk confit, and a Granny Smith apple cream.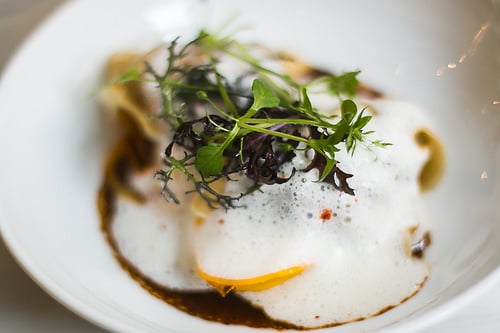 Because I still haven't outgrown my aversion to anything with tentacles, I kept my spoon to myself. Which allowed me to enjoy my marvelous raviolis generously stuffed with shredded paleron de bœuf (short ribs) served with slices of rutabaga, another root vegetable that deserves more recognition, all smothered under a smoky bacon emulsion.
(I'd say foam, but whenever I post about a new restaurant in Paris, there invariably seems to be foam somewhere in there, which draws a bunch of negative comments from folks far from being even faintly fond of foam. People ask me why young Parisian chefs are still fascinated by foam and I'm not quite sure what to say. So I'm going with l'emulsion, which is less polarizing.)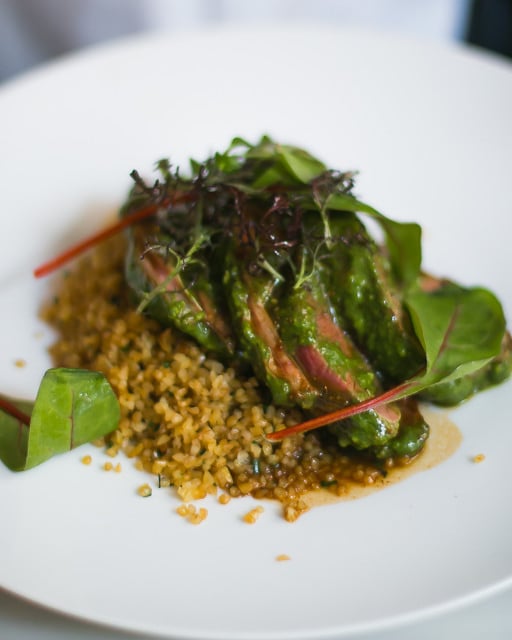 For those who find the flavor of lamb too strong, the Gigot d'agneau (leg of lamb) would be just right, as it was very mild. The hazelnut flavor of the crust was pas très present as well. We also would have preferred thinner slices; I am not sure why, but leg of lamb always seems tastier when the slices are I slender rather served in hefty chunks. The star of the dish was bulghur (cracked wheat), piled under the lamb, which soaked up the lamb juices and made me wish I had been served just a big bowl of that.
It was hard to pass on dessert, since the menu was intriguing. The people behind us had ordered the chocolate mousse with corn crumble and dried black olives, which I wanted to try, but my friend from Italy winced at the idea of black olives in dessert.
So I had the brioche perdu with fromage blanc sorbet, citron, and an orange marmalade that would have benefitted greatly from the bread being more cooked through, and more aggressively caramelized on the outside.
My friend liked his roasted pineapple with ice cream, although, like my dessert, it would have benefitted from a little extra crunch for texture, and a bit of extra sweetness. (And perhaps a bit of saltiness, too.) It was nice to have imaginative, house-made desserts. But some tasting and minor tweaking before they went out of the kitchen would have resulted in a noticeable difference.
There's a terrific selection of wines by the glass at €5 to €7/per, and I'm interested in coming back and having a full-on meal here. It's €35 for three courses and I can't forget to mention that the staff could not have been nicer. It's great to see the younger generation of French sincerely interested in providing good, helpful, professional service without a hint of pretension or exasperation.
When I left, I took my friend by the Greek caterer to show it to him. I wanted to poke my head inside but was too bashful. (In spite of him pushing me from behind.) So I craned my neck to watch the bakers, until one smiled at me and waved, and I waved back. Next time, I'll arrive early again, so I can go in and see what they're baking up. And perhaps those other folks nearby will get on the stick with some Parisian madeleines by the time I get back, too.
Caillebotte
8, rue Hippolyte Lebas (9th)
Tél: 01 53 20 88 70
Métro: Cadet or Notre-Dame-de-Lorette
(Closed Saturday and Sunday)