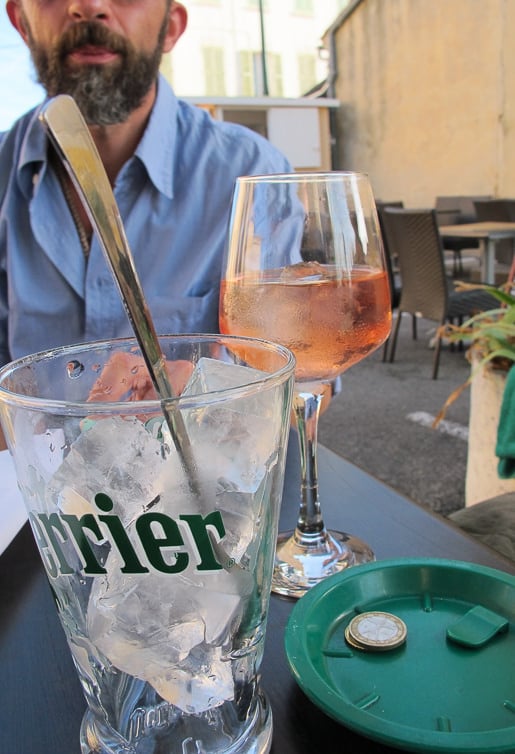 I had no sooner returned from Sicily, then I unpacked my suitcase, re-packed my suitcase, and headed back out, to Provence. Even though I'd just returned from a ten-day trip, my other half was doing a project in the city I went along for the ride because, 1) Who wants to be sitting in a hot apartment, alone, in the summer, when you could be by the sea? And 2) The icy rosé of the south was calling. (And drinking alone raises other issues.) So I went.
Our hotel was very basic, but I loved the bathroom colors, holdovers from France in the 70s, or perhaps the 80s? Or someone was exceptionally good at recreating vintage French bathroom fixtures and colors. As I was happily lathering myself up after the humid train ride, I kept thinking that I've finally mastered the French curtainless hotel shower, and gotten it down.
Except when it was time to stop soaping up one side, and move to the other. And I realized that it's that switch that I've yet to master; the moment when you need to swap the soap-holding hand with the hand holding the pommeau de douche (nozzle head), and a fountain-like spray of water breaks loose all over the bathroom. I'm not sure how one does it, especially when there is no holder for the shower nozzle. But I guess that's why they load hotel rooms up with towels.
Another paradox was when we checked into the hotel, we were told the breakfast buffet featured "seasonal fruit." When we asked what the seasonal fruit was, since it was July, we were hoping to hear that there would be peaches, nectarines, cherries, or apricots just picked from the trees of Provence. So we were a little chagrined when the desk clerk replied, "Apples." And a glance at the bowl in the breakfast room, filled with perfectly calibrated green fruits from who-knows-where, confirmed that he wasn't joking. (But lest you think the Provençaux don't have a sense of humor, when we chuckled, he joked back that they also had compote available, or applesauce, too.) After we'd settled in our room, we went for a walk.
And – of course – just outside the hotel was a lovely tree in the yard next door, bursting with fresh oranges, ripe for the picking.
Fortunately there's an outdoor market in Hyères, when the town streets spillover with vendors selling everything from baseball caps and bras, to olives and – yup – you got it, local, seasonal fruit.
The market takes place Saturday in the center of town, and the first thing we did was grab some tomatoes, from a local producer. You never realize how much you miss fresh fruits (Chilean apples, not withstanding) and vegetables, until you're traveling.
(I actually have a secret technique for finding decent places to eat when traveling, and I'm asking a hotel desk clerk or local. One is that, if possible, ask someone who works in a fish market. They usually are pretty astute about freshness.
And another, is when someone asks what kind of food I want, I say "Fresh," which often stumps them for a moment, but prevents people from guiding you toward the nearest Olive Garden or chain restaurant.)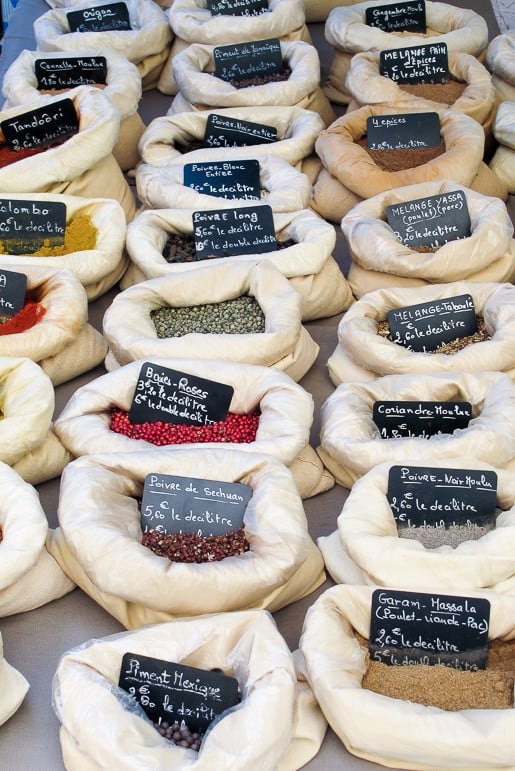 Being not far from Corisca, there were sausage stands, and one woman selling excellent French cheeses, including an outstanding Beaufort and mold-covered, well-aged sheeps' milk cheeses.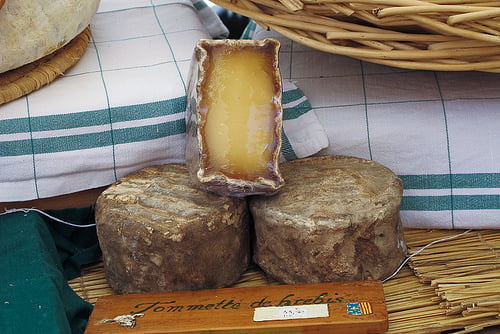 Few people in Provence, in the summer, probably want cheese, but we took a taste and if it wasn't so hot, we might have taken a wedge back to our room, to stash away for breakfast.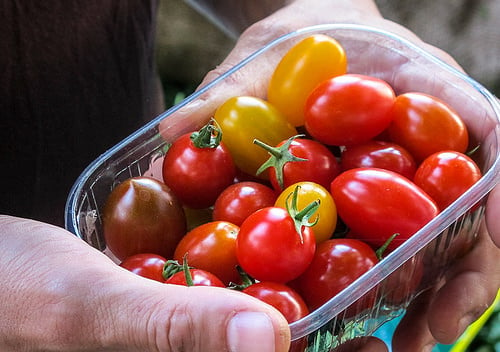 Bakeries had nice bread, baked in generous, rustic loaves…
…and we had a French café express at an Italian caffè.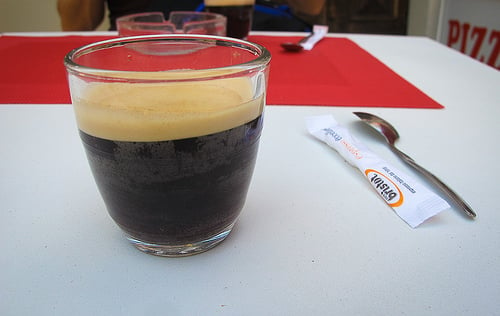 And while coffee seemed the preferred option at that time of the day, am not sure if it's a local custom, but if you've gotten up early to sell your wares at the market — say, olives, or preserved garlic — you might merit a hefty goblet of beer, at 9:30am.
For those planning on doing some beach time, inexpensive, wildly colorful foutas from North African make terrific mats for resting on the sands of the Mediterranean.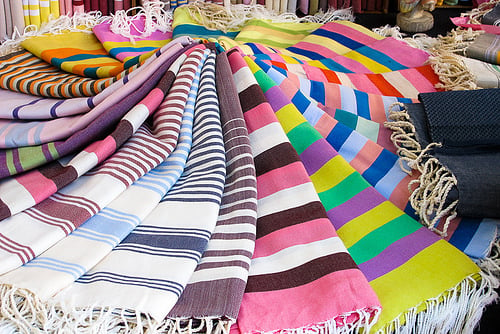 (They were €10, or $13 – and yes, you can even find them at the markets in Paris. The Bastille market on Sunday often has them.)
If you want to dress, and accessorize, like a local, you can – in what a certain Frenchman (or more accurately, a certain Parisian I was traveling with) – called la mode dans le sud, and shop for accessories on the streets.
Romain picked up some jam to bring home, and I ended up buying a few nice pieces of pottery from Marseille in a small shop in town (Mediterraneo, 25, rue Massillon, tél: 04 94 35 60 79), which also carried a huge selection of mortiers.
But I don't mean the selection was huge, but the mortars were géants.
The smaller ones were around €65. But I was more impressed by the one on the bottom, which was about the size of a Le Car, and probably just as heavy – although it's made to last longer. (It was €500.) When I asked if they shipped, they just laughed. So in this case I'm sure the saying, "If you have to ask, you can't afford it" is entirely applicable. (Or, "If you can't lift it, you can't buy it.") And left with a manageable bag of cups, and a bowl.
Still, once ya got the pottery bug, it's hard to keep it down. (Trust me.) And driving down around the coast in or near Giens, we stopped at a huge pottery yard, which was filled with packable, or, er, perhaps shippable, pieces.
There were lots of plates, bowls, pots, and urns, large and small.
I was coveting a colorful cake plate (€14, and not just because I wanted to take it home, and give it a good scrubbing), but since I'd stocked up on a few pieces in town, and some on my recent trip to Sicily, I decided to skip it.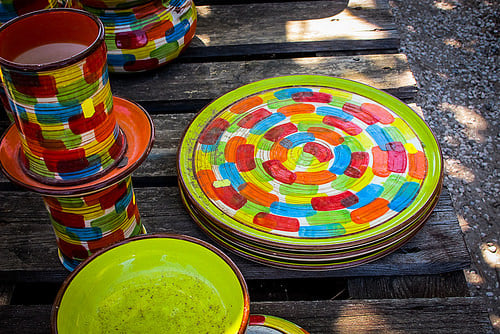 I did love the glazing on these giant pots, but I definitely didn't have room for one of them in my suitcase.
But I didn't ask about shipping, either – for reasons of economy, and space Plus I'm sure if I put one of those outside of my apartment, it'd be gone in a Paris minute. (Next time I go, I want to stop here. And if you're in Paris, La Tuile à Loup has a lot of Provencal pottery, too.)
Back in our room, we learned that the promised air-conditioning was just strong enough to take the edge off the intense heat that was pounding the façade of the building, and heating the interior to the boiling point. When I mentioned to them that the AC wasn't working, and could we move to another room, pretty-please, the owner told us to think of it like air-conditioning in a car. (Huh?) Although being San Francisco, a naturally air-conditioned city, I'm out of the habit of using AC. And I'm also out of the habit of battling desk clerks, so we spent most of our time outside.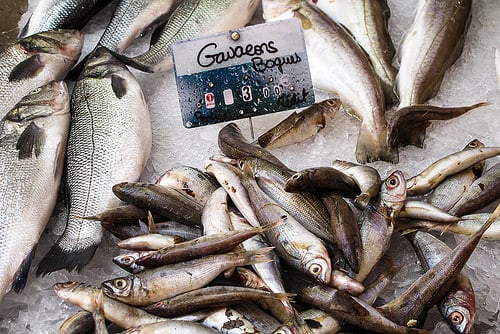 Aside from a selection of apples curated from around the world, dining choices in Hyères aren't especially "gourmet." Which is okay, since we weren't looking for world-class, starred cuisine; just something good to eat. It can be a challenge to find a good restaurant in small towns and cities. (Although there's no shortage of square plates.) And we had uneven memories of the last time we were here, dining at a restaurant by the port, where we'd ordered le grand aïoli, garlic mayonnaise served with a grand platter of vegetables, and salt cod, for dipping.
The waiter had started us off with a ramekin of olive puree made solely of canned olives, and explained to the tourists (ie: us), that that was what tapenade was. I felt kind of funny, but I had to let him know that it wasn't tapenade – it was olive puree. (Olivade, to be more precise. I also didn't explain that most dips are best when they've been seasoned, before serving.) The rest of the meal was awful and the saving grace was that we had stocked up on tartes tropéziennes from a local bakery (there's a recipe in My Paris Kitchen, accompanied by a story that was wisely censored edited, so the book could maintain its PG-13 rating, based on my favorite tartes in the area), to take home on the plane with us. In spite of the creamy filling, the folks at airport security completely understood when I told them that it was imperative that we take our tartes on the plane with us. God love le sud de la France, even if some of the fashion choices are debatable.
Like the understanding security guards at the airport, on this trip, we were aided by someone in neighboring Toulon, who told us about L'Abri-Côtier (place Daviddi, tél: 04 94 66 42 58), a restaurant adjacent to the beach where the food was pas mal*.
When we got there, we were happy to find that the servers were anything but mals. In fact, they were friendly, and funny. And the food was good, too.
With the obligatory starter of ice-cold rosé, in the style of le sud, when I saw they had sweet potato fries, a rarity in France (where sweet potatoes are mostly consumed by African, and American, immigrants), I didn't even launch a discussion over what to order with our drinks. I went for it.
They were surprisingly crisp (yay!), and served with mayonnaise seasoned with smoked paprika. (Which I helped a bit with a few shakes from the bottle of Heinz habanero sauce.) Or neighbors were looking skeptically at our basket, and the guy wildly shaking hot sauce over it, so we told them to order some. But they didn't believe us and stuck with something more familiar, ignoring the crazies eating those weird, orangey, creatures of the earth, at the next table. Tant pis for them.
I went with the main course of steak with goat cheese and pesto, which another local had told me beforehand that if I ate, I would not sleep for the one night. So we ended up sharing that, along with a lighter loup de mer, which guaranteed at least a half night of sleep per person.
Because it was summer, we headed to a nearby glacier for dessert, where they were happy to tell us that the chocolate ice cream was made with Valrhona chocolate. To be honest, I couldn't taste Valrhona chocolate in the ice cream – and if I was truly honest, I'd say that I couldn't taste any kind of chocolate in the ice cream at all. But it's a rare summer pleasure to be sitting by the sea on a warm summer night, lapping up a cone of melting ice cream, which I can never do at home because I always have a freezerful of ice cream and I feel guilty going out for it.
Another restaurant we liked was Le Jardin (19, ave Joseph Clotis, tél: 04 94 35 24 12), with outdoor seating in the shade, located in the centre ville. The service was friendly as well (and funny at times, too), and the food was fine, which prompted us to eat there twice.
In addition to the omnipresent rosé, the best part were the Panisses, deep-fried fritters made of chickpea flour. The food wouldn't earn Michelin stars – and I think there were square plates involved – but we enjoyed ourselves the two times we went.
My Lebanese mezze platter was not objectionable and Romain did the whole mixing and seasoning of the steak tartare, and was a happy Frenchman. (Which is a state that I am constantly striving to maintain.)
Coffee was topped off, or paired, I should say, with a big, green marshmallow, and a bright red one.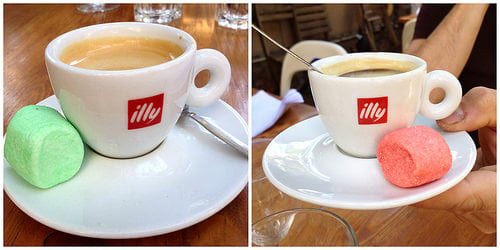 We did have lunch at what is probably the best place in town, Chez Lulu (14, ave des Îles d'Or, tél: 04 94 00 32 61), an Italian restaurant with many menu items marked as "Slow food", and some of the meats by Tuscan butcher Dario Cecchini. Even though it's a standard item on every. single. hip. Paris. café. menu, we went with the burrata salad with caponata and Sicilian tomatoes, which made me realize that caponata is something you probably shouldn't order outside of Italy. And not all Sicilian tomatoes were created equal.
Our pastas were copious, and we were told the pâte de Pouilles was kind of like pesto, but I think pesto is usually a green paste loaded with fresh basil (or other herbs), whose fragrance wafts up when you lift the hot pasta with your fork, and drives you wild with excitement. And my pâte al sugo was pasta mixed with olive oil and bits of crumbled ground meat, and I was expecting the meat that's been cooked forever, until it dissolves into practically nothing, then used to sauce pasta.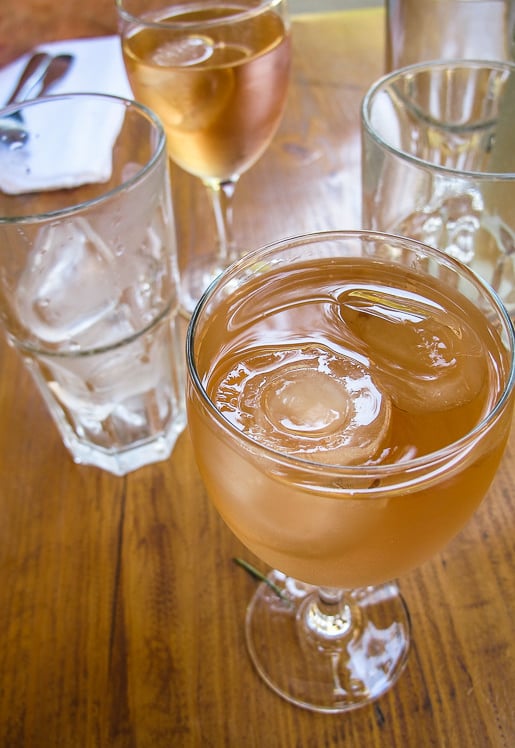 I think we did the best we could while we were there, though. Although next time, I wouldn't mind renting an apartment with a seaside terrace, rifling through the market for tomatoes, basil, garlic, picking up some fresh pasta at one of the Italian épiceries in town, and loading up on the delicious Mara des bois strawberries. And being content to eat platters of tomatoes, pasta, and cheese, with good bread, local fruit, and a chilled bottle of rosé.
b
(On a related note: I can't imagine owning a restaurant, or being a cook, and not using the lovely products from the local producteurs. But I guess that's why I don't own a restaurant.)
Anyways. Because we were mostly there on business, we didn't have much time to hit to beach. But the last day, we headed to Presqu'île de Giens, where the surf by the place where we splayed ourselves out, was definitely up.
The water was definitely perfect. I didn't do my usual 20 minute reluctant cinema (or "performance," as they say in French) of submerging myself in the water, centimeter-by-centimeter, each step frozen in semi-submergence, preparing myself so I could go – as slow as humanly possible – into the water.
In fact, we dove right in, bobbing in the glistening Mediterranean, while the sun dappled us from above.
After we dried off, we retreated to a nearby café.
There was, of course, more rosé. And a friend who lives in the region sipped pastis with us, before we packed up, and headed back home the following morning.
---
*In French, if something is bad, it's pas terrible. Which translates literally to "not terrible," which perhaps makes for a more gentle way of saying you don't like something. (Although locals are not always terribly gentle when they don't like something. So I'm not quite sure about that one.) If something is good, it's pas mal, or, "not bad." Which could be construed as a gentle way of not showing too much enthusiasm over something, which would be untoward. J'adore, or "I adore," is usually only used by overly expressive Americans — like me.