Konza Kiffi: Sicilian Agricultural Estate
Well, that was quite a day! After a much-delayed plane ride to Pantelleria, an island off the coast of Sicily (it's technically Sicily, but — let's hold off on that discussion for another day…), I was told to be prepared to be seduced by the place. But it didn't hit me until day #4.
We'd spent yesterday morning watching people harvest capers (…more on that in a later post), and tasting wine. Then had a below-average lunch, which was barely mitigated by the restaurant's setting, just on the edge of the ocean. After a heaping plate of wan pasta, all I wanted to do was head back at the home where I'm staying, where there was a hammock waiting for me.
But my friend Giovanni said to me, "Daveed – it's going to be very special." And when a Sicilian talks with such gravity it's best to listen.
So we found ourselves after lunch, driving on a winding street, high above a spectacular blue lake with the ocean in the background, with rows of grapes and oregano baking in the hot Sicilian (or Pantellerian) sun.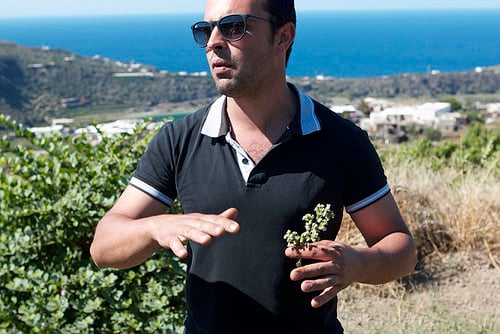 The welcome we had from Giancarlo and Cristian Lo Pinto, the two brothers who own the farm, was as warm as the sun.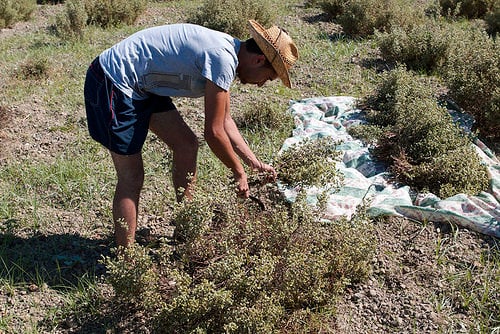 With the wind in our hair — well, in one of my traveling companion's hair —
— we found ourselves in a field surrounded by massive bunches of oregano, offering an aroma as strong as the fields of za'atar in Lebanon: a powerful, astringent scent that bordered on medicinal. Although lots of oregano grows in Sicily, locals tend to use it dried. And here was where the best of it came from.
I can't imagine what it's like to work in the full-on Sicilian sun all day, but a benefit, I suppose, are the tans the two brothers were rockin'.
After being dazzled (and not just by the sun…), they led us to their workshop, where they transform all their lovely ingredients – plus things grown on the surrounding farms – into an astounding selection of products, sold under the name Konza Kiffi.
We were greeted by their mother, Rosalba Chiaiesi, who started off by handing us a bowl of gelsi, juicy mulberries that she picked from the garden next to the workshop. I remember the first mulberry I ever had, in California, when I had assumed I was popping just another blackberry into my mouth.
Then it happened. As I started chewing, an explosion of sweet, inky flavor completely consumed me, and I couldn't believe a single berry could pack so much flavor. I had another, then another. If you've had fresh mulberries, I'm sure you know what I'm talking about. If not, well, I'm not sure what to say. But it's an experience I don't get to have often, either.
She made us an offer that was hard to refuse and, as Giovanni told us, nothing gives Sicilians more pleasure than if you tell them that you've enjoyed their food. Which we did. The only thing that stopped us from eating them all was Anissa's white shirt (mulberry juice stains indelibly), and our politeness, as we didn't want to appear to be greedy gluttons. But Rosalba laughed and said she understood completely because they were so good. So we kept eating.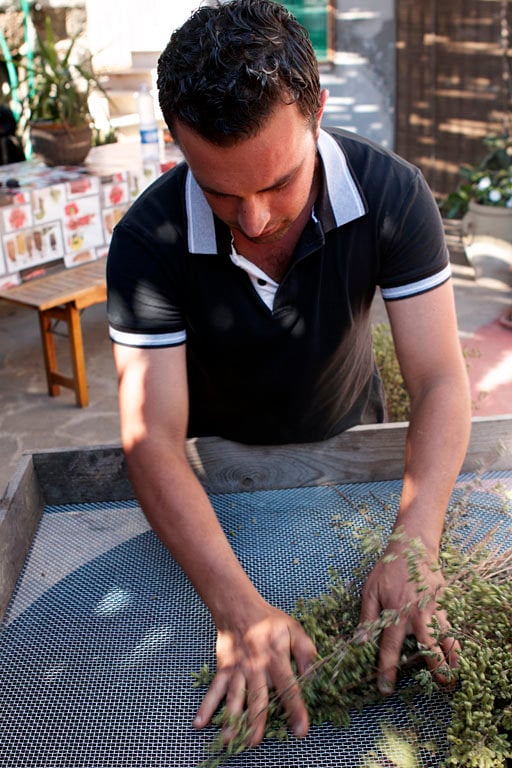 Once we polished off the berries, Giancarlo showed how they transform the sun-dried oregano into a powder. Then, it was on to the tasting.
First we started with Sicilian fruit marmalades, which were so good, it's hard not to be adjective-heavy. The first taste of lemon marmalade made our eyes widen. It was as if you had concentrated the best of Sicily into one tiny spoonful. Plump, sweet Sicilian lemons were gently cooked with just the right amount of sugar, into a chunky paste, one that encouraged double-dipping. Which we didn't do, because Giancarlo was kind enough to break out some extra spoons for us.
The marmalade was one of those things that you just need to go to Sicily to experience as it could only have been made from Sicilian lemons, which are knobbly and dull on the outside, with the entire rind, pith, and all, being used. Even raw, the lemons are sweet enough to eat as-is.
The melon-peach jam managed to balance two seemingly incongruent fruits into a perfect pairing. I was tempted to get down on my hands and knees and worship at the alter of mamma Rosalba, who created the recipes and oversees the jam-making, but I thought better of it. I offered additional gratitude instead. And if I wasn't traveling with just a carry-on, you can bet my suitcase would be full of her jams and preserves. (Although last time I passed through an airport in Sicily, the security officer took the bottle of water out of my sack, that I forgot I had, unscrewed the top, took a sniff, handed it back to me, and waved me through.)
In a previous post, a few people asked me about the grape syrup that I'd mentioned, which confusingly goes by the name "confettura elisir" (conserved elixir), or "miele d'uva", or "grape honey." (I also saw the syrup labeled in places "grape sugar" or "grape preserve", in English. And there is an actual jam-like confettura, that's thick with sweetened grapes.)
The elixir is made by reducing the juice of spicy Zibibbo (Muscat) grapes with cane sugar, until it's thick and pourable. It's particularly delicious with salty pecorino cheese. Since a number of people asked about it, here's what's in it:
After the sweet came the savory, and being Pantelleria, an island known for its capperi (capers), I peered into the barrels of capers being preserved. Curiously, they had the faint smell of chocolate. Soaked only in the brine that they create as they sit with the sea salt from Trapani, after a few weeks, they're drained, then re-salted, and sold in moist, salty pouches. Four of which, of course, are in my suitcase, as those are okay to travel with.
At Kona Kiffi, they blend them into an array of caper pastes, to be spread on bread – like the local semolina and sesame loaves – or tossed in pasta.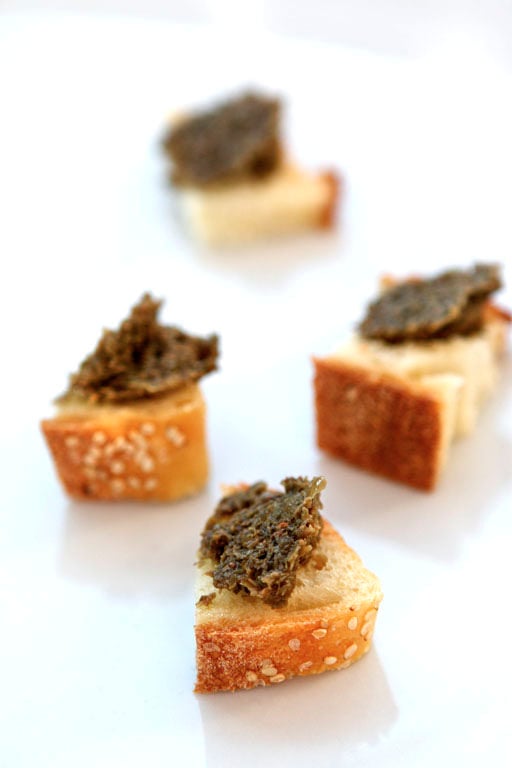 They like to mix them with other local flavors and ingredients, like sun-dried tomatoes, olives, almonds, fennel fronds, and – of course – dried oregano. We agreed, though, that our favorite with the one with peperoncino, flecked with just the right amount of spicy-hot red peppers.
Cucunci are the long caperberries, also produced by caper plants. Instead of selling them salted like the other capers, as they and everyone else does, they drain them and wipe the excess salt away, then pack them in jars with Sicilian olive oil. The ones I'm bringing home will be put to good use, in martinis.
We ended our tasting with glasses of passito, a sweet wine made from Zibibbo grapes, which helped digest everything. To be honest, initially I wasn't all that eager to go to an oregano farm. But I realized that I had, indeed, been seduced by the island — and the fruits (and capers) of this family's labor.
Konza Kiffi
Via Palazzolo, 6
Tel: 0923.912050