Chickpea, Lemon and Mint Salad
I was reminded in Sicily how good freshly dried chickpeas can be. Usually, I cook whatever I can get my hands on, and add them to soups or make a batch of hummus. But I don't sit around eating them, as they are, unadorned. So when someone asked me to taste a few from a batch of chickpeas dried by a local farm in Sicily, that had just been cooked, I found myself dipping a spoon (yes, a clean one each time…) back into the big bowl of chickpeas. And decided, when I get home, to give chickpeas a more prominent place on my plate.
At the risk of sounding like the annoying dinner guest who has lived in Europe (which I'm sure I will be, at some point…if I'm not already), I dressed them with Sicilian olive oil and juice squeezed from lemons that I picked myself. The organic chickpeas are from the market in Gascony. I added hand-harvested French sea salt, and fresh mint that I get from the Arab fellow at my market, who lets me rifle through all the bunches at this stand to snag the best one.
But while we all need things that we strive for, not everything is possible everywhere. So use the resources where you live to dig up ingredients without making yourself crazy. I do however insist that you search out good chickpeas; most dried ones last a year and the ones in the supermarket are pretty triste (sad) by the time you get them. Natural food stores are good places to look, as are specialty markets and farmers' markets. You can also find excellent dried chickpeas online &mdash I give a few sources at the end of the post.
This is a very simple salad, meant to highlight the flavor of chickpeas, not drown them in dressing and a bunch of other flavors and seasonings. The ones I had in Sicily were seasoned with nothing more than olive oil, mint, and lemon juice. They made a great lunch along with a few crisp radishes, some pecorino cheese chunks that came home with me, in my suitcase, and a few olives.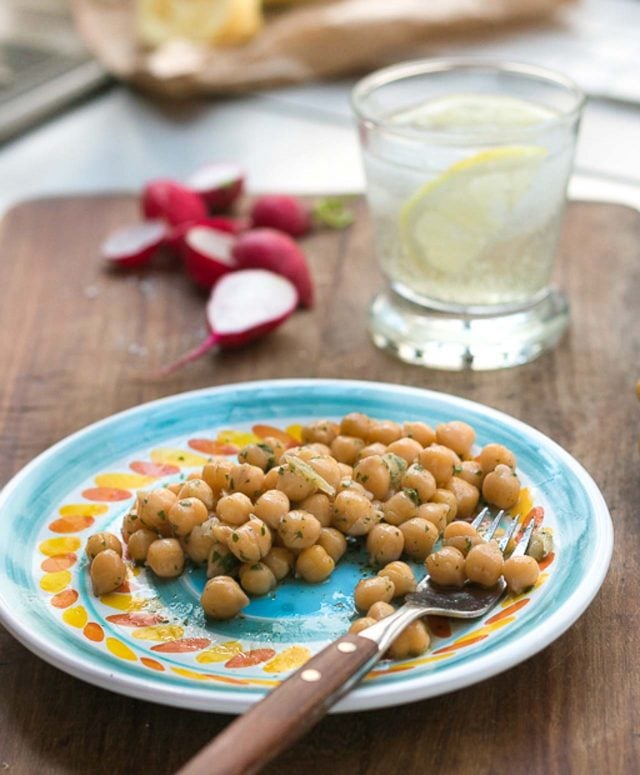 Chickpea, Lemon, and Mint Salad
This is a fine salad to serve as part of a meal along with other salads, so people can graze around, taking a bit of what they want, when they want. As mentioned, it's pretty important to use good quality dried chickpeas; I've noted some sources below. Although we don't get them in Paris, fresh green chickpeas are showing up at markets in the United States, and are available in other parts of the world, and it might be interesting to try this salad with them. To cook dried chickpeas, rinse them and remove any stones or other debris. Put them in a large saucepan or Dutch oven, and cover with plenty of water. If you live in a place with hard water, you might want to add about 1/2 teaspoon baking soda to the water, which aids in softening of the chickpeas. Cook at a gentle boil until the chickpeas are tender; it will take about 1 to 2 hours. Once cooked, remove from the heat and drain. Soaking the beans in water overnight will speed up the process, and dried chickpeas double in volume when cooked. In certain parts of Italy, red pepper is a lot more common to use than black pepper. So if you want to add some of either, feel free to do so.
Servings
4
as a side course
3

cups (150g)

drained

,

cooked chickpeas

3

tablespoons

extra-virgin olive oil

3/4

teaspoon

sea salt

3

tablespoons

finely chopped fresh mint leaves

grated zest of 1 lemon

2

teaspoons

fresh lemon juice

optional:

red or freshly ground black pepper
In a large bowl, toss the chickpeas in the olive oil, with the salt, mint, lemon zest and juice, and pepper, if using.

Taste, and adjust seasonings to you liking. Depending on the type of mint used, you might want to add more.
Notes
Serving and storage: The chickpeas should be served at room temperature. They can be made and refrigerated up to 2 days in advance.
Related Links
Dried Chickpeas (Rancho Gordo)
Dried Garbanzo Beans (Phipps Country)