Tomato and Chickpea Shakshuka
I usually keep a few canned things on hand. Sardines, tuna, and tomatoes, are constants you'll find in my cupboards. I also have oddities that I'm not sure what I'll use them for, but keep them around anyways, like smoked sugar, butterscotch chips, coffee-flavored salt, Vietnamese coconut syrup, and a kit someone gave me for making queso blanco which does, indeed, work.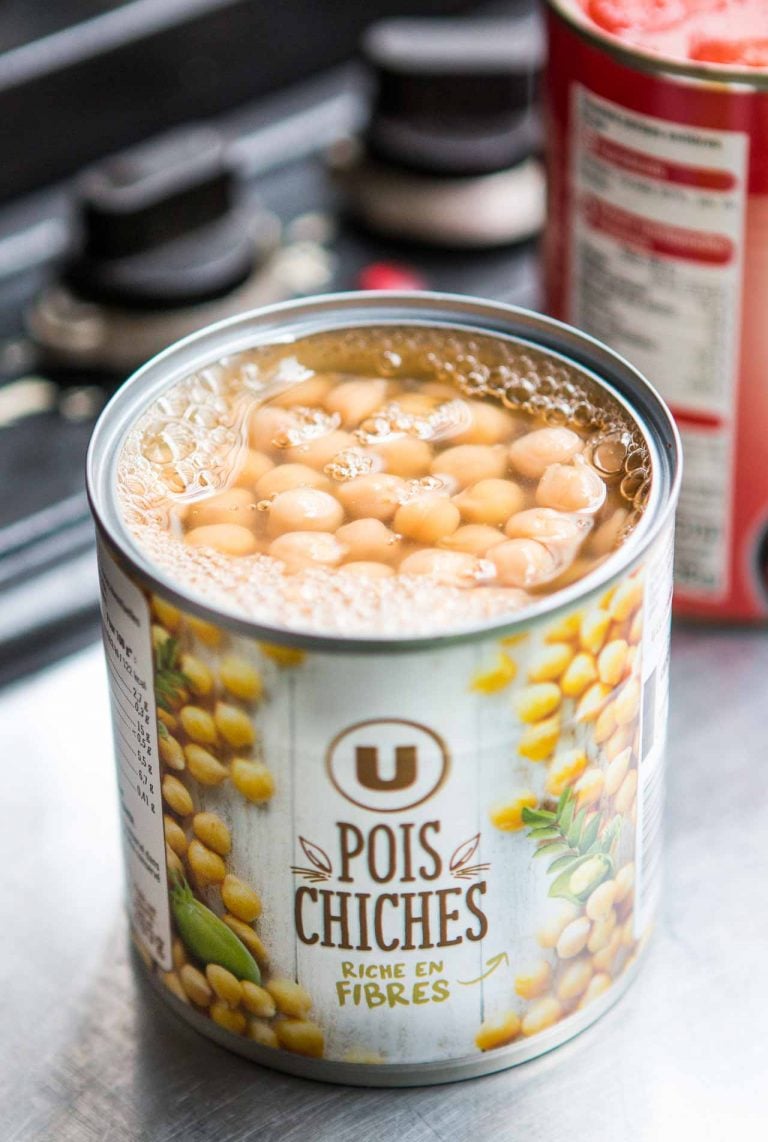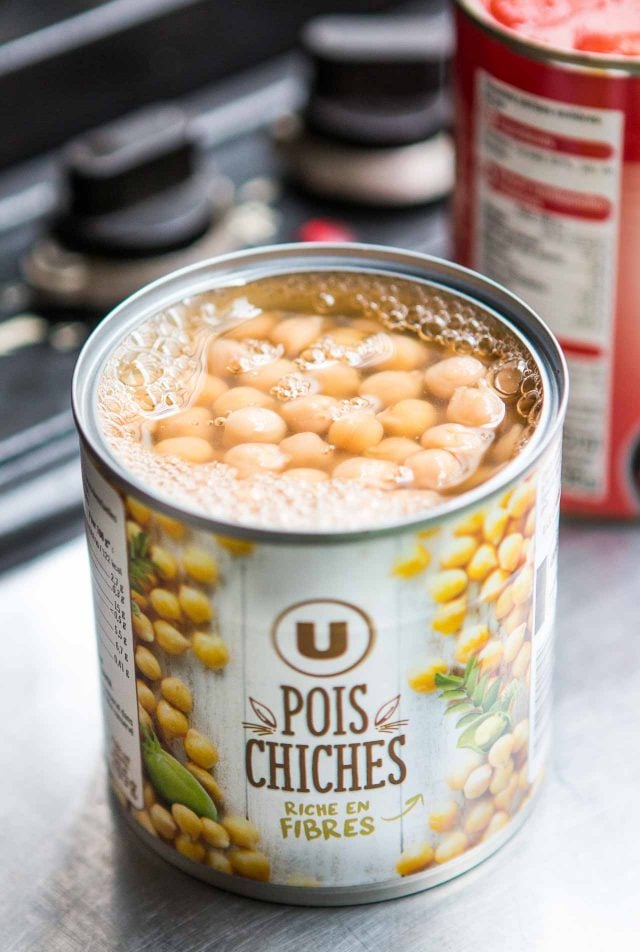 I've discovered the joy and deliciousness of fresh dried chickpeas, which sounds like an oxymoron. But most dried chickpeas are old and not as delicious as when you buy dried chickpeas from a local source, which are fresher and better-tasting. However canned chickpeas will certainly do in a pinch, or if you're in a hurry, and I have a few tins in my larder for "just in case" moments, like this one, when I wanted to make a hearty version of Shakshuka.
Shakshuka is a dish that has origins in several places, and it's become popular around the world. And why not? It's easy to make and most of the ingredients are readily available anywhere, even if you're in lockdown. It makes good use of canned ingredients, except for the eggs, of course.
I was able to get just about everything that I usually use in Shakshuka except fresh chile peppers (I had some fresh jalapeños, but used them in the mint zhoug I served with this), so used dried red pepper flakes and a dollop of harissa to give the tomato-chickpea sauce some zing. You can improvise and if you have a fresh chile or two, feel free to dice 'em up and saute them with the onions. Of course, all chiles are different so adjust to your taste.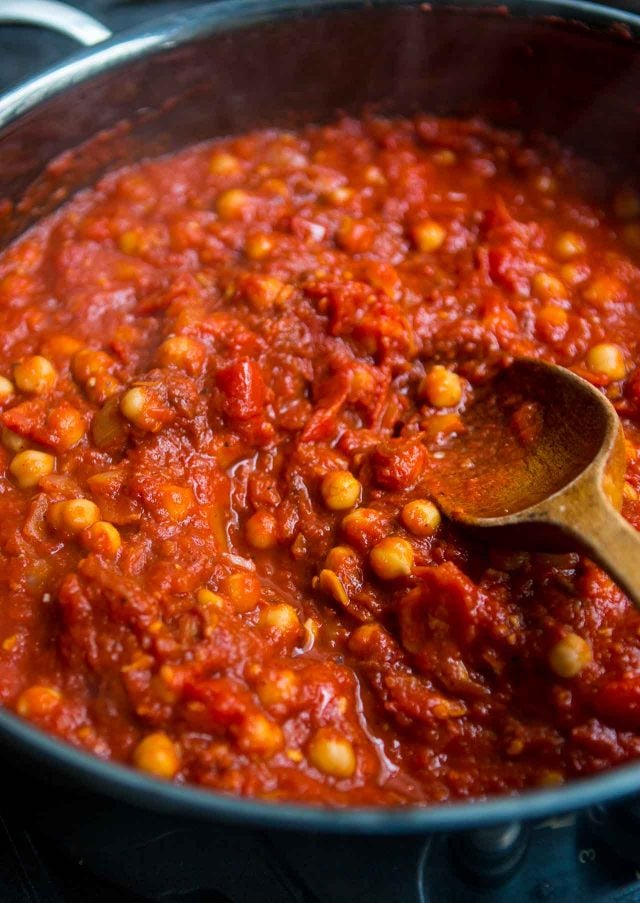 One common refrain I hear from people that want to make Shakshuka is that their spouse/partner/kids like their eggs fully cooked. The good thing is that you can cook some eggs less, for those of us that like runny yolks, and others more firmly, for those that like them well-done. Just spoon the eggs out when they're to your liking. It's hard to give precise instructions and times for cooking the eggs (has anyone ever timed how long it takes to make a sunny side up or over-easy egg perfectly?) but the beauty of Shakshuka is that it's a pretty relaxed meal; the only hovering you need to do is at the end, to get the eggs right. (Menemen is a similar dish where the eggs are scrambled.)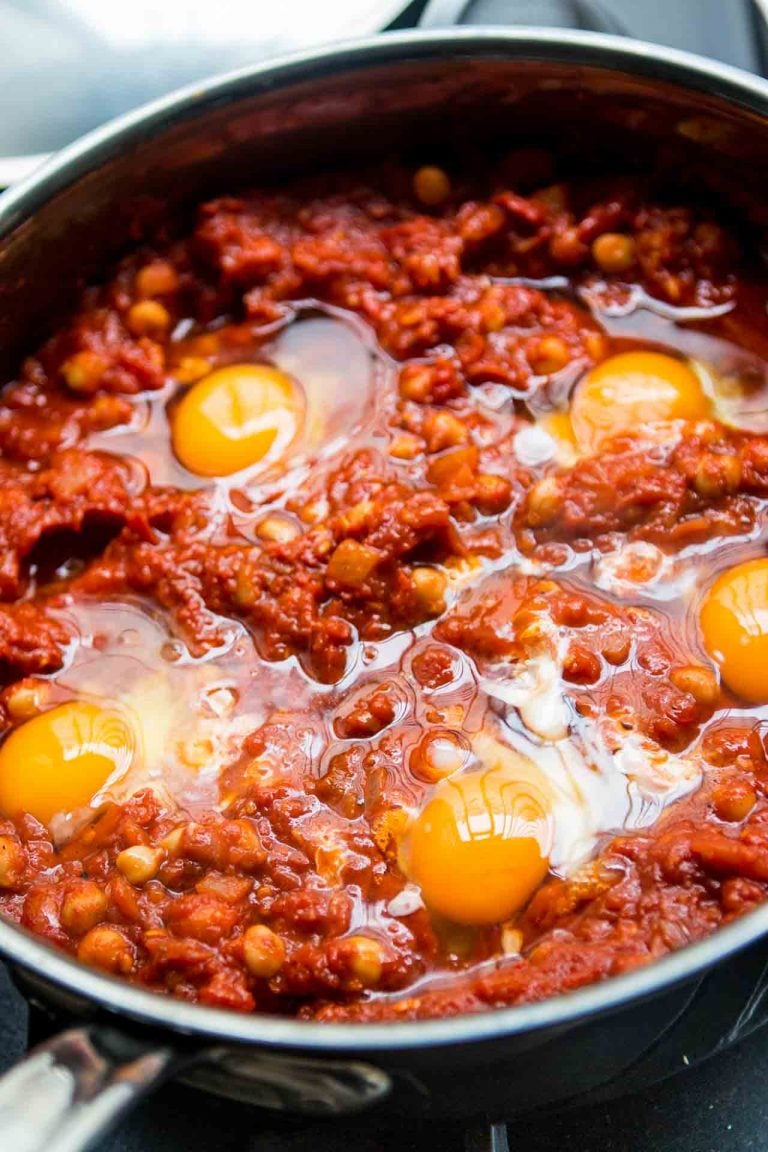 I like mine partially runny, so I can scoop up the eggs with some of the spicy, tomato-chickpea sauce, which is cooked almost to a jam-like consistency. Pita or similar bread works well, although we were fortunate to get a fresh baguette from the local bakery so kept it local and used that. You could add a handful of greens to the sauce, or some feta when you add the eggs.
Tomato and Chickpea Shakshuka
We didn't have any chile peppers during the lockdown. (Well, I did for a brief moment...but I used them to make the
Mint Zhoug
.) So I used red chili flakes, also known as crushed red pepper. I did add a few dabs of harissa to give the dish additional spice. You can certainly add a diced fresh chili or two to the onion and garlic mixture and skip the dried chili flakes. Feel free to stir a generous handful of torn greens, such as kale or spinach, into the tomato sauce and let it wilt a minute, covered, before cooking the eggs. Cubes of feta can be added around the eggs while they are cooking, too. Everyone likes their eggs cooked differently so rather than relying strictly on cooking times, keep an eye on them and the Shakshuka is ready when the eggs are cooked to your liking. Note they will appear less-cooked than they are, visually, but a slight nudge will let you know if they are cooked to your liking.
2

tablespoons

olive oil

1

medium

onion

,

peeled and diced

3

cloves

garlic

,

peeled and minced

1 1/2

teaspoons

kosher or sea salt

1

teaspoon

ground cumin

1

teaspoon

paprika

,

(preferably smoked)

1

teaspoon

freshly ground black pepper

1/2

teaspoon

crushed red pepper flakes

Two

15-ounce (400g)

cans crushed or diced tomatoes

1 1/2

tablespoons

tomato paste

2-3

teaspoons

harissa

,

(optional)

2

teaspoons

brown sugar or honey

1 3/4

cups (280g)

cooked chickpeas

,

from one 15-ounce/400g can of chickpeas drained and rinsed, or chickpeas you've cooked from dried

5-6

eggs
Heat the oil in a wide skillet (at least 10-inches/25cm) that has a lid, over medium heat. Add the onions and garlic and cook, stirring frequently, until they're soft and translucent, 3 to 4 minutes. Add the salt and cumin, paprika, black pepper, and red pepper flakes, and stir for 10 seconds to release their fragrance.

Add the tomatoes and any juice they're packed in, tomato paste, harissa, and brown sugar to the pan and cook for 5 minutes, stirring occasionally. Add the drained chickpeas and continue cooking about 10 minutes more, until when you lift a big spoonful of the sauce, and drop it back onto the sauce, and holds its shape. Then it's ready.

Use a spoon to make 5 or 6 indentations in the sauce around the pan. Crack an egg into each of the divots and use spoon to gently drag some of the egg whites into the sauce. Cover the pan and cook the eggs until they are to your liking; if you like them really soft, they may be done in 3 to 4 minutes. For firmer eggs, they'll take around 6 to 8 minutes. But rather than relying on fixed times, best to check them for doneness, as mentioned in the headnote before the recipe.
Notes
Serving: Serve the Shakshuka with Mint Zhoug, if desired. If you don't have an herb sauce, you can strew a little chopped parsley over the top, to brighten things up. Crusty bread or flatbread is a good accompaniment to scoop up the flavorful sauce.
Storage: You can make the sauce up to through step 2 and refrigerate it, then finish the Shakshuka later. The sauce will keep for a few days in the refrigerator. And yes, you can freeze it too. If you just want to make two servings of Shakshuka, just cook two eggs in the sauce. When it's done, spoon out the two portions (and enjoy them!) then store the rest of the sauce in the refrigerator for the next batch. It likely will have thickened a bit more than you want, so thin it with some water before cooking with it a second time.