Il Gelato Centogusti
I'm very fortunate to have a gelato guide in Milan, because it's a rather spread out city. And like many Italian cities, I've found some of the best gelaterias are located farther away from the city center. (Younger, less-established gelato makers can't often afford to be in the expensive areas.) Unlike other Italian cities, Milan isn't really a place that caters to tourists – which isn't a bad thing. It's just that unless you have someone taking you around, sharing the best addresses, you won't likely stumble upon great places like Il Gelato Centogusti.
So how happy was I to spend the day with Sara from Ms. Adventures in Italy? My Italian is rudimentary at best, although I'm pretty astute when it comes to the nomenclature for desserts. And not surprisingly, my brain is hard-wired to know each and every type of gelato, especially handy if I'm standing in front of a freezer full of the stuff. Il Gelato Centogusti boasts one hundred flavors and my usual flavor of choice, cioccolato, was especially well-represented.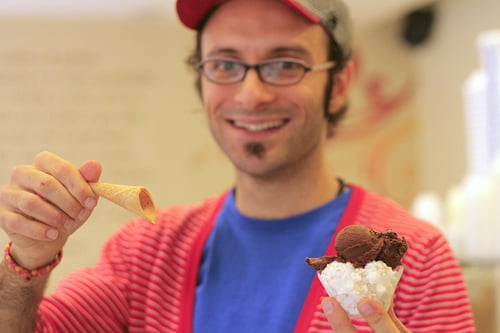 There was Cioccolato bianco (white chocolate), Cioccolato Paprika e Peperoncino (chocolate with pepper and chile pepper), Cioccolato fondente (chocolate with hazelnut paste standing in for the dairy), Cioccolato Zenzero e Limone (fresh ginger and lemon), as well as Cioccolato intensissimo and Cioccolato intenso. I'm not sure what the difference between the two was, but it's nice to know that you can choose your chocolate gelato by intensity.
I was also intrigued by flavors like Riso bianco (white rice), Sesamo nero (black sesame), pesto gentile (delicate pesto, which Sara told me is slang for "without garlic"), Taleggio Aceto balsamico e Miele (Taleggio cheese with balsamic vinegar and honey), Ricotta e Mirtilli (ricotta and blueberry), Pistacchio californiano (California pistachio, which the gelato-maker uses because it's become difficult to trace the actual origins of what are being labeled as true Sicilian pistachios from Bronte) and Fichi d'India (cactus pear). But I was stumped by Sedano, a word -and flavor – that I wasn't familiar with.
It was especially green, and sat in the special freezer case devoted to unusual flavors. Sara stepped in and said, "Oh, that's celery!" …and my interest was piqued. It's pretty hard to pull off odd flavors (I've dumped more than my share of batches in my lifetime) so with great respect to myself, and ice cream and gelato makers around the world, I've found that Italians just seem to do it best. They always get the balance of flavors just right, and are adept at incorporating things that you wouldn't necessarily think would be good – like gorgonzola, vinegar, tobacco, and wasabi – into their gelati. But they do it.
And sure enough, when I tasted a spoonful of the celery, as the cool gelato coasted around my mouth, the bright flavor of celery came through with exactly the right amount of sweetness not to take away from the fact that it was dessert. But at the same time, the celery flavor was the star of the scoop. Although I could imagine it in melting slowly into a bowl of chilled tomato soup, I was pretty happy enjoying it just as is.
All in all, we tried eight of the flavors, which means there are ninety-two more to go. We did hit a few other places before here, but none I liked as well as Il Gelato Centogusti. Luckily they're open every day—including domani (tomorrow).
Il Gelato Centogusti
P.zzale Lagosta
Milan, Italy
(Metro: Zara)


Related Posts and Links
Il Gelato Centogusti (Ms. Adventures in Italy)
Tasting Rome: Gelato, Pasta, and the Italian Market