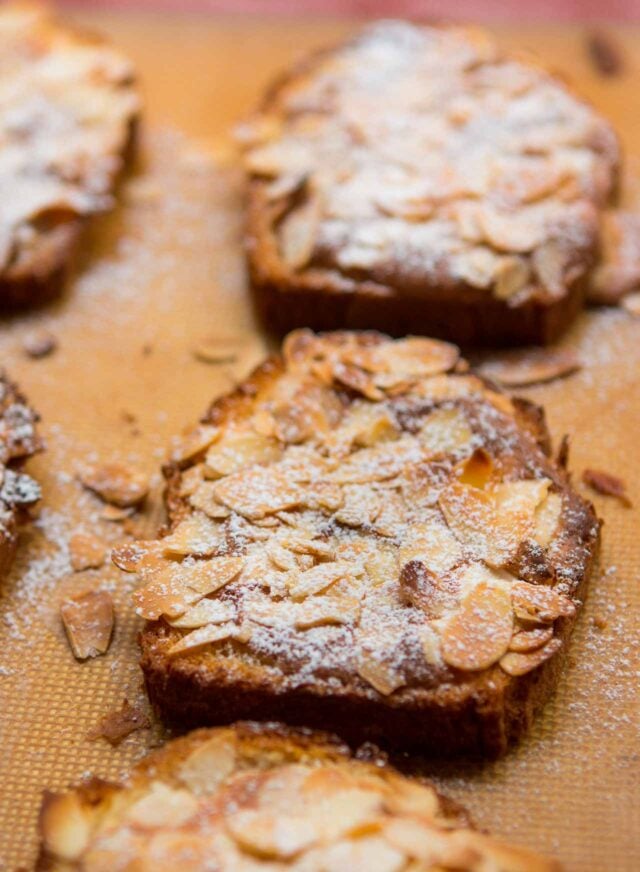 One of the lesser-known French pastries is Bostock. Perhaps it's the funny name that doesn't sound very French, as pain au chocolat or chausson aux pommes do, that's been keeping it out of the spotlight. True, the name does sound like a Swiss bouillon mix and although I've read it's from Normandy, I haven't found any conclusive evidence of that. But wherever it's from, the good thing about Bostock is that it's one of the easiest desserts to make and doesn't require rolling out any pastry, spending a day making brioche, or rely on any fancy techniques. It's one of my very favorite things to eat.
Bostock was likely invented to use up leftover brioche that bakeries had on hand after they closed their doors. Bakers everywhere are naturally thrifty and this is a clever way to use up leftover bread, whether it be brioche, challah, or any firm-textured white bread, such as pain de mie.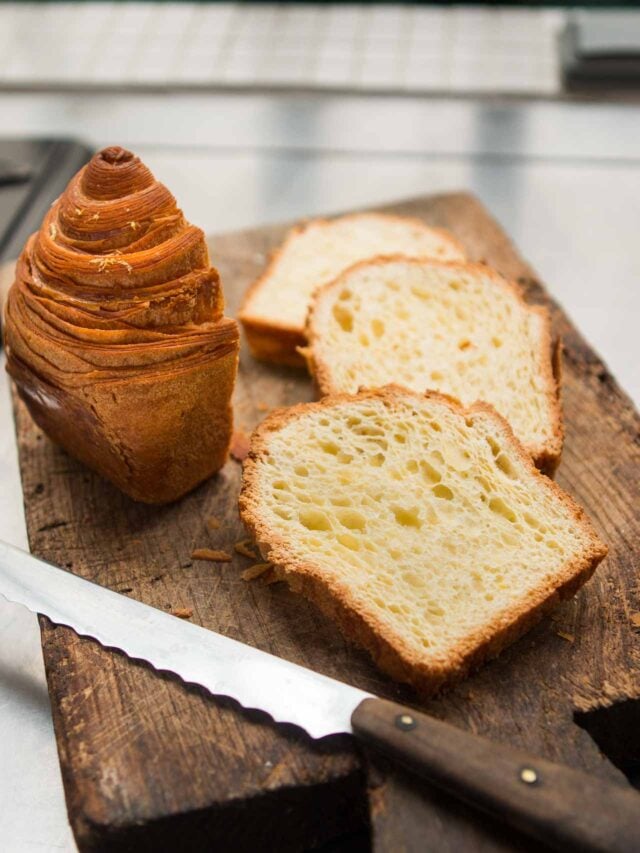 A travel writer I know recently posted a mini-rant against recipes that call for using a stand mixer, saying the authors should offer alternatives for those who might not have one. That's fair enough, I suppose, and I try to let people know when they can mix or beat things together in a bowl with a spoon or spatula, although sometimes it's pretty easy for people to figure it out for themselves. But tossing it back to him, perhaps travel writers, instead of only listing airlines that fly to places, also list trains, buses, ships, and hiking routes that take people to the same place? If we put everything possible in a recipe, most recipes would be pages and pages long.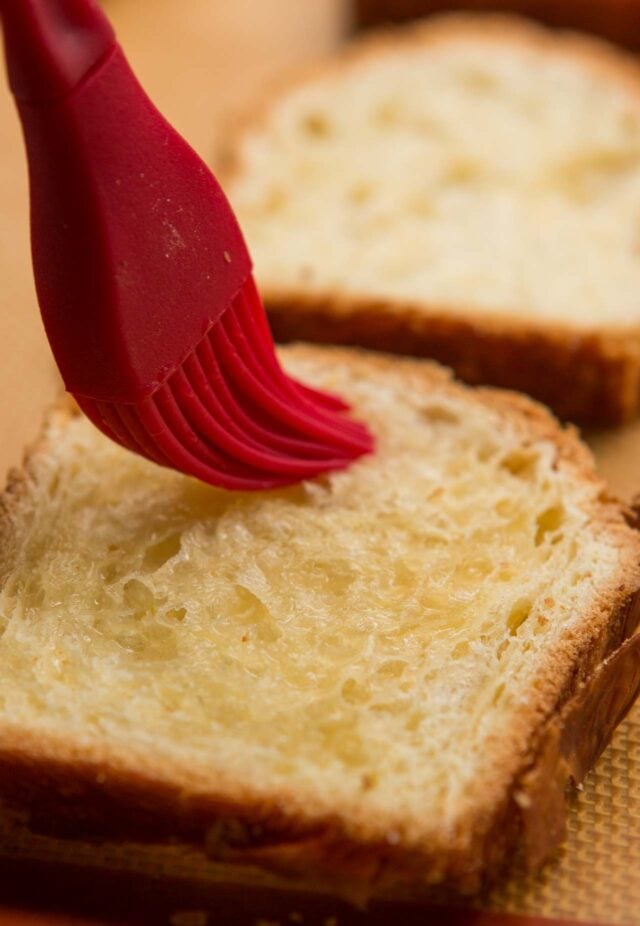 Like taking the plane (carbon-footprint issues aside) a stand mixer is the faster, more efficient way of getting there for this almond paste-based topping, although those with patience and moxie could beat it by hand. I add a few drops of almond extract as the pâte d'amande that's most common in Paris doesn't have a high almond content (usually around 33%) and I like mine with more almond flavor.
Supermarket almond pastes in the U.S., like Odense and Solo, have good almond flavor and don't need it. If you want to go the semi-pro route, premium brands like Amoretti and American Almond Products (67% almonds), are available, although the latter is now only sold in 7-pound tins. But it's quite good and that was what I used when I baked professionally, so if you have friends who bake, it might be worth splitting a tin.
Most almond extract is made from bitter almonds and a little goes a long way, so use it sparingly. You can also add some orange flower water to add some flavor, which compliments the almonds nicely, and is a lovely touch.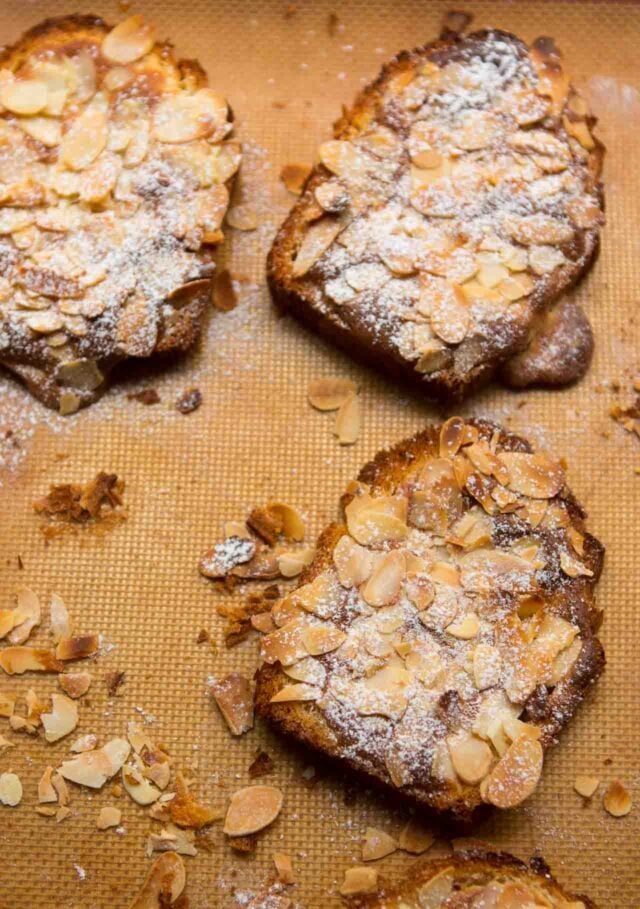 While Bostock is mighty fine all on its own, it's a great accompaniment to a fruit sorbet or a fruit salad for dessert with the brioche providing texture and crunch from the crust, and the almond paste giving it some richness. It pairs well with everything from plums, peaches, and nectarines to berries, pears, and melon.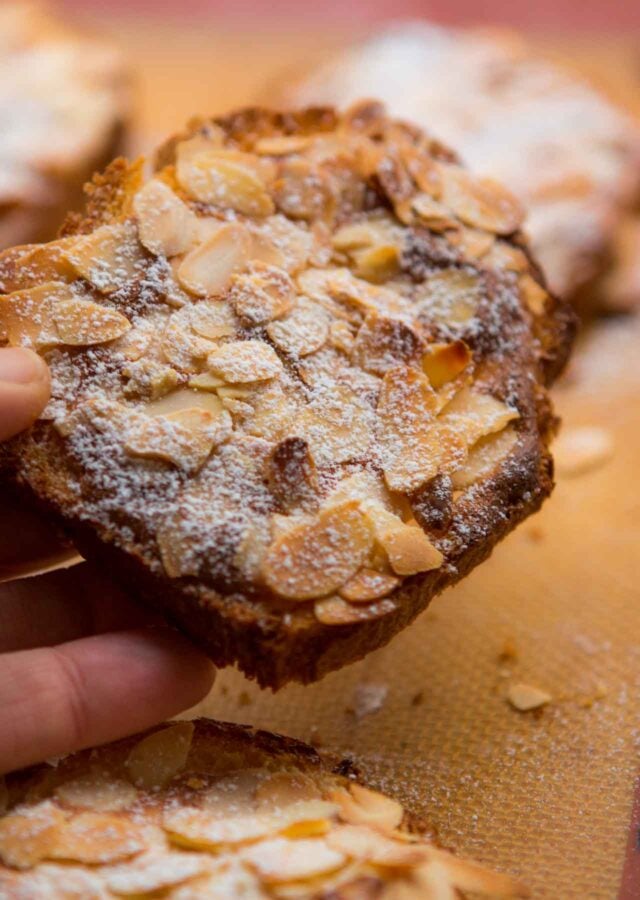 Bostock
Be sure to use almond paste, not marzipan, which has more sugar and is generally used for decorating. It's not the same thing. (According to Nigella Lawson, however, almond paste is called 'marzipan' in the UK.)
Brioche, challah, or a close-textured white bread, like pain de mie, all work well. It's best if it's slightly stale as it'll absorb more of the flavorful syrup. And speaking of syrup, be sure to saturate the bread as you want to syrup to go all the way through the slices, not just moisten the top.
If you don't drink alcohol, you can flavor the syrup with almond or vanilla flavoring (one that doesn't have alcohol) or ust with orange flower water, adding to taste. Make it a bit stronger than you think since you want it to be present in the finished pastry.
Lastly, in the "Do as I say, not as I do" category, sharp-eyed readers will notice I used a silicone baking mat in the pics. Like most of us these days, my head is in the clouds and I prefer to bake Bostock on a parchment paper-lined baking sheet, although you can also bake them directly on a baking sheet if you wish. Silicon tends to "humify" things and while Bostock isn't naturally crispy (they fall between there, and in the "moist" category) the bottoms tend to brown a little when not baked on silicone.
1 1/2

tablespoons, plus 2 tablespoons

sugar

3

tablespoons

water

1

tablespoon

rum, kirsch, or amaretto liqueur

a few drops

orange flower water

,

(optional)

6

slices

brioche, challah or firm-textured white bread

,

such as pain de mie, cut in 1/2-inch (2cm) slices

6

ounces (170g)

almond paste

2

large

eggs

,

at room temperature

a few drops

pure almond extract

,

(optional)

1/2-3/4

cup (40-60g)

sliced almonds

powdered sugar
In a small saucepan, heat the 1 1/2 tablespoons of sugar with the water, stirring until the sugar is dissolved. Remove from heat and add the liquor and a few drops of orange flower water, if using.

Preheat the oven to 425ºF (220ºC). Line a baking sheet with parchment paper (or leave it unlined) and place the slices of bread on it.

In the bowl of a stand mixer fitted with the paddle attachment, or by hand in a medium bowl with a spatula, beat the almond paste with the remaining 2 tablespoons of sugar, the eggs, and a few drops of almond extract, if using, at medium-high speed until smooth. But avoid whipping it up; mix it just until most of the lumps are removed. (A few little ones won't matter.)

Brush each slice of bread generously with the syrup, enough so it saturates the bread all the way through. Spread each piece of bread with the almond topping then sprinkle sliced almonds over the top.

Bake until the tops of the Bostock are well-browned. I begin checking them at the 6-minute mark but they can take up to 10 to 12 minutes so best to rely on visual clues rather than precise minutes. Remove from the oven and sprinkle with powdered sugar. Serve warm or at room temperature.
Notes
Note: The almond topping can be made in advance and refrigerated up to one week. Let come to room temperature before using.