I'm not sure if there's a French term that's the equivalent of "phone tag." I'm pretty sure there isn't one for "internet tag", but I can say with relative certainty that there isn't one in English. At least I think there isn't.
I'd met Frédéric Chambeau's father about five years ago and he graciously invited me to visit their laboratoire in Paris, but hadn't heard back after our last bout of telephone messages. Then I got an e-mail from Frédéric, who'd taken over Fouquet, and after a few months of back-and forth messages, we finally kicked it into gear and made a date.
I don't think there's a comparable expression for "kick into gear", but it wouldn't be the first time I got something wrong in French. Or in English, if you want to get picky about it.
Fouquet is one of the oldest confectioners in Paris, and one of the last remaining who makes their candies and chocolates in their own shop, which is tucked away on a sidestreet near Drouot, the main auction house of Paris. Speaking of terms, when I asked him what "fouquet" meant, he told me it's an old French term for squirrels, but didn't know how the business took the name. (There's a fancy-schmancy restaurant on the Champs-Elysées with the same name, but there's no connection to them.)
When I visited Fouquet, it was just before the Christmas crush and the staff was in full swing, wrapping boxes of all sorts of treats, including colorful pâtes de fruits, orangettes (candied orange strips dipped in dark chocolate), and hand-wrapped squares of buttery salted caramel.
For the hard-core caramel-lover, which would be me, there's unusual caramel-dipped caramels; soft, buttery caramel dipped in molted sugar, creating a crackly coating. They're reminiscent of the double caramels of Au Negus, which must be consumed shortly after they're opened. Otherwise they attract humidity like there's no tomorrow and are best eaten right away.
Hello?
Not a problem.
After marveling at all the treats in Fouquet, a shop which looks probably the same as it did decades ago (ie: absolutely charming), we headed to the back to watch the confectioners at work.
Years ago I attended pastry school at the Ecole Lenôtre, and my very favorite class was the one called The Old-Fashioned Candies of France. We spent our days twirling out licorice whips, twisting molten sugar into colorful lollypops, and poured slabs of chewy nougat, studded with Sicilian pistachios, aromatic from a soupçon of orange-flower water. After that, I no longer fear meeting my maker, as I already had a glance at heaven.
Of course, featuring a full line of handcrafted chocolates as well, there were chocolates coming off the line, having gone under a thin waterfall of dark and milk chocolate. Each praline center was hand placed on the belt before going through the tunnel, emerging from the other side, glossy and slick, ready to be boxed and rushed to the shop next door the moment the chocolate was set.
(btw: Fouquet is one of the few chocolate shops in Paris that freely hands out samples. When I told him that was unusual, Monsieur Fouquet remarked, quizzically, "C'est normal…non?")
What intrigued me most were watching the confectioners at work. I love candymaking and have a lot of respect for these folks who are keeping alive an art that's not widely-practiced anymore. I mean, there's not many people making hand-crafted candy anymore. It's hard work, exacting, and the slightest change in weather or humidity can ruin hours of demanding work.
As I watched them melt sugar, watching and checking carefully until it reached just the right degree of doneness, I noticed boxes of sugar cubes, like the kind you plunk in your coffee, and asked what they did with them. (Surely they don't drink that much coffee.) M. Chambeau explained that regular granulated sugar has a yellowish tinge to it when melted, so they melted down those morceaux de sucre when they want finished candies to be pure-white.
One of the things I learned in confectionery school was how to many gumdrops and sugar pastilles, like the ones here. To get the shape, trays are packed with cornstarch then a wooden tool with knobs on it is pressed into the cornstarch, creating rows and rows of indentations.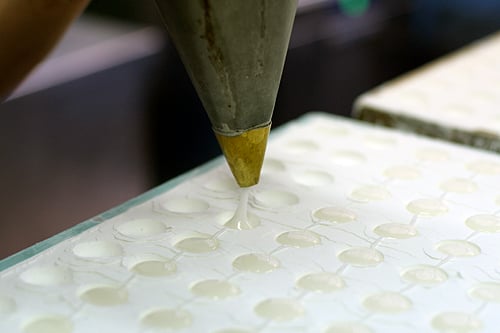 Afterward, liquid sugar, or whatever you'd like to shape, is piped into the indentations and left to harden. Then the lozenges are tipped out, the starch is brushed away, and there you have your dome-shaped candies.
There are other molds, too. Like this fabulous shoe! But I couldn't see putting it in my mouth—it was too beautiful. And as much as I love my Dentist McDreamy, I'm happy to see him only twice a year. (At least in his office, that is.) So we snacked on these lovely little triangles of sugar, which reminded me of when I was young and my parents would take me to the South Seas, a Polynesian restaurant in Connecticut that had a big waterfall, frightening, lei-wielding hosts that could pass for sumo wrestlers, and flaming pupu platters, which my made my sister and I giggle—for obvious reasons.
And no, not because they were flaming.
For some reason, I loved sucking on the sugar cubes, which I'm sure paid for the college education of at least one of my dentist's kids way back when.
Nowadays I stick to chocolate, since the last time someone offered me a sugar cube, which was in college, I saw some very, very interesting colors and swirly, mind-blowing textures. And it's not an experience I'm anxious to repeat.
Speaking of mind-blowing, there was just too much to see and explore at Fouquet and if you're in the neighborhood, it's definitely worth the trip to stop by this old-fashioned confiserie. For those of you in New York, they do a special shipment to Bergdorf-Goodman each Christmas, and the tree-shaped boxes tied with big red satin bows, which were being wrapped when I was at Fouquet (behind the saleswoman) were nothing short of magnificent.
One of the problems facing a lot of the businesses in Paris is how to maintain their connection with the glorious past, while thriving in a modern, globalized world. One has to be careful to respect tradition and not just do something contemporary, just for the sake of being au courant. Hence the proliferation of powdered spices rimming plates and weird updates of classics one comes across. (No, I'd don't want lemon-kiwi-star anise yogurt—thanks.) And they're working on crossing the bridge into the current epoch.
Monsieur Chambeau told me that they're working on updating their line at Fouquet, and I'm anxious to see what direction they decide to go next. As you can see, they've laid a wonderful foundation.
Personally, thought, I wouldn't change all that much. I'd miss those glistening pâtes de fruits, the shiny squares of chocolate-enrobed praline, or the jewel-like candied fruits packed with pride in Fouquets traditional, no-nonsense jars. But that's just me.
Fouquet
36, rue Laffitte (9th)
Tél: 01 47 70 85 00
Another Fouquet boutique is at: 22, rue François 1er (8th)
Related Links
Papabubble (New York City)
La Maison du Chocolat (Paris)
Le Furet Tanrade (Paris)
Régis Chocolatier (Paris)
Jacques Genin Chocolates (Paris)
A Visit to Bernachon Chocolate (Lyon)
Eye Candy from Jean-Charles Rouchoux (Paris)
Salted Butter Caramels from Henri Le Roux (Brittany)