French people often drink apéritifs before dinner, but rarely cocktails. Americans who come to Paris are often perplexed when the waiter asks them: "Vous desirez un apéritif?" and a few minutes later, they're handed a glass of red Martini & Rossi instead of the straight-up, dry martini that they thought they had ordered.
And another heads-up: tourists are equally perplexed when the check arrives and they find that that dinky demi-flute of kir Royale costs more than their main course.
Few French people that I know order an apéritif in a restaurants, unless it's a special occasion. Sometimes visitors assume they're supposed to order one, thinking that the waiter will think they're a skinflint if they don't. But they're mostly just asking to be polite, since they're not on the "take"…er, I mean…the tip-system.
So it's no skin off their derrière if you don't order a pre-dinner drink. I doubt they order one when they go out either. Just like salesclerks in fancy clothing stores, who I'm never afraid of: the only reason they're able to wear those clothes is because they work there. I don't worry about what they think of me since they can't afford them either.
Parisians often take their pre-dinner drink at a café, where they can sit outside and it's decidedly more pleasant. Oh yeah, and of course, where you can still smoke. At dinner parties, though, apéritifs are served because it allows for stragglers and late-comers, an especially big problem for the hosts and hostesses of Paris.
During that time, there's always something to nibble on. Sometimes I'll make something like Baba Ganoush, which is often called caviar d'aubergines, a tasty spread which is easy to make, and even improves if made a day or two in advance. I'll serve it with toasted bread or pita triangles. Sometimes I'll tone down the garlic for les Parisiennes, and in the spite of their penchant for cigarettes, I tame the smoky-flavor, too, depending on who's on the guest list.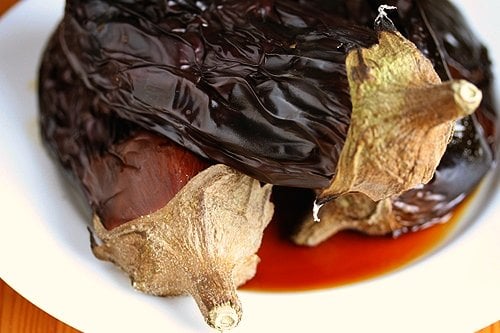 One dinner party habit this American hasn't acclimated to is the Parisian habit of sitting down to eat at 10pm—and not leaving until 3am, or later. I'm a lightweight compared to them, and begin nodding off just after midnight. When the métro stopped at 1am, it was the perfect excuse to break up the party so I could catch my beauty sleep, as everyone made a mad dash for the underground. But now, with the extended hours and the free bikes scattered around Paris, you need a crowbar to get folks to leave. No wonder my looks are fading.
I'm still working on getting folks to leave and I haven't figured out that one out, yet. Maybe garlic ice cream should be next on my docket, so I can get some sleep around here.
Baba Ganoush
I like my Baba Ganoush super-smoky, and leave the eggplants on the stovetop for a good ten minutes, but for most people, that's probably too much. Five or so minutes, until the skin gets a bit charred, is probably right for most "normal" folks. If you have smoked salt, you can use that to give it another hit of smoked flavor, too. Sometimes I add a pinch of ground cumin. If you do, please just add just a bit. Baba Ganoush shouldn't taste predominantly of cumin, which can quickly overwhelm.
3

medium-sized eggplants

1/2

cup (130g)

tahini

,

(sesame paste)

1 1/4

teaspoons

coarse salt

3

tablespoons

freshly-squeezed lemon juice

3

cloves

garlic

,

peeled and smashed

1/8

teaspoon

chile powder

1

tablespoon

olive oil

a half bunch picked flat-leaf parsley or cilantro leaves
Preheat the oven to 375F (190C).

Prick each eggplant a few times, then char the outside of the eggplants by placing them directly on the flame of a gas burner and as the skin chars, turn them until the eggplants are uniformly-charred on the outside. (If you don't have a gas stove, you can char them under the broiler. If not, skip to the next step.)

Place the eggplants on a baking sheet and roast in the oven for 20 to 30 minutes, until they're completely soft; you should be able to easily poke a paring knife into them and meet no resistance.

Remove from oven and let cool.

Split the eggplant and scrape out the pulp. Puree the pulp in a blender or food processor with the other ingredients until smooth.

Taste, and season with additional salt and lemon juice, if necessary. Serve drizzle with olive oil, perhaps some herbs and with crackers, sliced baguette, or toasted pita chips for dipping.
Notes
Storage: Baba Ganoush can be made and refrigerated for up to five days prior to serving.
Related Recipes