How to Make Preserved Lemons
Although it's possible to buy citrons confits at Arab markets in Paris, making Preserved Lemons couldn't be easier to make and they taste fresher than anything you can buy. I forage through the mounds of lemons at my market in pursuit of the smallest citrus possible.
But you may be lucky to have a friend with a lemon tree and they're probably more than happy to let you take a few off their hands… although none of my friends in Paris seem to have lemon trees growing in their apartments, unfortunately. And if you live where Meyer Lemons are available, by all means feel free to use them instead of the more common Eureka lemons.
I like to finely dice preserved lemons and mix them with sautéed vegetables, such as green beans, fava beans, or to elevate lowly rounds of carrots into something interesting and exotic, perhaps tossing in a few cumin seeds as well. They're also good mashed into butter with some fresh herbs, then smeared on top of grilled fish or a nice hunk of caramelized roasted winter squash. And I've been known to sneak some into a batch of tapenade too!
In addition to their ability to multi-task, there's something comfortable and nice about having a jar of vivid lemons on the kitchen counter to keep tabs on their progress every morning, I like to keep an eye on my lemons daily, noticing how much juice they're giving off, how soft they're getting, and enjoying how they gently deflate and nestle themselves against each other as they settle nicely into the corners of the canning jar.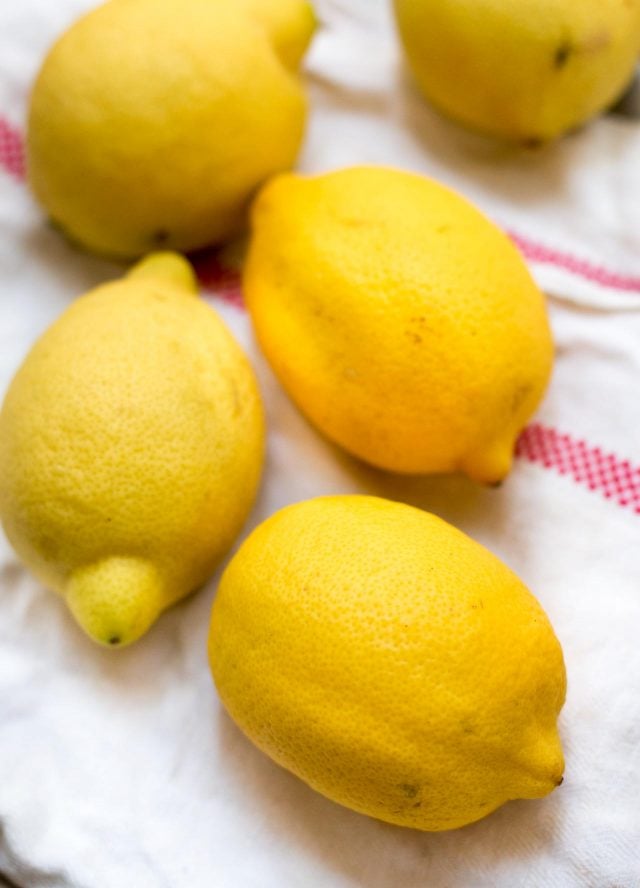 For the big Christmas party his year, I made one of my favorite recipes, Israeli Couscous With Roasted Butternut Squash and Preserved Lemon to go with the Lamb Tagine that I cooked the day before…which made entertaining fifteen ravenous Parisians a breeze. But do take care when adding them to a recipe; hold back on adding salt since the preserved lemons will add some salty flavor.
I recommend using organic or unsprayed lemons since you're going to be eating the entire fruit. I generally do 8-10 lemons at a time, but be sure to buy a few extra lemons for juicing a couple of days later, in case you need to add additional liquid to keep the lemons in the jar submerged while they 'do their thing'. And never use ordinary table salt, which has a harsh, chemical taste. (Check the ingredients to make sure your salt is pure.) I recommend white sea salt or kosher salt.
Moroccan Preserved Lemons
Scrub the lemons with a vegetable brush and dry them off.

Cut off the little rounded bit at the stem end if there's a hard little piece of the stem attached. From the other end of the lemon, make a large cut by slicing lengthwise downward, stopping about 1-inch (3 cm) from the bottom, then making another downward slice, so you've incised the lemon with an X shape.

Pack coarse salt into the lemon where you made the incisions. Don't be skimpy with the salt: use about 1 tablespoon per lemon.

Put the salt-filled lemons in a clean, large glass jar with a tight-fitting lid. Add a few coriander seeds, a bay leaf, a dried chili, and a cinnamon stick if you want. (Or a combination of any of them.)

Press the lemons very firmly in the jar to get the juices flowing. Cover and let stand overnight.

The next day do the same, pressing the lemons down, encouraging them to release more juice as they start to soften. Repeat for a 2-3 days until the lemons are completely covered with liquid. If your lemons aren't too juicy, add more freshly-squeezed lemon juice until they are submerged, as I generally have to do.

After one month, when the preserved lemons are soft, they're ready to use. Store the lemons in the refrigerator, where they'll keep for at least 6 months. Rinse before using to remove excess salt.
Notes
To use: Remove lemons from the liquid and rinse. Split in half and scrape out the pulp. Slice the lemon peels into thin strips or cut into small dices. You may wish to press the pulp through a sieve to obtain the tasty juice, which can be used for flavoring as well, then discard the innards.
Related Recipes
Israeli Couscous with Butternut Squash and Preserved Lemons