Years ago, at a flea market in Paris I pickup up some old metal letters from a bakery in France that spelled out PATISSERIE. Being a baker, of course I was thrilled (although still despondent that someone else snatched up the matching BOULANGERIE letters…) and proudly displayed them on the shelf of my apartment. Since my apartment at the time was so small, shelf space was at a super-premium. Yet I was happy to give a lot of it up to have those letters reminding me of my métier.
When I lent my apartment to some visiting friends, I noticed the P and the T had been reversed, and it spelled TAPISSERIE. I got a kick out of it and thought that was very clever. When a new bakery in Paris called Tapisserie from the team of a noted restaurant, I figured it wasn't a place to purchase a tapestry, but a clever – and original – place to get terrific desserts.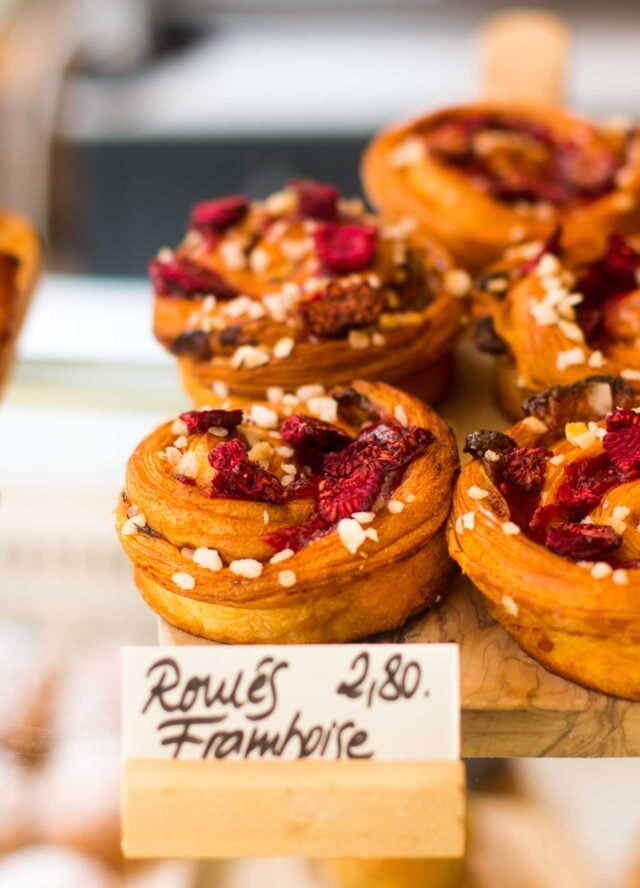 Opened by Bertrand Grébaut and Théo Pourriat, the owners of the very popular restaurant Septime, it's on the same block as their well-known restaurant, natural wine bar, and Clamato, their casual restaurant that's focused on seafood. One of the most popular desserts there, the Tarte à l'Érable, Maple Syrup Tart (where it's affectionately known as La Clamatarte), is a wonder of maple syrup caramel, crispy pâté sucrée, and crème chantilly. It was so popular at Clamato that people were asking to buy one to bring home, which was one of the impetuses for opening a bakery across the street.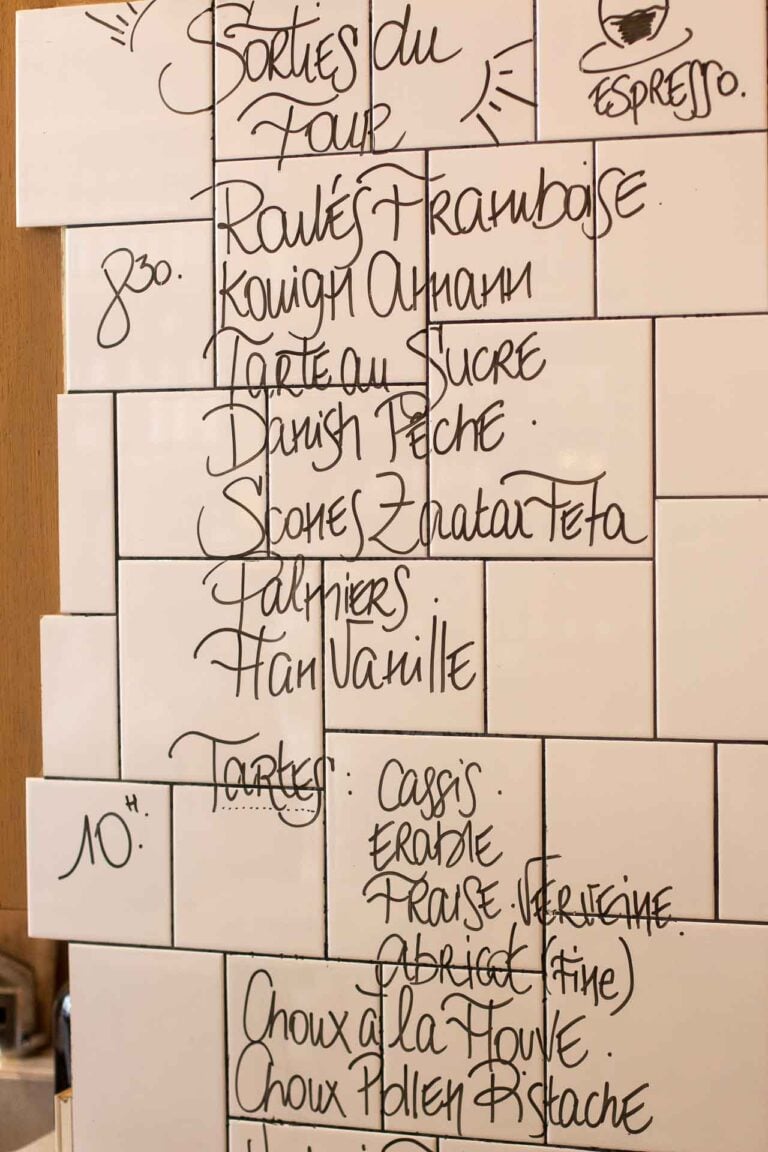 (On a related note, did you know that chantilly isn't pronounced chan-til-ee in French? it's chan-tiy-yee, dragging out the double "l," which in French is pronounced like "y." It took a persistent Romain to correct me a few times on that.)
Pastry cheffe Fanny Payre is in charge here. She worked at Septime and d'Un Île, their B&B in Normandy, which I've heard called a micro-village (which I haven't been to), with a potager (vegetable garden) and restaurant, where you can stay and eat well and explore the surrounding area.
Not to worry, it's on my "You should go to…" list.
The influence of the vegetation and botanicals of that region shows in the flavors she incorporates into the pastries at Tapisserie. One obvious, and delicious, example is the Pollen-Pistachio Chou puff (above), which combines the tangy, citrusy taste of bee pollen with luscious, undeniably dreamy pistachio cream.
When the other chou drops (har-har…), you'll find the Chou à la flouve (below) is filled with a (sort of) hay-scented cream. Like yuzu and tonka bean, hay has become one of the "it" ingredients used in pastries in France. But unlike the other two, it hasn't been overdone and I don't think I'll ever tire of the earthiness of the hay flavor, especially when it's as spot-on as it is in the creamy choux puffs at Tapisserie. Because it's the internet, I cautiously added a "sort of," as flouve is actually a grass that's somehow different than hay…or at least that's how it was explained to me at the bakery. But if you're curious, they've got a little bouquet of it in the shop to make your own assessment.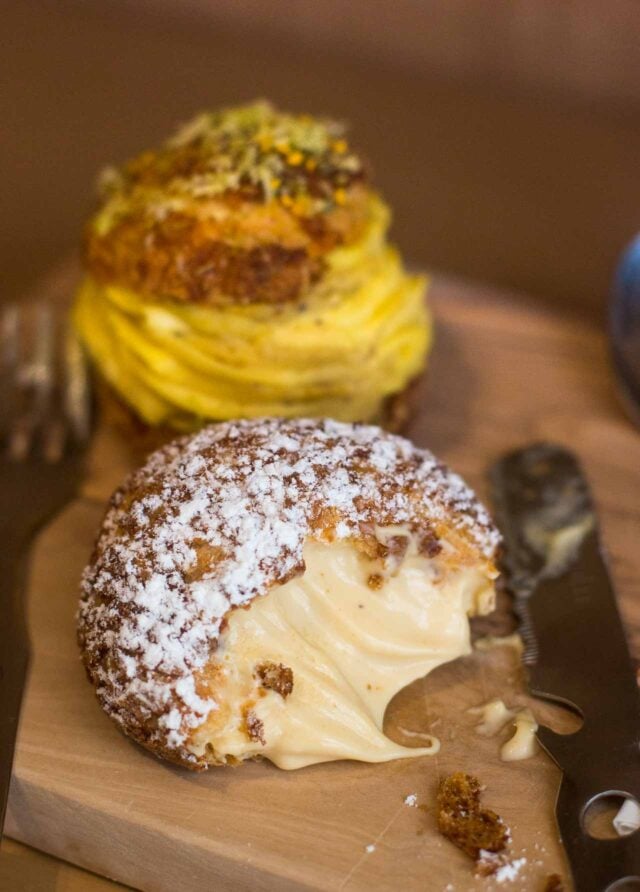 The aforementioned Tarte à l'Erable was so popular at Clamato, and so many people wanted to buy one to take home, that it was a priority to put them squarely in the forefront at the bakery. Just an FYI that the filling is quite coulante (runny) so it's not something you can eat on the go. And if you carry it home, expect it to arrive with perhaps a ding or two. Mine got a little sideswiped on the métro, as did I, but it was still outstanding.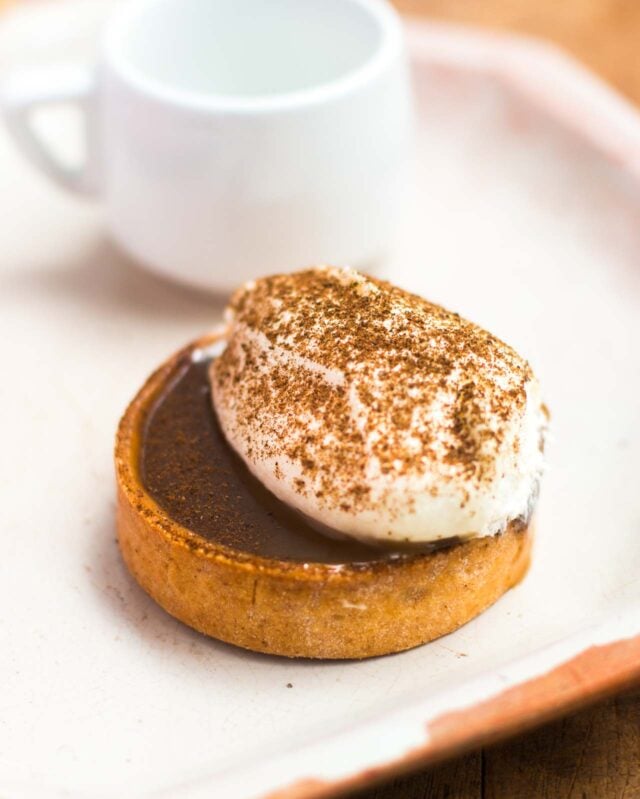 Another stand-out is the Baba Pisco Cerise. Rather than the usual dousing with rum or kirsch, pisco is used to imbibe the yeasted cakes that are also soaked with a cherry-marigold syrup. A bit of cherry-marigold jelly is tucked inside, studded with cooked and raw cherries, then sealed with a plouf of whipped cream and a fresh cherry. It was truly delicious but unfortunately it got jostled extra hard on the métro and it didn't survive as well as the Maple Syrup Tart did. So you'll just have to take my word for it.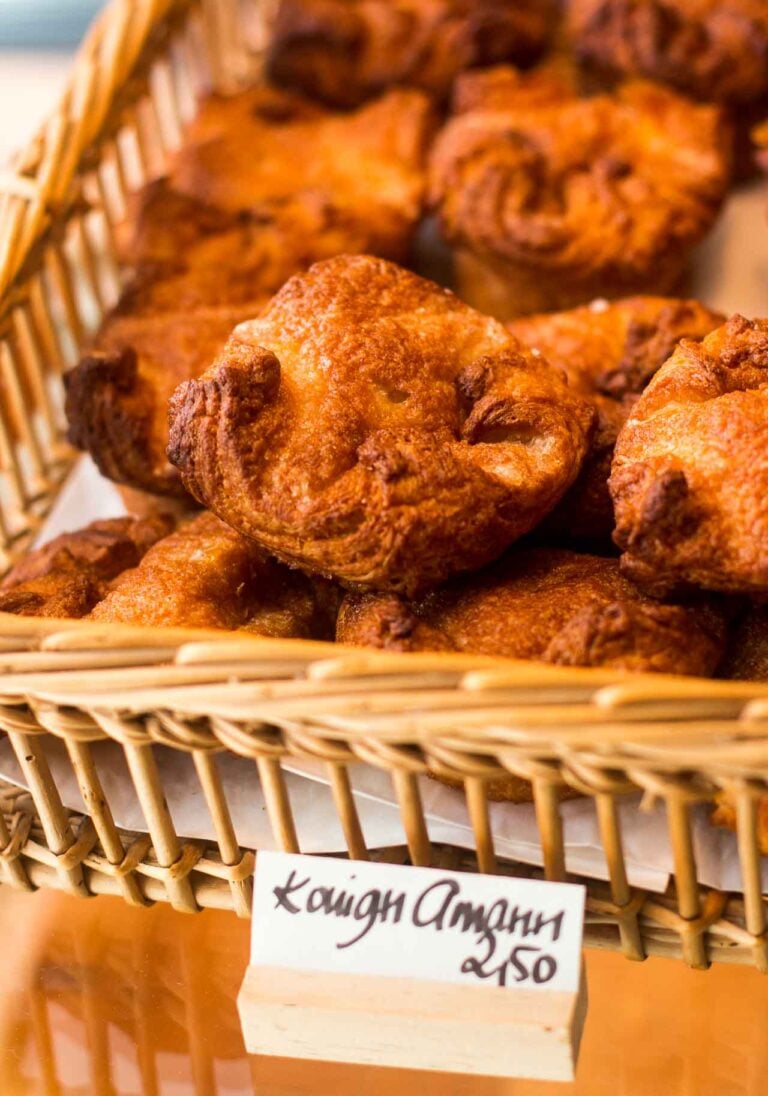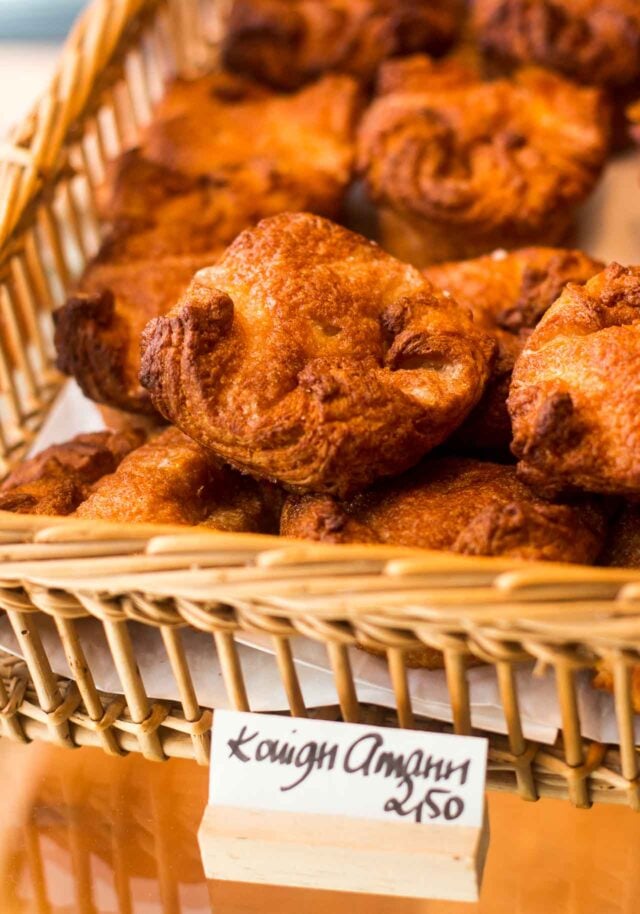 Chef Grébaut told me that both he and Théo, his business partner, are now parents so they were more tuned into the world of sweets, which was another impetus to open the pâtisserie. A French pastry that tends to fall on the sweeter side is Kouign Amann. When people, often other Americans, tell me they prefer their desserts less-sweet, citing the French, who they say use much less sugar than they (or we) do, those people have forgotten about Kouign Amann, the buttery, brittle, caramelizes pastry that's a butter- (and sugar-) bomb. And let's not forget macarons, sugar-crusted chouquettes, crème brûlée, and salted butter caramel, which don't scrimp on the sucre, either.
The Kouign Amann at Tapisserie is remarkably on the lighter side, more cake-like than rich-and-flaky, so it doesn't seem like an overwrought indulgence, as they can feel like – especially if you come from a country that likes less sugar in their desserts. The ones here taste like a sensible pastry that you won't have any regrets about eating. At least I didn't.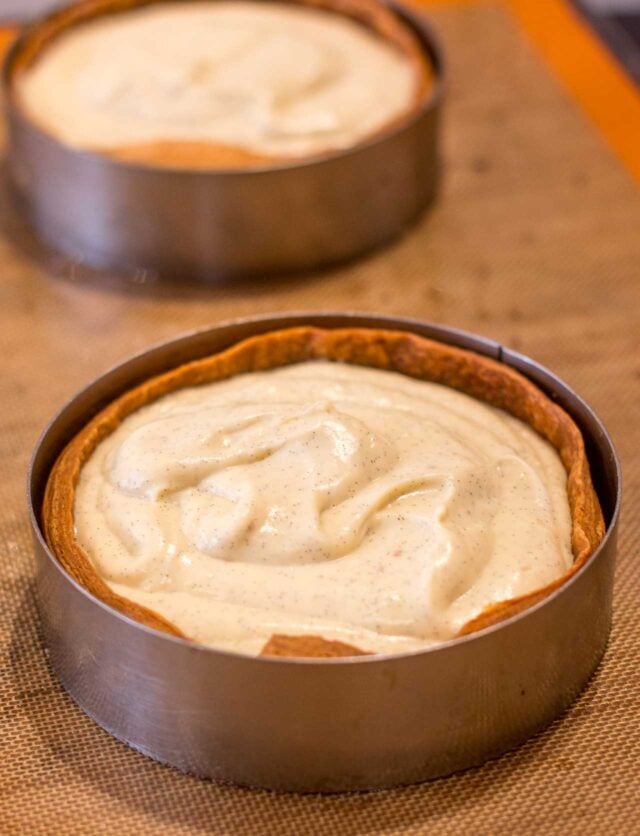 For whatever reason, Romain and I have become Flan fans. We've tried a fair number of them and have our favorites. In long form they're called Parisian Flan, or Flan pâtissier, and not what North Americans expect when they hear the word flan. But it's a popular afternoon snack in Paris. There are a lot of rubbery, clunky, even industrial versions sold around town. A good one can be a challenge to find. It's usually not considered a "fine" dessert, but something you might give to the kids for their afternoon goûter, or snack.
Interestingly, I was recently at a party and someone asked if I knew where to get a good Flan in Paris. When I offered a few addresses, they nixed them for whatever reasons. So I'm not sure why they asked me for advice, but if you ask me, I'll tell you that we like this one a lot. (Other favorites are Maison Aleph and Maison Landemain, and Romain likes the one at Aurélie Ribay.)
But my very, very favorite thing on the menu at Tapisserie right now is the Black Currant Tart. It's bold, with plump, tart 'n tangy black currants resting atop a just-thin-enough layer of vanilla crème mousseline to keep everything in place and provide a soothing vanilla backdrop for the assertive, inky black currants. On the edge of almost being almost too-tart, these tartes are just right. If you happen to hit the bakery when black currants are in season, I urge you not to brush my suggestion aside here.
Tapisserie is also an épicerie (food shop), which sells homemade granola, pisco, jams and jellies, beverages like kefir and cold-brewed coffee, and seasonal lovelies like these pretty peaches lined up in syrup.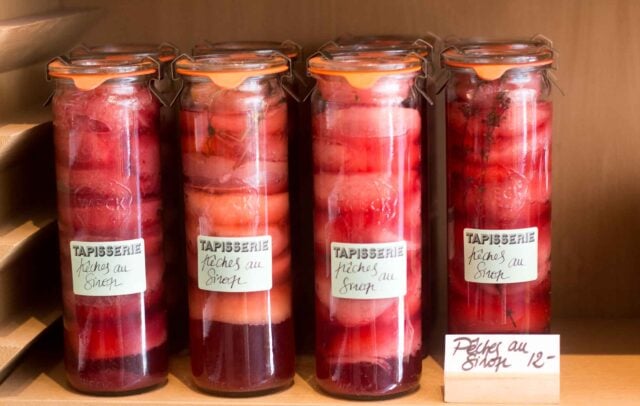 I also picked up a Za'atar-Feta Scone for breakfast the next day. It didn't quite make it that long…but I know I'll be back for more.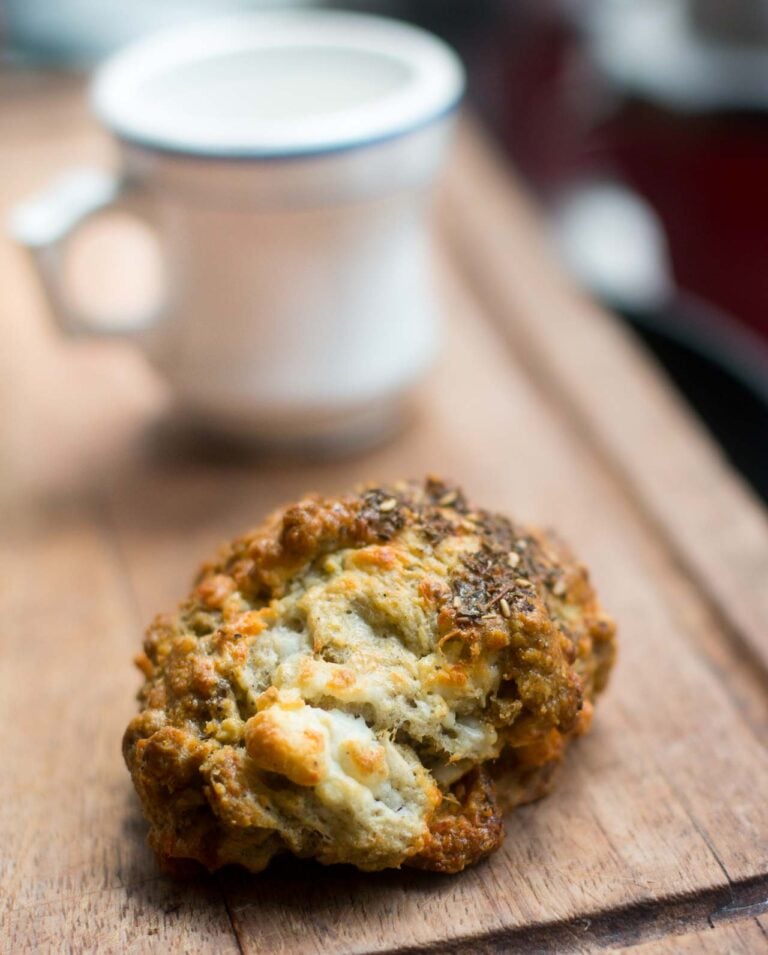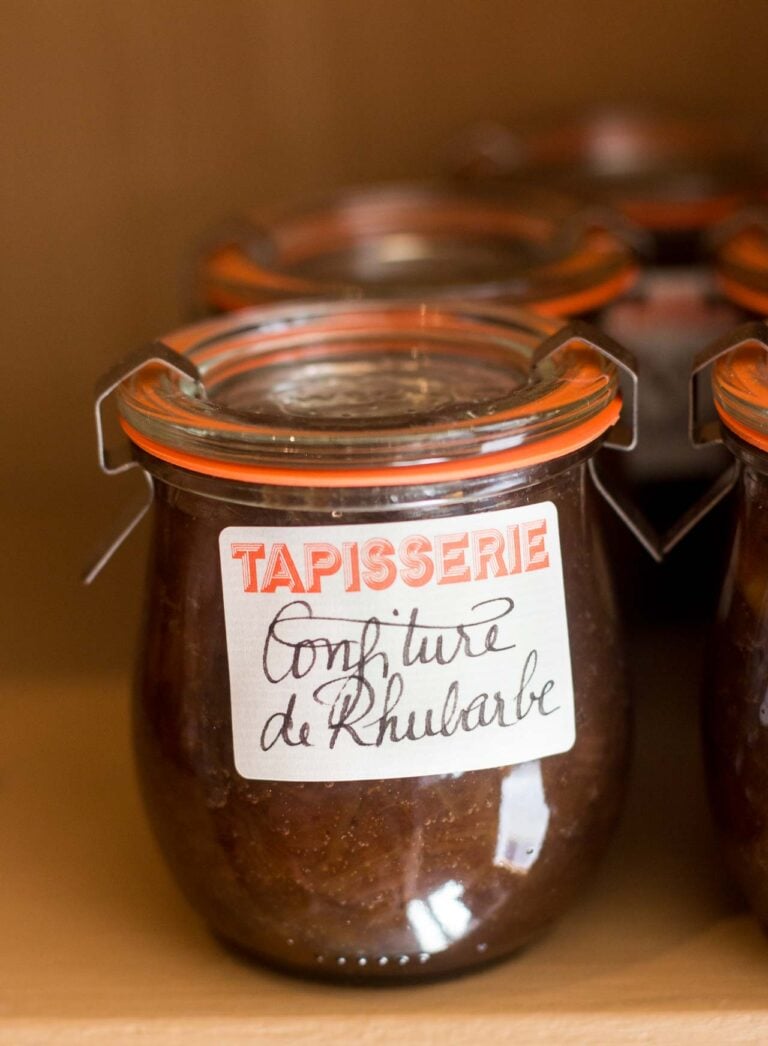 Tapisserie
65, rue de Charonne (11th)
Métro: Charonne
and
16, avenue de La Motte-Picquet (7th)
Métro: École Militaire or La Tour-Maubourg
Instagram: Tapisserie
Current Hours: Tuesday-Friday 8:30am – 7:30pm, Saturday 9:30am – 7:30pm, and Sunday 9:30am – 5pm (subject to change)
[I'm going to be out and about during the month of August en vacances, on break. I'll be sending out newsletter posts during the month, which you can follow here and/or on Instagram.]