After my summer break, I came back to the blog and found out that it still thought it was on vacation…and wasn't accepting any photos at this time. I was proud of myself for finally tackling a recipe that I've had on my radar for a while and spent a day baking it, taking pictures, and writing up the post. The recipe was quite a doozy, but with a name like Smoky Caramel Almond Pie, how could I not make it? It was a bit of a project but I persevered (in the name of smoky caramel and almonds…) but when I came to upload the photos, my blog wasn't having any of it and said non.
A half dozen very good pie books have been released this year, but I've been eyeing my copy of The New Pie: Modern Techniques for the Classic American Dessert. My interest had been piqued ever since I read the New York Times article, A Match Made in Baking and Blue Ribbons about Chris Taylor and Paul Arguin, a couple, who both happen to be doctors, with almost a decade of experience entering pie competitions, culminating in their taking the Best of Show award in the 2017 National Pie Championship. With over 500 pie baking awards under their belts, it's no surprise a book was in their future.
The New Pie is no "apple pie à la mode" book of pies. Even though an apple pie appears on the cover of the book, their version is a more elaborate affair that requires more work than just piling a bowlful of apple slices between two pieces of dough and baking it 'til done. For those of you who'd like the bottom crust of your apple pie to be as crisp as the top, Chris and Paul say their recipe will get you there. You'll need a sous-vide machine, and for those who appreciate the precision of metric measurements (volume and weight measurements are included in the book), calibrate your scale to prepare 1,361 grams of apple wedges to sous-vide.
Other recipes in the book include a West Indies Wedding pie that speaks to the Caribbean, where Paul grew up, filled with muscovado dark sugar, spices, and dried fruits. The Italian Plum Affogato pie with plums and coffee sounds curious enough to want to try. There's Malted Chocolate Hazelnut pie, Gingerbread Cashew pie, Bubbling Butterbeer pie (with homemade pop-rocks, the recipe also in the book), Hunky Monkey pie with peanuts, bananas, and chocolate chips, as well as their recipe for the now-famous Peanut Butter Checkerboard pie, the one that won the top prize at the baking competition. Oh, and they came up with a weep-resistant whipped cream for topping some of the pies along with nine variations, everything from caramel whipped cream to cappuccino.
I finally decided after my summer break to get off my backside, stop leafing through the book, and make a pie from it. This one was a bit of a project, but no one wins awards sitting around on their duffs. And when my blog finally realized it was time to get back to business, it let me upload the photos.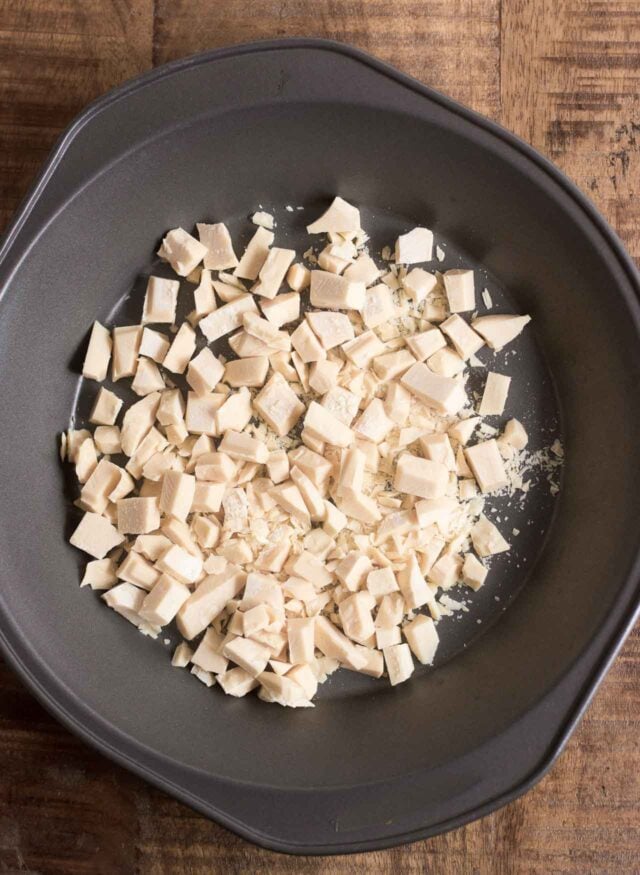 The book is extremely detailed and starts with how to make, roll, bake pie crusts with several pages devoted to each task that answers every question, starting off with an essay The Secret for the Perfect Pie Crust. It includes exacting recipes for making every kind of pie crust, from standard, gingerbread, and cocoa-based pie crusts, to Graham cracker, Gluten-free, and Alpha-Bits cereal crusts.
It still smarts that my third-grade teacher told my parents that I wasn't good at following instructions (which Romain would probably agree with), but if you're an intrepid pie baker, all the information – and their pro tips – are right there at the beginning of the book. That said, I didn't use their pie crust recipe, which uses vegetable shortening, so went rogue with my standard (and reliably good) all-butter crust.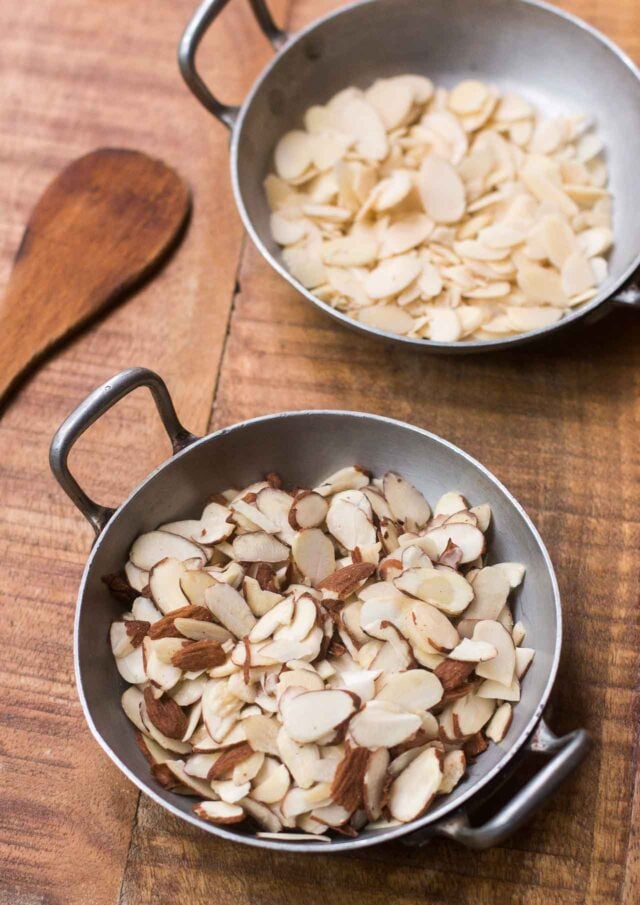 Speaking of which, on page 17, there's an essay called Dreaded Substitutions. The authors talk about the testing they do to get the right results, and the how and why the ingredients and quantities in recipes are there for a reason, which I'm going to address in a future newsletter to add and expand upon my thoughts about that.
They do encourage experimentation and in that spirit, I used sorghum rather than Steen's cane syrup their original recipe called for, since I had some on hand from when I made sorghum ice cream with sorghum peanut brittle. I did have Islay Scotch, which is smoky and peaty, and used my own pie dough recipe. I get a lot of questions about almond flour, almond paste, and sliced almonds. Much of the energy revolves around blanched versus natural almonds (above.) We don't get natural sliced almonds in France, or at least I've not seen them. But when I can get my hands on them, I prefer to use them as I like the more "natural" look, and I think they have more flavor, but that may be psychological and require some additional probing to answer.
The topping of the pie is a caramelized white chocolate ganache, based on something I learned to make when I went to chocolate school in France. Caramelized white chocolate originally was a mistake made by one of their pastry chefs and honestly, when you mix it up, you may feel like you've made a goof. In the author's method, you end up with a crumbly mess then add hot cream, then do your best to stir it until smooth. Mine took a bit of cajoling to get there.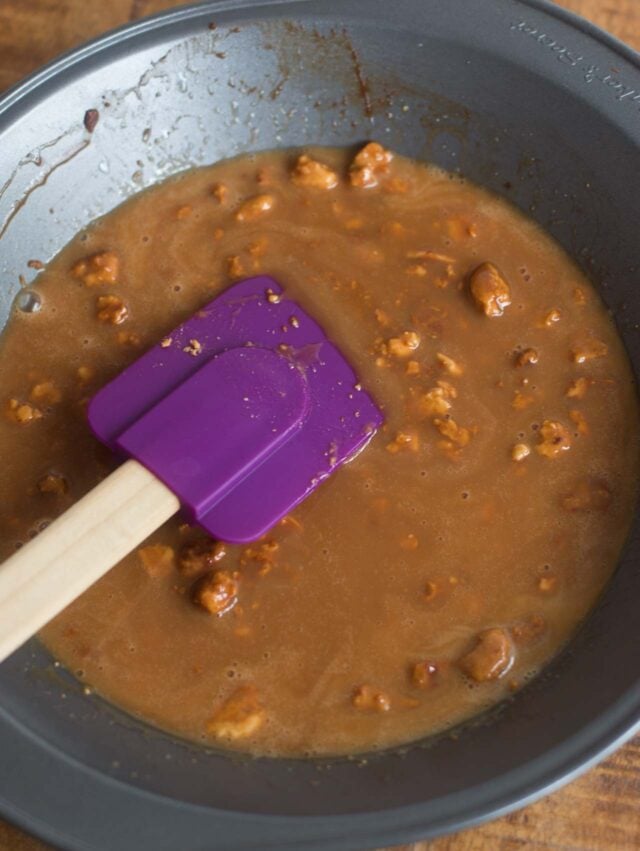 But eventually it came around and I was able to tame most of the undissolved clumps of white chocolate into submission by zapping the ganache a few times in the microwave. In spite of my best efforts, a few remained, which a strainer took care of, before pouring it over the almost-finished pie.
When I say "almost finished," I mean it because there are a number of steps, and techniques, to get to the finish line. Much of what's labeled as "modern cuisine" tends to rely on new techniques and methods to make. The instructions are extremely clear, and thorough, but still, I had to pay attention when putting this pie together.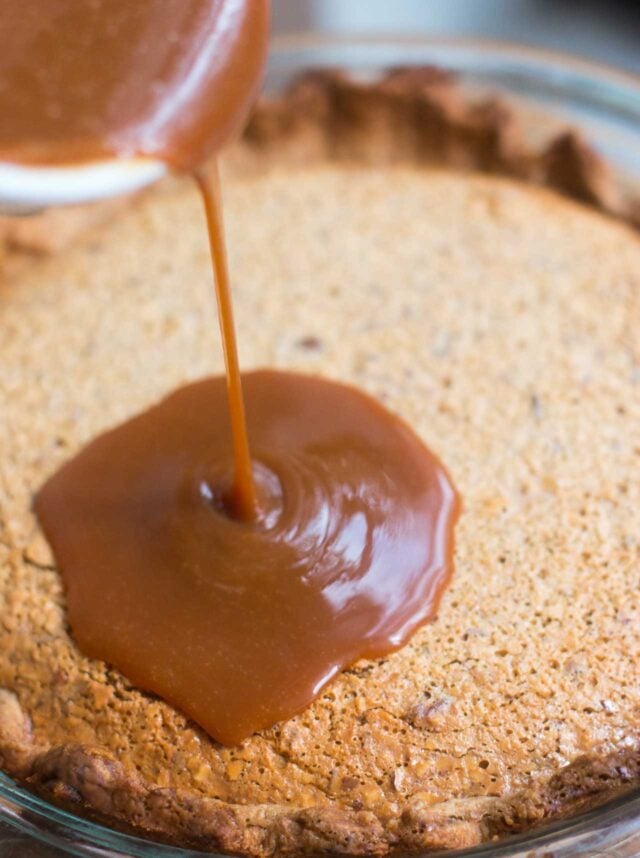 I'm happy to report that I made it to the finish line and if you're looking for something rich and don't mind a bit of a project, this pie is for you. Ingredients include dulce de leche (you can use homemade or store-bought), white chocolate, sliced almonds, cane (or another) syrup, smoked almonds, and a peated Scotch whisky. The smokiness of the whisky didn't come through as much as I'd hoped so I might sneak another tablespoon into the filling next time. The authors have a rocky relationship with substitutions and advise against them, so if you do want to swap something out, it's at your own risk. But on the other hand, they say you're creating your very own, personalized recipe, and there's nothing wrong with being a creative-type.
This Caramel Almond Pie decidedly falls into the rich category. If you're the kind of person who likes pecan pie, as I do, you'll like this one a lot. At first I was a bit overwhelmed by its richesse, but after it sat for a few hours and settled, I found myself slicing off thin slices over and over, and over and over.
Smoky Caramel Almond Pie
Adapted from The New Pie: Modern Techniques for the Classic American Dessert by Paul Arguin and Chris Taylor
Although the authors strongly urge you to follow their recipes and use the same ingredients they do, I didn't have cane syrup so used sorghum syrup, which I had on hand. I bet you could use another liquid sweetener, such as agave nectar, rice syrup, mild honey (although even mild honey can have a strong presence), or Golden syrup, but results and tastes will vary and I think sorghum, or Golden or rice syrup, are best bets.
While the Islay Scotch is to give the pie a slight smoky flavor (which I didn't find came through that much in the finished pie...), you could use another liquor; another whiskey or dark rum would be interesting options. To dial up the smoke, serve it with whipped cream flavored with Islay scotch or a scoop of vanilla ice cream with a splash of whisky poured over it.
It's also recommended in the book to use a food processor to make the pie filling. If you don't have one, you can use a blender and pulse it very briefly just once or twice, stopping to stir the ingredients in the blender so the almonds get chopped evenly. (Everyone's pulse is different so it may take an additional pulse or two.) Note: You don't want to pulverize the almonds to a powder. You want them in large, discernable pieces. So don't overdo it.
The baking and cooking times in the original recipe also differed from mine when I made the pie, which could be attributed to my using an oven that's not well-calibrated at the moment, although I had an oven thermometer in it. So I listed my baking and cooking times, as well as theirs, plus visual clues, which you can use to determine doneness.
For the pie crust
1 1/4

cups (175g)

flour

2

teaspoons

sugar

1/4

teaspoon

salt

4

ounces (115g)

unsalted butter, cubed and chilled

3-4

tablespoons

ice water
For the pie filling
1 1/4

cups (380g)

dulce de leche

,

(from one 14 ounce can)

1

cup (200g)

packed light brown sugar

1/4

cup (85g)

cane syrup

,

(such as Steen's) or another liquid sweetener, such as sorghum or Golden syrup (see headnote)

1

tablespoon

Islay scotch whisky

,

(see headnote for other suggestions)

3

large

eggs

2

tablespoons (30g)

butter, salted or unsalted

,

at room temperature

1

tablespoon

flour

1

teaspoon

vanilla extract

1/2

teaspoon

salt

3 1/3

cups (285g)

sliced almonds

,

lightly toasted
For the caramelized white chocolate ganache topping
4

ounces (115g)

white chocolate

,

finely chopped

1/4

cup plus 1 tablespoon (65g)

heavy cream

2

teaspoons

Islay scotch whisky

pinch

salt

12

smoked almonds

,

for garnish
To make the pie crust
In the bowl of a stand mixer fitted with the paddle attachment (or in a bowl, using a pastry blender or two knives) mix the flour, sugar, and salt. Add the cubes of cold butter and on low speed, cut in the cubes of butter into the dry ingredients with the paddle attachment until they are the size of large chickpeas. Add the ice water and mix until the dough starts to come together. Even if using a stand mixer, I finish mixing the dough with my hand, until the dough comes together to avoid overmixing. If the dough needs a bit more water, add a spoonful or two.

When the dough comes together into an almost smooth ball, shape it into a disk, wrap it in plastic (or your favorite eco-friendly alternative) and chill for at least 30 minutes. The dough can be made up to two days in advance and refrigerated. If you do, you may need to let it rest at room temperature for 5 minutes or so, so it's easier to roll.

On a lightly floured countertop roll the dough into a 14-inch (36cm) circle. Lay it into a 9 1/2-inch (24cm) pie pan or dish. Tuck the dough hanging over the edge under itself to create a rim, and crimp with your fingers. Freeze the dough for 30 minutes.

Preheat the oven to 350ºF (180ºC.) Spray a sheet of aluminum foil that's big enough to lay over the pie dough, including the sides and rim, with nonstick spray. Lay the sheet, greased side down, over the dough. Fill with pie weights and bake until the pie dough is partially baked, about 40 minutes. Remove the pie weights and foil, and let the crust cool on a wire rack. Save the foil for baking the pie.
To make the filling and ganache topping
In the bowl of a food processor, place the dulce de leche, brown sugar, cane syrup, whisky, eggs, butter, flour, vanilla, and salt. Process until well-mixed. (If you don't have a food processor, see headnote for notes on using a blender.)

Add the toasted almonds evenly over the top and pulse once or twice, until the almonds are partially broken up and incorporated into the filling. You may want to pulse once, then stir, then pulse again so they incorporate evenly into the filling.

Pour the filling into the pie shell. Cut or tear the foil into long strips and use them to create a shield around and over the crust of the pie to protect it from getting overbaked in the oven. Scrape the filling into the pre-baked pie shell. (Any excess filling can be baked in the oven in a ramekin or custard cup.)

Bake the pie until the sides are puffed up and the center still slightly jiggles when you wiggle the pie. Mine took 22 minutes (the original recipe said 45 minutes) so begin checking it around the 20-minute mark. Remove the pie from the oven and set on a wire rack. Turn the oven down to 250Fº (120ºC.)

To make the caramelized white chocolate for the ganache topping, verify that the oven temperature of the oven is 250ºF before you bake the white chocolate. You can leave the oven door open to hasten the cooling.

Put the white chocolate in a cake pan or pie tin. Cook the white chocolate for about 12-15 minutes, stirring midway during baking, until the white chocolate is a deep golden brown, but not burnt. (See pictures in the post. Once again, better to rely on visual clues rather than strict times.) It'll be crumbly, which is normal. (The authors said to bake it for 30 minutes, stirring it every ten minutes, but mine baked faster. I used Lindt white chocolate and brands can vary.) While the white chocolate is baking, heat the cream in a small saucepan or microwave oven until it's almost boiling.

When the white chocolate is ready, stir in the hot cream and the salt, mashing the crumbled white chocolate with the back of a flexible silicone spatula until all (or most) of the white chocolate is dissolved. If there are large stubborn bits, either transfer the mixture to a microwave-safe bowl or measuring cup and zap it once or twice at 10-second intervals, stirring between each, until it melts. Or warm it in a small saucepan over very low heat, stirring constantly.

In spite of your best effort, a small amount of white chocolate crumbles may remain, which is fine. Strain the ganache through a mesh strainer into a small bowl or measuring cup and stir in the whisky. Pour the ganache evenly over the pie and arrange the smoked almonds evenly spaced over the top of the pie in a circle. Let the pie cool to room temperature before slicing and serving.
Notes
Storage: The pie can be stored at room temperature for up to two days. It can also be frozen for up to three months.