Sorghum Ice Cream with Sorghum Peanut Brittle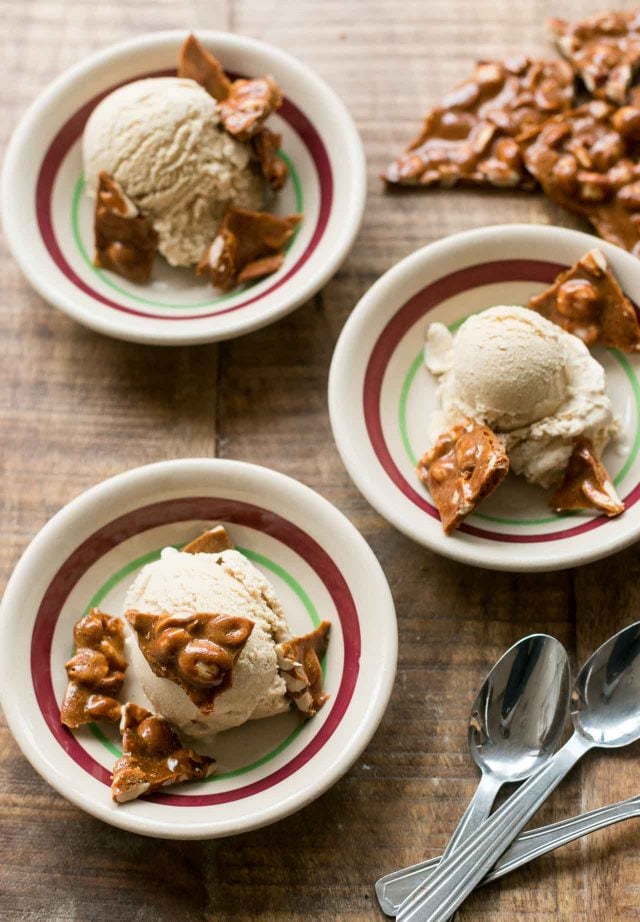 The great thing about writing a single-subject cookbook is that you really get to explore one specific topic, which involves not just sharing what you already know, but what you've learned about the subject. When people ask me how I can tell if a cookbook is good, I say that if I read the headnotes and the author talks about the process they went through the get to the recipe, from testing various ingredients to discussing what worked (and sometimes, what didn't), you get a sense of how thoughtfully the recipes were put together.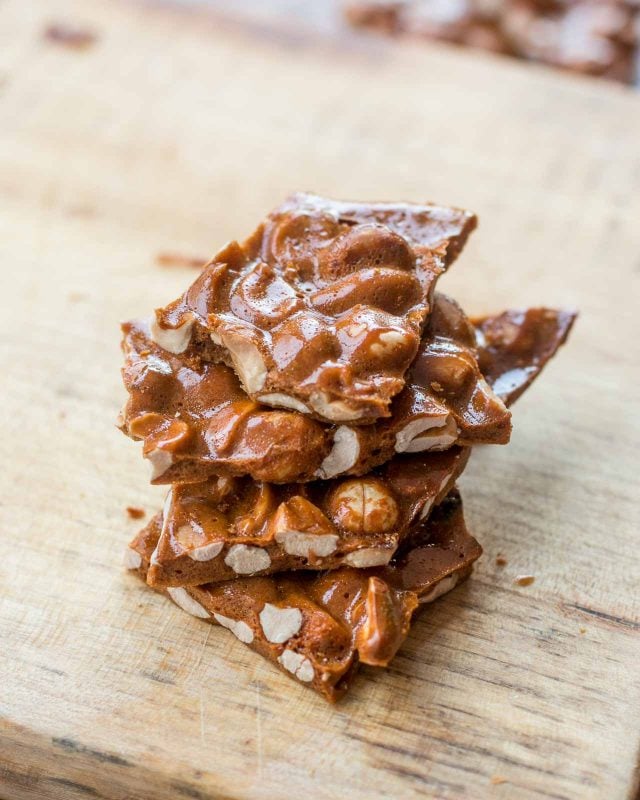 I've been a fan of Alice Medrich for years and her most recent book, Flavor Flours, tackles the subject of using different kinds of flour to create a new palette of flavors in desserts. Like Good to the Grain, Alice found that replacing wheat flour with other kinds flour yields results that often surpass their wheat-based counterparts.
When I was writing The Perfect Scoop, I was talking to Italian food expert Faith Willinger about gelato and she told me that in southern Italy, where summers are especially hot, gelato is thickened with starch, rather than egg yolks. The starch makes it less-rich, and easier to eat when the temperature soars.
I was intrigued, and came up with a Fleur de lait ice cream thickened with cornstarch, rather than egg yolks, to keep the flavor, or fleur (flower) of milk, in the forefront. A few years later, a "ground-breaking" recipe appeared in a newspaper, which many people excitedly forwarded to me, announcing a radical method for making egg yolk-free ice cream using—yup, starch. Got it.
I didn't invent it, but had a discussion about it a few years later with Alice Medrich, who told me she was working on a project that involved ice cream. (Some authors, myself included, don't like to talk too much about what we're working on – usually because we aren't quite where it's going ourselves!) So I didn't push it.
Then Flavor Flours came out, filled with recipes that use all sorts of flours, to boost and dial-up flavors, while still being as delicious as the rest of the recipes that Alice Medrich is known for.
Flavor Flours was released in paperback with the words "gluten-free" more prominently on the cover, since the flours that she uses in the book—oat, rice, buckwheat, teff, and sorghum, among others, don't have gluten. I've never understood why people are so anti-gluten-free. I love using buckwheat, polenta, teff, and nut flours in recipes. They taste so good!
And this recipe is no exception. The idea of using sorghum as a base for ice cream appealed to me. Someone had given me a bottle of sorghum from the south (of the U.S.), and I didn't want to keep it in the "too good to use" cabinet, so I put it to use in the ice cream. I also made a sorghum-based peanut brittle to go alongside, which Alice also had in her book, but mine was less toothsome, and more snappy, so I swapped mine out. It was the perfect pairing.
Sorghum Ice Cream with Sorghum Peanut Brittle
For the sorghum ice cream
3

tablespoons (25g)

sorghum flour

1/4

cup (50g)

sugar

1/4

teaspoon

kosher or sea salt

2 2/3

cups (660ml)

half-and-half

1

cup (250ml)

whole milk

1/3

cup (100g)

sorghum syrup
For the sorghum peanut brittle
1

cup (150g)

salted roasted peanuts

2

tablespoons (40g)

sorghum syrup

1/2

cup (100g)

sugar

2

tablespoons

water

rounded 1/4

teaspoon

baking soda
To make the ice cream, in a medium saucepan, whisk together the sorghum flour, sugar, and salt. Gradually whisk in the half-and-half and milk.

Cook the mixture over medium heat, stirring constantly with the whisk, making sure you're scraping the sides and corners of the pot, until the mixture comes to a simmer. Continue to cook, moderating the temperature so the ice cream mixture stays at a simmer, for 3 minutes, until thickened. Remove from heat and stir in the 1/3 cup (100g) sorghum syrup. Pour into a bowl and chill thoroughly in the refrigerator, preferably overnight.

Freeze the ice cream in your ice cream maker according to the manufacturer's instructions. Once churned, transfer the mixture to a container and store in the freezer until ready to use.

To make the sorghum peanut brittle, line a baking sheet with parchment paper. In a medium saucepan fitted with a candy thermometer, bring the peanuts, sorghum syrup, sugar, and water to a boil. Cook, stirring only enough to keep the syrup from burning (sorghum is heavier than corn syrup or other invert sugars, so it tends to cook more rapidly) until the mixture reaches 260ºF (126ºC).

Remove from heat, remove the thermometer, and immediately stir in the baking soda. Quickly scrape the mixture on the prepared baking sheet and spread the brittle with a spatula so the peanuts are in an even layer. Let cool completely, then break into pieces.
Notes
Serving: Serve the ice cream with pieces of the peanut brittle. Storage: The brittle can be stored in an airtight container for up to two weeks, at room temperature.