Marshmallows are one (or some) of my favorite things. We don't often use 'marshmallow' in the singular and we certainly don't make them one at a time. When we talk about marshmallows, it's generally in the plural since it's hard to imagine just one, lone, solitary marshmallow. That would be triste, as you'd say in French, or sad. Except, of course, when it's floating on top of a warm cup of hot chocolate. That makes me happy. And what makes me even happier is when the marshmallow is made of chocolate. In that case, I'm absolutely delighted.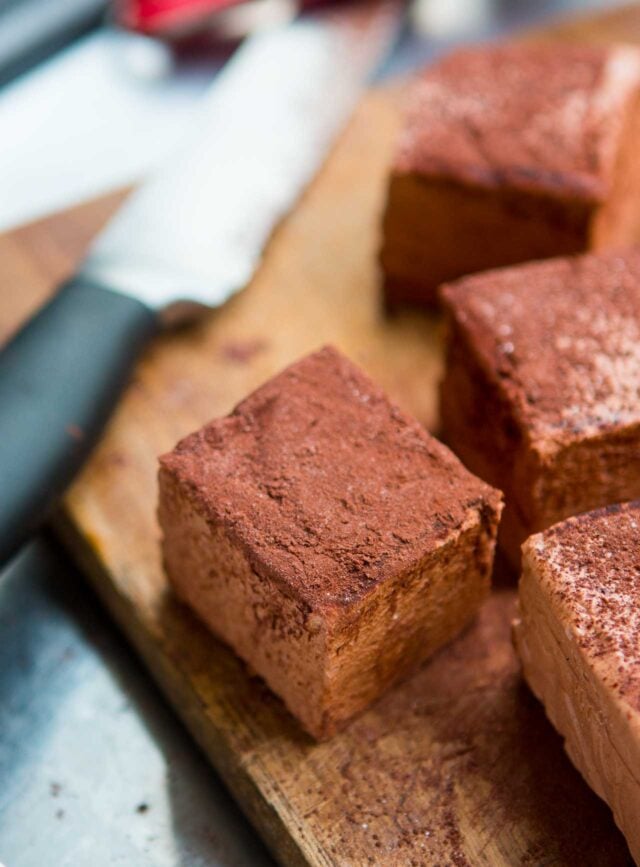 This recipe is adapted from a wonderful new book that I've been anticipating ever since I read about it. It's called A Good Bake: The Art & Science of Making Perfect Pastries, Cakes, Cookies, Pies, and Breads at Home by Melissa Weller with Carolynn Carreño. Melissa was the head baker at Per Se and Bouchon Bakery in New York City, then the much-lauded baker (and founder) of Sadelle's, and is now overseeing the baking at High Street on Hudson.
With all that experience, plus a degree in chemical engineering, I'm going to go out on a limb and say that if you're looking for a baking guide and reference, you can't find someone with better credentials than Melissa.
I'm often asked for recipes for rather complex pastries like Panettone and pain au chocolat. To be honest, for a novice, or even someone with baking chops under their belt, these things can be projects. Melissa's expertly-described Panettone recipe spans six pages of text with a page of step-by-step photos, as well as a detailed minute-by-minute timeline called "Panettone Schedule for a Weekend Baking Project." So if you're looking for someone to hold your hand through the project, Melissa's got your back.
There are plenty of other recipes that sound tempting to tackle, including Sourdough Brioche, Multigrain Bread, Buckwheat (and Black Sesame) Kouign Amann, and Stollen, as well as a home-style Grapefruit Shaker Slab Pie, savory English Sausage Rolls, and Spiced Graham Crackers with billowy Chocolate Marshmallows, which I couldn't make fast enough.
I was very interested in Melissa's discussion about the importance of simmering cocoa powder for a considerable amount of time, and what happened when she worked with the late, great pastry chef Gina DePalma, if someone in Gina's pastry kitchen didn't cook it long enough. Anyone who knew Gina remembers what a stickler she was about the details, but some details matter. And while Melissa isn't quite so mercurial, she does expertly guide you through any and all of the baking projects in this comprehensive – and substantial – 450-page book, that's lavishly photographed by Johnny Miller.
I hewed closely hewed to the recipe, including cooking the cocoa powder long enough (feeling the weight of Gina looking down on me) while thinking that making marshmallows is actually quite simple. If you're feeling hesitant, this recipe really only has two steps: 1) Cooking the syrup, and 2) Whipping the syrup with gelatin. Using a candy thermometer takes out any guesswork. You can use a standard candy thermometer or an instant-read one. And cutting them up isn't a job, it's a joy.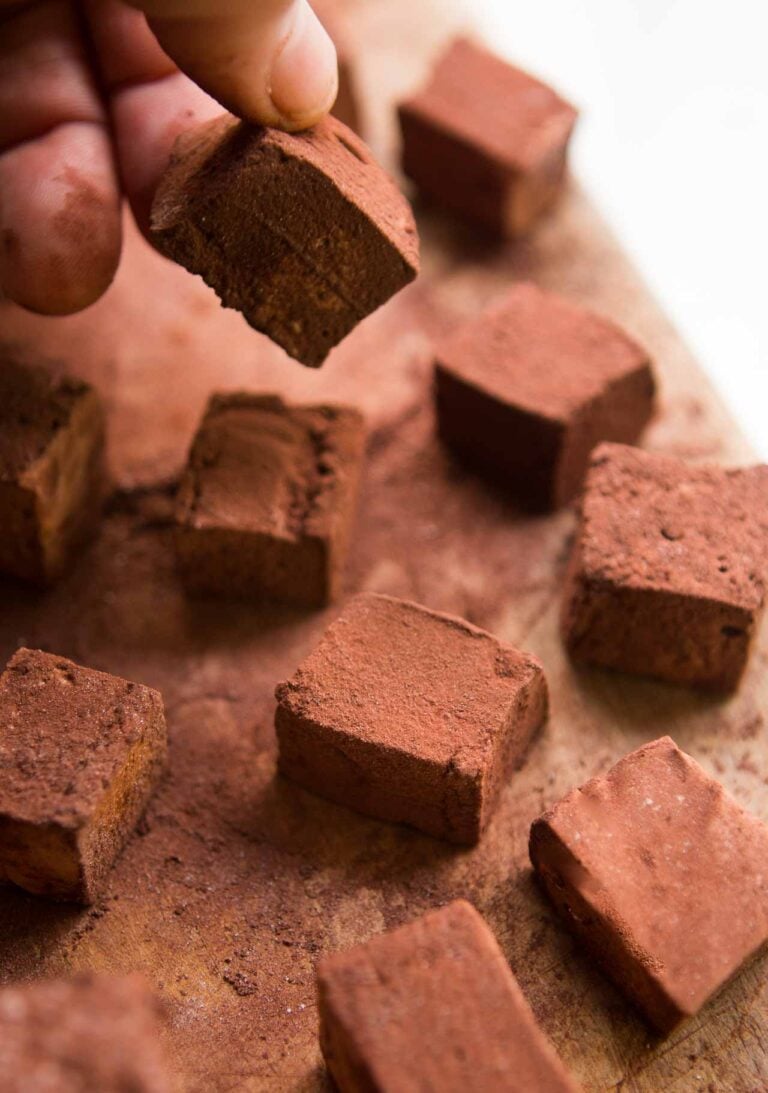 Speaking of happiness, I've recently been thinking of how stressed out people get about baking and cooking, approaching projects with trepidation rather than excitement. The idea of baking, and eating dessert, is supposed to make us happy. We don't need dessert, but we like it. Having a treat is a little moment in our day that we can solely devote to pleasure.
The calm any concerns, I've answered a few commonly asked questions after the recipe and hope those assuage any of them. And if it makes you feel any better, even I've had my share of foibles. When I was cutting the marshmallows and dusting them with cocoa powder, which has a tendency to fly around when you sift it, I had a flashback of when I was a professional baker and dropped a 50-pound sack of cocoa powder. To paper bag burst open and dusted me from head to toe, and my white chef's coat, with a very fine layer of cocoa powder.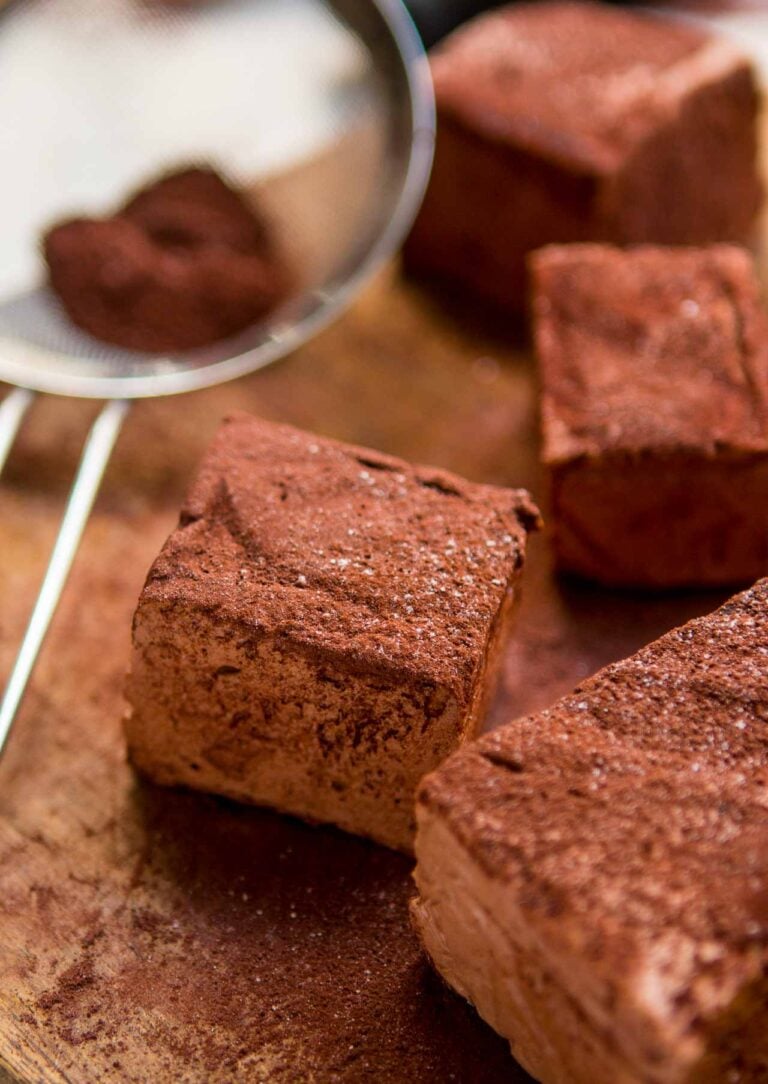 Lastly, it's been a tough year and I encourage others to experience the pleasure of watching as a basic cocoa-colored sugar syrup quickly whips up into a frothy mass, that eventually becomes homemade chocolate marshmallows. And I can't tell you how satisfying it is to bake (or whip) something up that might seem like a challenge, but it actually quite simple, and really fun.
Chocolate Marshmallows
Adapted from A Good Bake by Melissa Weller
Making marshmallows can be sticky business and non-stick spray is your best friend here. If you don't have it, pour some vegetable oil in a small bowl and wipe surfaces with a paper towel dipped in that. The original instructions said the spray the pan first, before lining it with foil, which I didn't think was necessary if you line the pan well. But you are welcome to spray the pan as well first.
You will need a stand mixer to make this recipe. Perhaps a handheld mixer would work, but most aren't powerful enough to beat the thick marshmallow mixture to the right consistency. Be sure to use a saucepan that holds at least 4-quarts (4l) as the syrup will foam and bubble up while cooking. Following the recipe are some FAQs you might have about the recipe, so I've answered them there.
And you didn't hear it from me, but if you're looking for a serving suggestion, these chocolate marshmallows are a special treat melting on top of a cup of Parisian hot chocolate...
1

cup (240ml)

cold water

,

divided

3

packets (21g)

unflavored powdered gelatin

2 1/3

cups (465g)

granulated sugar

1/2

cup (160g)

light corn syrup

1/2

cup (45g), plus 3 tablespoons (25g)

unsweetened cocoa powder

,

preferably Valrhona or another good-quality Dutch-process cocoa powder

2

tablespoons

mild-flavored honey

1/4

teaspoon

salt

1

teaspoon

vanilla extract

2

teaspoons

powdered sugar
Line the inside of an 8-inch (20cm) pan with foil so it goes up and over the edges, smoothing out any wrinkles with your hands as best you can. (The fewer the creases, the easier the marshmallows will be to release from the pan later. Spray the foil with non-stick spray.

Pour 1/2 cup of cold water into the bowl of a stand mixer. Sprinkle the gelation over the water and attach the whip attachment to the mixer. Let stand for at least 5 minutes, to allow the gelatin to absorb the water.

In a medium-to-large saucepan (at least 4-quarts/4l) stir together the sugar, corn syrup, 1/2 cup cocoa powder, honey, salt, and the remaining 1/2 cup water. Fit with a candy thermometer, if using a clip-type thermometer (rather than an instant-read one, which I used here), and cook over medium-high heat until the temperature reaches 240ºF (116ºCº).

Remove from heat and with the mixer on high speed, in a slow, steady stream, gradually pour the hot syrup into the gelatin, being careful to pour the syrup between the bowl and the whip, not directly on the whip or it'll splatter against the sides of the bowl and not mix with the gelatin. Don't rush this step; it'll take about 2 minutes to get it all incorporated.

Continue to whip the mixture on high speed until the marshmallow mixture is fluffy and the outside of the bowl feels room temperature to the touch, about 15 minutes. Whip in the vanilla extract.

Scrape the mixture into the prepared cake pan. Sift together the 3 tablespoons of cocoa powder and powdered sugar in a medium to large bowl, and sift a dusting of the mixture over the top of the marshmallows, just enough to cover it lightly. Let set, uncovered at room temperature, 8 to 10 hours, or overnight.

Unmold the marshmallow mixture onto a cutting board, flipping it so the exposed surface is down, and peel off the foil. You may need to coax it away with your fingers, but it's quite flexible and forgiving, so feel free to use your clean hands to help it release from the foil. Use a sharp chef's knife (or scissors) to cut the marshmallows into squares of whatever size you'd like, cleaning the blade with hot water and wiping it clean between every few cuts, to remove marshmallow build-up on the knife and ensure clean slices. Working in batches, toss the marshmallows as few at a time in the cocoa powder mix, put them in a mesh strainer to shake off any excess.
Notes
Storage: The marshmallows will keep for up to one week in an airtight container at room temperature.
FAQs
Can I use leaf gelatin?
Yes, you can. Check out my post: How to Use Gelatin.
Can I use agar-agar?
Agar-agar behaves differently than gelatin so I would not substitute it here. Some people use fish gelatin. Check the manufacturer's website for how to substitute it.
I am concerned about using corn syrup. Can I use something else?
The corn syrup you purchase at the grocery store is not HFCS, which made differently and something that's probably best to avoid. You can read more about what corn syrup does, and when it can be replaced, in my post: When to Use, and Not Use, Corn Syrup in a Recipe. In Paris, I find light corn syrup in Korean markets such as Ace Mart and Kmart. In the U.S., you can find organic corn syrup. Glucose is a possible substitute.
Can I reduce or substitute any of the ingredients in the recipe?
Read my post on Baking Substitutions.
Can I use another size pan?
Sure! If you'd like thinner marshmallows, feel free to use a wider cake pan. If you don't have a cake pan, the mixture can be spread out on a foil-lined baking sheet to the desired thickness.
What's the difference between natural and Dutch-process cocoa powder? 
Dutch-process cocoa powder is treated with an alkali solution to neutralize the acid. It's generally darker and richer than natural cocoa powder. (In the U.S., potassium carbonate is listed as an ingredient in Dutch-processed cocoa powder, but it's usually not listed as an ingredient in Europe, most likely because there are just trace amounts remaining in the finished cocoa powder.) You can read more about it in my post: Cocoa powder FAQs.
In this recipe, you could use either, but the natural brands can have less-pronounced chocolate flavor than Dutch-processed cocoa powder. Like Melissa, I find Valrhona cocoa powder has the darkest and richest flavor. But you can use another brand, natural or Dutch-process.