Marshmallows in Paris: Pain de Sucre
Maybe more than Americans, French people do like marshmallows. A lot. You see them in bakeries and pastry shops, often in long strands, on display either in lengths, or tied into knots, often stored in apothecary jars. It's a tradition that goes back, before the advent of gelatin, when marshmallows were made with mallow extract which was (and still may be) considered good for your respiratory system.
Nowadays the French eat lots of marshmallows, not necessarily on sweet potatoes (as some Americans do at Thanksgiving), but as a candy or le snack. And my local pharmacy still carries them…although I don't think they're covered by my health insurance.

One of the most stunning marshmallow displays in Paris isn't at a drugstore, though, it's at Pain de Sucre in the Marais. A recent window featured big, crystal-clear jars filled with colorful, spongy cubes flavored with whiskey, angelica, matcha green tea, and my favorite—dark chocolate coated in flaked coconut.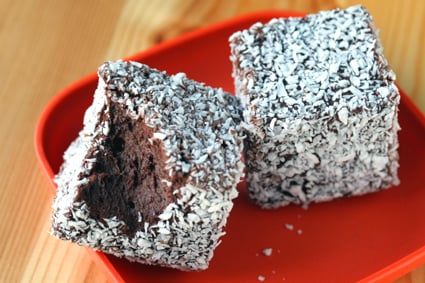 I gotta tell you, these chocolate ones are really tops in my book. They are the best of both world: chewy, sticky marshmallows with just the right amount of sturdiness so they're not overly-gooey, with a sophisticated blast of deep-chocolate flavor provided by the richest cocoa powder which ensures they're not overly sweet. The taste of chocolate doesn't play a backseat to the marshmallow but melds beautifully with it.
And the coconut? Well, for a chocolate-coconut lover like me, that's a touch of extra icing on the cake, so to speak. All-in-all, these are the perfect confection.
They also have little lollypop-like marshmallows dipped in chocolate, meant to be reminiscent of Oursons Guimauve, or marshmallow teddy bears enrobed in chocolate that kids—and a few adults…whose name I won't mention—have an affection for.
The flavors change frequently at Pain de Sucre and you never know what you'll find there. But I was speeding past on my bike the other day, trying to beat the rain, and I almost crashed into the back of the #29 bus when I saw these piled high in the window, just begging to come home with me
Depending on how you look at it, these are much too precious to melt over sweet potatoes. Which I'm sure my French friends are going to be breathing a sigh of relief over in the upcoming weeks.
Pain de Sucre
14, rue Rambuteau (map)
Tél: 01 45 74 68 92
Métro: Rambuteau
Links
More Marshmallows in Paris.
A recipe for my version of the chocolate marshmallows shown in the post can be found in The Sweet Life in Paris.