When I worked at Chez Panisse, we had a customer who would come for dinner several nights a week and eat downstairs in the kitchen. Jean lived by herself in San Francisco and took a cab across the bridge to Berkeley for dinner once or twice a week. When the waiters knew she was coming, they'd set up a small table next to the pastry department and she'd eat there. And because she was a generous soul, she'd treat her regular cab driver to dinner upstairs in the café.
Other customers would come in and say, "How do I get to sit there?" I'm not sure what the attraction was, since we were all busy working, chugging water, tracing around, dishwashers hauling dishes, garbage and compost bins, but the concept caught on and eating in the kitchen became de rigeur for foodies. Oddly, for a while, whenever I went out for dinner and they knew me from the restaurant world, they'd always seat me near the kitchen, so I'd have a view of it. And I always asked if I could sit somewhere else. Who the heck wants to watch someone else work on their day off?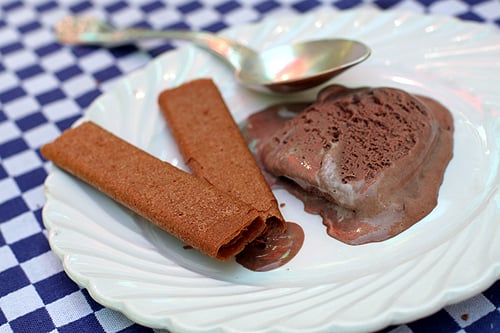 Jean was born and raised in San Francisco. Her parents were fur traders and they'd take long boat trips back and forth to Asia, and she and her sister would accompany them. During the long voyages, she told me, Jean and her sister would sit in the chef's office and rifle through his cookbooks, picking out things for him to make.
Being a classically trained French chef, he was bored cooking for all the fuddy-duddys on the boat and loved recreating elaborate French dishes for the excited young girls.
When she arrived at the back door of the restaurant, in all her largess and splendor (Did I mention she liked to eat?…), she invariably came carrying bags of treats for all of us. And the treats changed often. Sometimes there were dozens of packages of freshly baked crumpets from a fantastic British crumpet baker in San Francisco's Sunset district. Others times she had stacks of pink cardboard boxes from a French pastry shop which, regrettably, weren't very good.
I never understood the appeal of caviar until the night she brought in a few kilo-sized tins of briny Iranian osetra caviar, which we ate by the heaping tablespoon. (Which I learned right then and there, is the only way to eat caviar. Which is why I can never eat it again—at least until my ship comes in.) And, my favorites, which were the boxes of Belgian chocolates from the swanky food hall of the now-shuttered I. Magnin department store.
One day she came carrying boxes of Gavottes and handed them out to all of us. As we unwrapped the gold-foiled packets, there was suddenly silence in the normally crazy kitchen. We'd all stopped what we were doing to slide them out of their wrappers, and within minutes, the tiled kitchen floor was littered with flaky, buttery-brown crumbs. (So if you were dining at Chez Panisse sometime in late 1992 and were wondering where your desserts were, now you know.)
Brittany is one of the few regions in France that isn't known for its cheese. But what they lack in cheese-eating, they surely make up for with their consumption of butter, which shows up in all sorts of butter-drenched pastries, most notably in crazy-good kouign amann.
If you want a taste of that butter, you don't need to make the trip to the Atlantic coast (which, by the way, is worth it), treat yourself to a box of Gavottes, these rolled-up cookies of Brittany, which taste like sunny butter held together with just enough flour to keep them from breaking apart, then caramelized.
The process is pretty interesting: the batter is spread on a flat griddle and when it's cooked to just the right temperature and consistency, it's rolled around a knife (or another long object), then cooled until crisp.
The good thing is that you don't need to head to Brittany to get them; they're available in just about any French supermarket. (Although I'd skip the chocolate-covered ones. Even though it seems like a good idea, in principle, the unexceptional chocolate overwhelms the buttery crispness of the cookies they're covering.) They're excellent with everything, from a dish of chocolate ice cream, to a simple demitasse of dark coffee.
According the company's website, the cookies were invented in 1893 when a woman was making crêpes and forgot about them on the griddle. So she rolled them up and let them cool, which were the base for the cookies that I, and many others, love today. Gavottes are also Breton dances, a series of movements where the locals dance around, holding pinkies and shimmying across the floor. (Video.) I'm enamored by all things Breton, especially the butter and other tasty things. But I'm not sure I want to grab pinkies and dance around with anyone. However, I am happy to enjoy their cookies.
Related Posts and Links
Loc Maria (Maker's of Gavottes, crêpe dentelle cookies)
Video of Making Crêpe Dentelles (In French)
Kouign Amann (Recipe)
Crêpes Dentelle Recipe (unrolled) (Michael Laiskonis)
Kig ha Farz (Recipe)
Salted Butter Caramels from Henri Le Roux
Buckwheat Crêpes (Recipe)
Online Availability
Crêpes Dentelles (The Frenchy Bee)
Crêpes Dentelles (Touch of Europe)
Chocolate-covered Crêpes Dentelles (Amazon)