8 Coping Tips for Living in Paris
For a recent talk where I was asked to give for newcomers to Paris, I decided to share some of my coping strategies for living in a foreign country. I came up with a list of eight things that I do when it all seems too much.
Like this morning, when I woke up and found that before I hit the "Save" button and called it a night, my cable company dropped my connection, which deleted two-thirds of this post.
Fortunately, I'm resilient now, and no longer a stranger to having to re-do things over and over. I sat right back down in my proverbial Aeron saddle and re-wrote them, which only took a few hours. Curiously, while I was typing away, a representative called me on my cell phone to try to get me to stay on as a customer. When I mentioned that he had to call me on my cell phone, since my land line service (which they provide) didn't work, he didn't see any irony in that. He probably also didn't understand a few choice words I used, since I said them in English, which was a good thing.
Nevertheless, there's plenty of things you can do, including ripping your cable company a new one, that'll make you feel a lot better when all seems lost and you feel like everything is conspiring against you. Like me, who courageously sat back down and started from anew—with an amazing bar of dark chocolate with toffee and salt (see #1), and went back to work.
1. Buy yourself some nice chocolates.
When you've torn out what's left of you hair dealing with your cable provider non-provider, when the bureaucrat at city hall sends you home for a copy of your mother's third-grade report card, notarized, or when you go to four different copy centers trying to send a fax to your financial institution back in the states to wire money and each one has a different excuse why their fax machine isn't functional (my favorite one was that "…there was a fire in the neighborhood and we can't send faxes"—but I figured he wasn't lying since he spent the next ten minutes rifling through the phone book looking for another fax center in the area), those are times when you need to remind yourself of what the French do so well, and that's make chocolates.
Luckily in Paris, you're never really far from a chocolate shop. (Thinking about it, I wonder if that's the reason.) But if you really want to treat yourself to something special, stop into Jean-Charles Rochoux for a box of dark chocolates filled with liquid Chartreuse. Hustle over to the snug corner enclave of Michel Chaudun for a little brown case of dusky-brown pavés, which are so creamy-smooth, they're served with dainty wooden picks.
Or go for the big kahuna and splurge on the €34 box of mixed chocolates at Patrick Roger. Don't even bother making your own selection; just let them pack up one of the boxes lines with chocolates which they've designed to go together. You might think it's a lot of money, but last I checked (well, not that I have…), therapy is around 3x that price, so it's a pretty good value, (see #3, below) which should make you feel better, too.
2. Go to an amazing bakery and have a really good pastry.
There's nothing like French butter and if something made with it won't keep you from rifling through your files, looking for the other half of your round-trip ticket back, nothing will.
Ladurée, of course, is almost like a pharmacy, with the double-sided cookies lined up like prescription tranquilizers, ripe for abuse. Step into the quaint shop of du Pain et des Idées and nab an apple-filled puff pastry turnover or swirly pistachio pinwheel pastry. Or grab a croissant (but only before 11am, while they're still shatteringly perfect), and wolf it down on the sidewalk, letting the flaky crumbs scatter to the wind.
You'll be so happy, you won't even feeling like kicking the pigeons swarming at your feet. In fact, you may whistle a happy tune to them, à la Blanche-Neige.
3. Start a blog to share your feelings and experiences with the world.
3. Go shopping.
It's what we Americans do best. We're experts at it and it's our special way of warding off problems and dealing with any real issues. Natural disaster? Go shopping! Malevolent action by zealots resulting in total death and destruction? Go shopping!
The problem in France is that there aren't a lot of bargains to be had, and there's no TJ Maxx or places to satisfy that craving on the cheap. If you're depressed, it's really no fun going into le Bon Marché and dropping €135 on a pair of jeans, even if they make your butt look amazing. (This is not the time to think about your backside, you're concerned with helping the other end. Remember?) Still, you need to buy something shiny and new to get you out of that funk, even if you couldn't fit a packet of index cards into your crammed-full apartment.
So take the métro just to the outer edge the city limits to a giant hypermarché, like Auchan (at La Defense or Bagnolet) or Carrefour (Montreuil). Fill your cart with French sea salt, red wine (see #8), and DIM men's briefs, which are worth every cent for the way they make you feel underneath it all. And if you're worried no one else will see them on you, you can be happy with the knowledge that those skimpy briefs take up less room in your apartment than a few boxes of paperclips, because you need them in every possible shape and size, or a fax machine.
4. Take a trip out of Paris.
Paris is a tight, crowded city where remarkably, two million can seem to be in a collective bad mood at the exact same time. After a while, it was wear one down and even our all-American optimism can't sustain us.
France is manageable via TGV and you can go anywhere in France in just a few hours, and be reminded what a great country this is. (And if you think you râle about the denizens of the nation's capital, you'll find out from other French people that you're not alone.)
Check specials at the SNCF website. Lyon is a great city and only 2 hours away. It's filled with great restaurants and chocolate shops. Nice is a change of pace and right by the sea. And Bordeaux is close enough to Spain so that you sip sangria and eat tapas in a mere three hours from your departure from Paris' gare Montparnasse.
If you're short on funds, there's plenty of European-style hotels with basic services, that are just fine. And you can get deals in the chain hotels, which although aren't my favorite, are always clean and well-located. And they usually have WiFi, in case you don't want to be too-much away. (Or you didn't take my advice in step #3, and started a blog. Then I'm afraid you're stuck.)
5. Take a trip in Paris.
If you can't leave the city, take a trip in the city. You can easily escape the hubris by exploring La Chapelle, the Asian quarter in the 13th arrondissement (be sure to visit the giant Tang Frères), or Belleville. In short, get out of the seventh arrondissement.
Last week I was up in La Chapelle, behind the gare du Nord, looking for almond paste, and poked my tête into the shops that specialize in Sri Lankan and Indian foods. Aside from the Dolly Parton look-alike drag queen I passed, I felt like I was transported to India. Giant gourd-like pumpkins, meter-long green vegetables, and the smells of murky spice permeating the air is a great recipe for escaping the city.
Same with rue de Belleville. Walk up the street and you'll pass African shops selling hair extensions in every color imaginable (except I didn't see Dolly's), Arabic dried fruits, Asian dried fish, and plenty of Paris Pas Cher stores, so you don't need to get your fix at a hypermarket. Although I probably wouldn't recommend these neighborhoods as good places to stock up on underwear. Unless you don't mind your privates smelling like cardamom.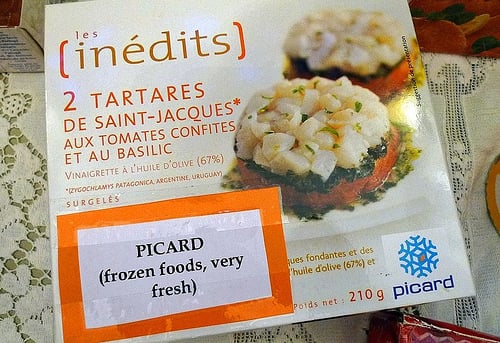 6. Don't use logic.
The other day, we set out for the Île de la Cité on our bicycles, to visit the dreaded Préfecture de Police, the epicenter of French bureaucracy. As I turned my bike towards the island in the middle of Paris, Romain pointed his in the complete opposite direction and said that that was the best way to get there.
Scratching my head at the logic, he said that was a more interesting way to go…even though it was a few kilometers out of the way, in the opposite direction. We Americans are "result oriented". When faced with a problem or a task, we think about how to find a solution. The French, on the other hand, are more concerned with the chemin, or the "path", rather than actual resolution. And in his mind, why wouldn't we go the more interesting way?
(btw: I won that one.)
Similarly, someone I know who is was dating a Frenchman and had a certain amount of difficulty seeing some things eye-to-eye. I asked her whether she tried logic, and she told me, "He said he doesn't believe in logic." Which is actually a pretty clever trick since you can't argue with someone who says they don't believe in logic, which is why it's hard to win arguments around here.
Which, along with keeping their jobs, is also why the folks at city hall aren't all that interested in figuring out a way to reduce the amount of visits one needs. So next time you go, open your mind to the other possibilities and clear your agenda for the afternoon. When one person tells you one thing, then a minute later, someone sitting in the same office tells you another, you won't get so stressed out, but able to see the logic in a system that values making the process as complicated and hard-to-fathom as possible.
Which I will be doing since they told me that all the paperwork I submitted had to be re-submitted, in December, because one single form was missing. But they couldn't tell me which one. But I guess I'll find out when I go back in December.
And probably then again in February.
And in May, when I need to begin the process all over again for the following year.
7. Buy cool glasses.
The French have the best glasses. And because many of them have a mutuelle, a supplemental private insurance policy that includes a provision for new glasses, if they don't take advantage of it, they forgo that benefit. So everyone has amazing eye wear. That's why the French are so cool.
(Another reason may be explained by a recent appointment to get an eye exam and the darkened waiting room had no lights, forcing us to squint and hold the magazines centimeters from our faces. Is this a way to assure the doctor future business, or was she in collusion with the eye wear industry?)
Nonetheless, take advantage of all the city has to offer because Paris is teeming with incredible eyeglass boutiques. Go to the Marais and pick up a pair. They're going to set you back roughly the same amount of money as a trip back to the states, with change left over after getting a cheap pair from Lenscrafters, but what's the point of living in Paris if you can't hold your head up high. And to do that properly, there should be a pretty cool pair of eyeglasses framing it.
8. Have a glass of wine.
There's a reason the average French person drinks 43 liters of wine a year, and the average American drinks 7 liters.
I don't advocate drinking to excess, but there's something to be said for closing the door of your apartment and nursing a glass of vin rouge after a particularly trying day spent battling people on the métro, waiting in line at overheated department stores, and sitting in underventilated city offices while your paperwork gets scrutinized, then rejected because you didn't use the right shape of paperclip to fasten the whole stack of paperwork together.
If you want to know why some of those bureaucrats are so unpleasant, it's because nearly 50% of the women in France don't drink wine.


Well, that's it. I hope some of these tips help those coping with relocation anxiety and issues. And if all else fails, it helps to remember that some of them are trying just as hard as we are…
Related Posts
15 Things I'd Miss About Paris If I Moved Away