When the lockdown was announced about a month ago, I thought of all the great things I would finally be able to do. I would finally tackle those five- to seven-season tv series that everyone told me that I just had to watch, that require a hundred-hour commitment to get through them. (Breaking Bad and The Wire, I'm looking at you…) I would have the time to go through all those folders of paperwork that pile up like a fallen cheerleader formation when you live somewhere where paperwork is as common (but not as welcome) as wine.
Or I might finally tackle The Goldfinch (769 pages) or finish A Little Life. I only made it to page 30 (of 720 pages) of the latter before my brain felt like an Escher print.
Yet none of those things have happened. I ended up launching a daily Apéro Hour on my Instagram IGTV channel and found myself doing a lot more cooking and baking and writing. I try to squeeze in a little exercise either following videos on YouTube or taking online Pilates classes, and ended up revisiting some vintage recipes, including my variation of one by Marcella Hazan. But I dug into my own personal cookbook archives to make these Cranzac Cookies, and I almost wish I didn't, because I could not stop eating them.
These "cookies" are based on the same flavor profile of Anzac Biscuits, but everyone can relax as these are not traditional Anzac biscuits, but are inspired by them. One thing they do share is that they don't have any eggs, and these are particularly low in butter, which many in lockdown will appreciate if those are hard to come by.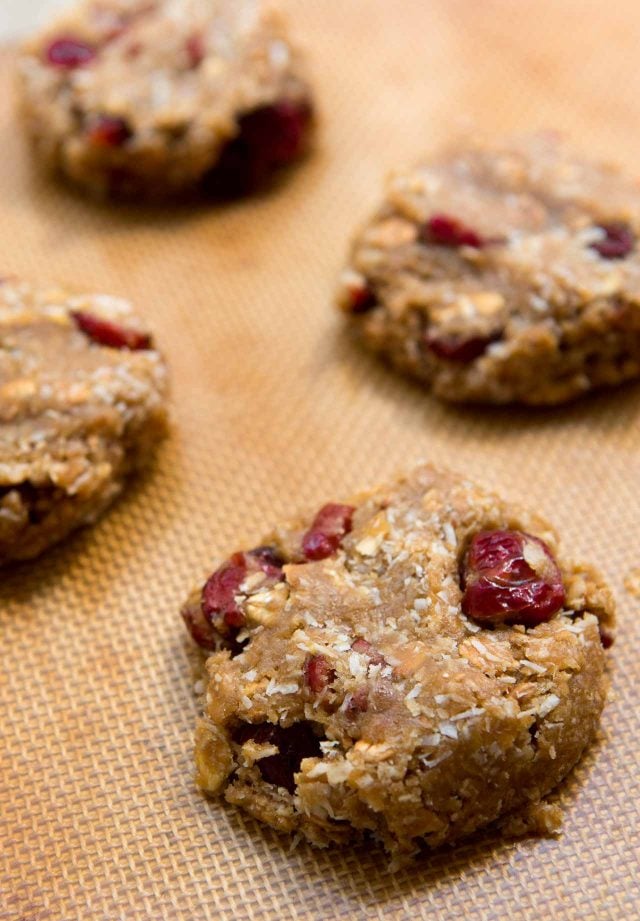 I'll never forget the time I was doing a demonstration and making these cookies in Los Angeles a number of years back, when low fat was the craze. When I got to the step where I was about to add the butter, a woman in the front row gasped loudly, and exclaimed to everyone around her, "Look! Look at all the butter he's adding!"
I was, like, "Huh?" I replied that there were only 2 ounces of butter for 26 cookies. Most cookie recipes call for two sticks (8 ounces/230g) of butter and these had a mere half-stick. A few years later, during a different diet craze, someone in an audience asked me if it was okay to eat grapes because they contained sugar. I didn't know what to say to that except that I didn't want to live in a world where eating fresh fruit was considered a bad thing.
While I spent my days avoiding watching women dressed in form-fitting leggings doing sweeping leg circles, mermaids, and PIlates corkscrews, and instead of catching up on literature, watching Luke Cage wipe out evil forces trying to take over Harlem, I've been making these cookies like there's no tomorrow. (Not to be Debbie Downier, but watching the news this week, there just might not be one….) But I'm remaining optimistic that at some point, we'll all be out and about again, someday.
Until that day comes, I am going to be making these cookies weekly, or maybe more often. I am down to my last bag of dried cranberries (you can buy them in Paris, but they are usually sold in supermarkets small packets and are pricey little fellas) but have other dried fruit options, and have plenty of Golden syrup; when Marks & Spencer food opened in Paris, I was nearly bathing in Golden syrup, broccolini, muscovado sugar, crumpets, cottage cheese, and jalapeños, which were no longer elusive, and, dare I say, abundant.
These Cranzac Cookies have also been in abundance, and Romain's obsession with les crumpets has turned to these. I'm not sure how these translate into French, or Australian or Néo-Zélandais, but at times like this what matters most is how good they are. And there's no controversy about that around here.
Cranzac Cookies
Adapted from
Ready for Dessert
(Inspired by a recipe in the former Cooking Light magazine, who I wrote and developed recipes for)
Answers to FAQs
-If you don't have dried cranberries, you can use raisins, dried cherries or dried blueberries. If you'd like to use dates or apricots, those would work well, if diced. -Golden syrup can be found in well-stocked supermarkets and grocery stores, or online. If you can't find it or don't have it, you can use agave nectar, rice syrup, or mild-flavored honey. I haven't tried or tested them all, but sorghum or cane syrup may work, or maple syrup, but I would consider using only 2 tablespoons if using honey or another liquid sweetener as their flavors are much stronger. If the dough feels dry at the end, add a teaspoon or so of water, just enough to moisten it enough so it comes together. -I've not made these without the coconut but if you do try them, let us know how they work out in the comments. The dough will be moister so not sure how it will bake up. -Gluten-free bakers may want to try a gluten-free flour substitute, like one from
Cup4Cup
,
King Arthur Flour
or one from
Bob's Red Mill
.
1

cup (95g)

old-fashioned (rolled) oats

,

not quick-cooking

1

cup (200g)

packed dark brown sugar

1 1/4

cups (175g)

flour

1

cup (90g)

unsweetened shredded coconut

1/2

cup (60g)

dried cranberries

1/2

teaspoon

baking soda

1/4

teaspoon

salt

3

tablespoons

water

4

tablespoons (60g)

unsalted or salted butter

,

melted

1/4

cup (60ml)

golden syrup
Preheat the oven to 350ºF (175ºC.) Line a baking sheet or two with parchment paper or a silicone baking mat. (If you want to bake them all off at once, you can using two baking sheets, although there will likely be enough dough left to bake more.)

In a large bowl, mix together the oats, brown sugar, flour, coconut, dried cranberries, baking soda, and salt. Add the water, melted butter, and golden syrup and stir until everything is well combined.

Using your very clean hands, or a spring-loaded ice cream scoop, shape the dough into 1 1/4-inch (3cm) balls. Place them evenly spaced apart (about 1-inch/3cm) on the prepared baking sheet(s) and use your hand to flatten each mound of dough so they are about half as high as they originally were. (About 2-inches/5cm.)

Bake the cookies, rotating the baking sheet(s) in the oven, until they are lightly browned across the top, about 12 minutes. Remove from oven and when cool enough to handle, use a spatula to a wire rack.
Notes
Storage: The cookies will keep for up to five days in an airtight container at room temperature. The dough can be refrigerated for up to 5 days or frozen for up to three months.