Comte Cheese Ripening and Tasting
After spending a few mornings in the steamy, warm confines of the fruitières, where cheese making begins, I visited several of the fromageries, which are what they call the caves de affinage; the cavernous cellars where the cheeses are ripened.
The first thing that hits you when you walk into a ripening cave is the incredibly strong, every sharp odor, that zooms right up your nostrils. (There are sixteen ripening caves for Comté in the Jura.) Aside from instant sinus cleansing, the smell invades your senses with a combination of yeast, ammonia, and mold. There's barely any smell of cheese, which is to be expected since at this point the giant wheels of Comté are well-encased in their protective crout (crust). But if you walk around with an affineur, you can tap and probe the cheeses and taste them as they develop their full flavors.
A lot of the job of the affineur depends on listening, touching, and tasting. More than you think can be determined by tapping on the cheeses with the tool known as a sonde, an elongated blade with sharp, curved edges. The sonde does double duty as a hammer-like device for listening to the cheese, as well as a tool to reach deep into the center of the wheel to taste how the cheese is developing.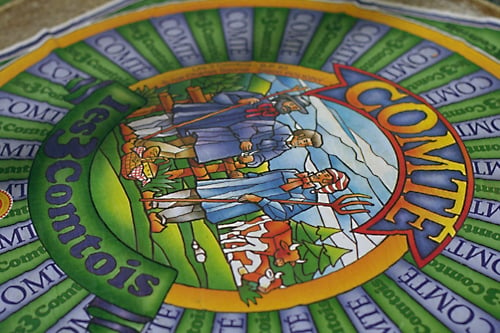 I was fascinated as the affineurs would walk through the caves and by some internal instinct grab a wheel of cheese, pull it halfway off the shelf, and start madly tapping away across the top of the wheel. Indeed, the sounds would be different as they tapped, and we were preparing ourselves to taste the different Comtés at various stages of ripeness.
Like wine, chocolate, and a host of other things, there's no absolute 'right' or 'wrong' rules when it comes to deciding what makes a particular food 'good' or 'bad'. If it tastes good to you, then it's good. But there are commonly held ideas that most agree on. For example, chocolate or vanilla that tastes like smoke means the beans were dried over a fire, rather than air-dried, a process which takes longer but allows them to develop more complex flavors. Wine has it's own complexities and price points but there's nothing wrong with most vins de table.
With cheese, like anything edible, you don't want any off-flavors. Nor do you want big fissures when you cut open the wheel that will make the slices crumble. Good Comté should have a nutty flavor, which becomes more pronounced the older it gets. Most Comtés are sold having been aged a minimum of six months (four months is the absolute minimum, but most are released when they're a bit older), and those that fall between six and twelve months have a milkier, creamier flavor than the older, slightly dried cheeses, those that have been aged at least eighteen months or more.
I was always in the "older is better" camp, but I've learned to appreciate the younger cheeses by tasting alongside French people. I think we Americans tend to like things bolder (such as extra-sharp cheddar, and spicy foods) while the French palate seems to gravitate more toward flavors that don't necessarily challenge, but allow one to taste subleties. That's a broad generalization but it's a difference I've observed over the years, mostly at tastings of various foods, and I realize by looking for boldness, there are some flavors that I tend to miss.
You'll see Comté with two different color labels, applied as bands around the outside of the cheeses before they leave the caves. A green label means the cheese is the best of its class and a brown label means that the cheese might have a few cracks or other flaws, which aren't bad but not pristine. And those are sold at a lower price and are better for melting into a fondue or cooking rather than eating. Holes in the cheese used to be more prominent (due to higher ripening temperatures) and nowadays just few small holes are normal and still found in Comté, and are not considered flaws.
And another thing I learned in the Jura is the best way to serve cheese. When I arrived in France and entertained at home, after dinner, I'd present a huge flourish of cheese varieties—I was just so excited to see and be able to try them all! Then I realized afterward that I had a lot of half-eaten cheeses floating around wrapped in all manners, which led me to follow another idea that's French—"less is often just right". And instead of overloading myself, and my guests, with every cheese I could get my fat-loving hands on, it was nicer (and more economical) to serve one extremely good chunk of cheese rather than a whole bunch of little ones crammed on a plate. That also helped people focus on the good qualities of one particular cheese rather than loading their plates up with a lot of confusing tastes and textures that can get lost in the mix.
(The first time I ever really appreciated caviar, someone gave me an enormous tin of it, of very high quality, and said; "Just eat it with a spoon. Nothing else." And believe me, that was indeed the way to go. Unfortunately I've not been able to repeat that experience, but I still remember that taste fifteen years later.)
To taste the cheeses in the cave, after tapping the wheels to find "the sweet spot", the affineur plunge the sonde deep into the center of the cheese and twists out a sample. Then you pinch off a piece, maybe giving it a sniff first, then tasting it. Although I did learn to appreciate the younger cheeses, I am still pretty adamant about liking Comté with coarse granules in it, those little crunchy things that provide little sparks in your mouth. People often mistake those for grains of salt but they're actually an amino acid called tyrosine and to me, they're like getting a little 'added bonus' in every bite.
A few other notable cheese are made in the region and you'll also find in the ripening caves rounds of Morbier and Bleu de Gex, both well-regarded cheeses in their own right. Morbier used to have a layer of ash added across the equator because the people who made the cheeses didn't have enough milk to make a full mold, so they would add ashes so the first layer didn't crust over before they could add the second one.
Nowadays it's merely decorative, and a good Morbier is very creamy with a gentle tang. Bleu de Gex is a rather special bleu cheese, rarely found outside of France due to its limited production, and likely because quite a few other bleu cheeses are available that are a little less brusque than Bleu de Gex. It has a peculiar flavor and I'm still on the fence about it, but I'll be sharing more information about that cheese in a future post since I watched that being produced as well.
During the trip, I made one of my classic insert-foot-in-mouth mistakes, in French. We were talking about the holes in cheese, which they refer to as bubbles and as mentioned, are a result of ripening cheese in warmer temperatures. I was asking a person who works in the caves about the boules in the cheese (pronounced bools) but they are actually bulles (pronounced buuls). Since boules are testicles, the folks I was speaking to had no idea how their cheese had 'balls'. Perhaps they can work that into their next publicity campaign or something. Well, maybe in America.
Speaking of peculiarities of these cheeses, aside from the copper cauldrons that are used to heat the milk and the presses that compact the curds into cheese right after they're formed, my favorite machine was the one that turns the cheeses, and was the most sophisticated piece of machinery I saw on this trip. Considering the size of some of the ripening caves, and the weight of the cheese, this machine roams the aisles, pulling each cheese off the shelf and gives it a gentle brushing, then flips it over and returns it to it's place back on the shelf.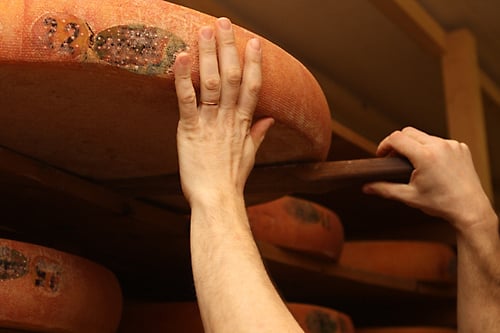 A lot of the process is done by hand, but I walked into a few ripening caves which were the size of a high school gym, I realized why they developed machines to do a lot of manual grunt work of lifting, wiping down, and turning the heavy wheels of cheese.
A few of the cheeses I noticed had gotten dinged by the machine and those wheels get grated and sold as fondue mixes or for making le croque Monsieur. And like the workers at the fruitière who had cheese for breakfast, other folks who work in the cheese business in the area don't seem to be tired of eating cheese either. I had lunch with a petite, chic woman who worked with one of the cheese making companies at a local restaurant and she had no problem finishing off every bit of her enormous cheese-laden broiled tartine. The two men, me and my friend, had salads.
Surprisingly my favorite person I met on this trip was one of the last. At first, I didn't quite get what he was all about. I was introduced to him as a "journalist" which often raises eyebrows in France. (Folks sometimes feel like they're about to be ambushed since there's been a proliferation of those kinds of programs on national television.) So I was quick to follow up with that I was actually a professional baker for thirty-five years, which earns a bit more credibility.
Claude worked at the Fort Saint Antoine, the immense ripening caves of Marcel Petit, an old fortress situated on the top of a mountain press up against the side of the earth. According to his figures, there are 100,000 meules (rounds) of cheese ripening in their floor-to-ceilng caves.
We walked rapidly through the ripening caves and he seemed to be keenly aware of what was happening in each wooden rack of wheels that we passed. Along the way, he'd stop at one and rap his sonde along the cheese, then slide it back and quickly hurry along. When I asked what he was listening for, precisely, he said, "I am listening to the cheeses…" And that was all.
What was even more astounding to me was how easily he pulled and hefted the full wheels of Comté. It may not sound like a lot to you, but I tried to lift one just a bit and could barely make it budge. He handled each one like a baby, bouncing it off his knees and moving it about as if it weighed just a few pounds. Then shoving it back on the shelf as if it was nothing.
As we talked further, we talked about how unlike other foods, cheese didn't have any of the snobbery or hefty price tags attached. You don't see cheeses selling at auctions for thousands of euros. And even though there's wine in categories that are available to almost all, cheese was still a product of the country people and anyone could afford to buy a chunk of cheese and appreciate it.
In the region, a slab of Comté starts at around €9 per kilo (#2.2). And it's interesting because I've talked to French people who râle that French cheeses are really expensive, which I don't quite understand, especially when you see what goes into them. I came back to Paris with nearly 4 kilos (#9) of cheese, which I'm not sure the fellow passengers on my train appreciated as much as I did. (At least the smell in the train car gave them something more tangible to rail about.)
Instead of just tasting a whole bunch of various cheeses, Claude said we were only going to taste 18-month old Comtés made from a selection of the fruitières in the region. A variation on the "just taste one good thing instead of many" mantra that I'm starting to espouse, it was pretty enlightening tasting the subtle and not-so-subtle differences between them.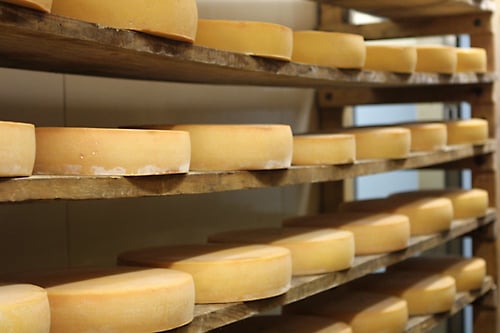 Some cheeses he described as "wild but not aggressive" or "having the taste of caramelized onions" or "caramel and milk" in the background. When I said that I liked Comté that has the crunchy grains of tryosine in them, he said that meant the cheese was "le top du top" ("the best of the best"), which I think put me in a little more favor in his eyes.
The ripening caves in the old fort were really something, especially because they were surrounded by the towering spruce trees whose untreated wood is used for the shelving in the caves. They're left unfinished and rough since the irregular surface encourages air circulation. But night was falling and it was time to head down the mountain, as we saw the gentle flakes of snow continue to fall outside.
I sometimes get asked what would my last meal be. On this particular evening, it was almost Comté. As my friend and I drove gingerly down the mountain from the fortress, as one does when steep roads are covered with ice and frozen snowfall, I peered off into the distance as darkness took over and it become harder to see things around us, including the steep drop offs on the side of the road.
Almost reaching the end, we rounded a gentle curve, and were likely discussing what we'd be having for dinner shortly. However I noticed the car shifting to the side, sliding slowly sideways. We were heading toward the precipice and if you've ever been in a car that's lost control on the ice, there's not a lot you can do. (Especially when you're the passenger.) The car continued moving in slow-motion until the wheels on my side of the car hit the side of the road and the we began tumbling off the side of the road.
As the wheels slid off the edge of the road, the left side of the car heaved up in the air and I heard a loud crash on the passenger side, which was the side window shattering against my head, and we landed on the ground with a forceful thud that felt as if someone had lifted up then dropped the car on the ground. Covered with broken glass, I looked straight up at my friend, dangling over me with his seat belt still attached, and with a look of shock, asked me if I was okay.
Miraculously we both pulled ourselves out of the car with barely a scratch. (Although I had a sizable chunk of safety glass lodged in my ear.) And after we were standing safely on the snowy road, I noted at how lucky we were that we hadn't slid off one of the previous curves, which were pretty high above the ground. Because if we had, we wouldn't have fared so well.
Luckily Claude had headed down the mountain ahead of us and when he no longer saw our headlights in his rear view mirror, came back up the road in search of us. And another passing car had stopped to see why there was a car parked vertically on the side of the road. They both said things like this happen a lot up there in the mountains and had the ropes in their trunk to prove it.
After spending about an hour trying to upend the car back on its wheels, we were successful and limped back to town in our caved-in and windowless car, where we'd been invited to a "light" dinner. And when we arrived, a little shocked, we were seated around the table where the host lopped off bâtons of Comté from a large block. And let me tell you, I was in no state of mind to make any decisions and I appreciated the lack of options.
A glass of wine was necessary, and we sipped vin du Jura, one of the brisk whites from the area that are often a touch sherry-like, which I came to appreciate because they go so well with the local cheeses. (Although that night, I would have drank anything). Then we moved on to dinner which was boiled potatoes (which everyone peeled the skins off of, but me), and a spruce box of Mont d'Or, an extremely rich local cheese that's considered the roi (king) of young raw milk cheeses. If you've ever had it, you realize that no one has the right to use the word 'unctuous' when describing any food unless it's ripe Mont d'Or cheese.
Smeared on the warm potatoes and slices of thick-crusted sourdough, sitting around the table, I was not only happy to be alive, but happy to be in the presence of such lovely people and their cheeses.
As Claude had said to me, "We are a cooperative and all work together in the region. We work with the people who milk the cows and the fruitières who curdle the milk and form the cheeses." I'm not sure the other people on my train car appreciated the cheeses as much as I did, whose odors were wafting heavily from my suitcase on the overhead rack. But I didn't mind because I was looking forward to having a few more weeks of enjoying wonderful cheeses…in the safety and comfort of my own home.
To read part one of this trip, visit Making Comté Cheese.
---
Notes
If you wish to visit some of the caves d'affinage (ripening caves) in the region, a few are open to the public for viewings and tastings. The Fort Saint Antoine is one of them. (Although be careful if driving there in the snow!) Other addresses can be found by contacting the Maison du Comté, which also gives tours and tastings at their facility. Another ripening cave I visited was Rivoire-Jacquemin, which does not have facilities to welcome individual visitors.
An outstanding crèmerie and fromagerie in the region, Marc Janin conducts tastings in the cave of his truly magnificent cheese shop and he also ships regional cheeses as well. Note that not all cheeses travel well and many countries have regulations on what can and can't be shipped.
If you're looking for good cheese in your region, I suggest frequenting a cheese shop or grocer that specializes in cheese with knowledgeable salespeople. Having someone slice off a slab of cheese from a larger wheel is preferable to buying off a pile of pre-cut cheeses previously wrapped in plastic.
Well-regarded online sources of French cheese in America are Cowgirl Creamery and Formaggio Kitchen. Two favorite cheese shops in Paris where I find the Comté reliably excellent are Pascal Trotté (97, rue Saint Antoine) and La Fermette (86, rue Montorgueil).
You can find out more information about the region and visiting the caves in the notes at the end of my post: Making Comté Cheese.
Related Posts and Links
Jura Cheeses (Formaggio Kitchen)
French Cheeses Guidebook (Amazon)
Bleu de Gex Haut Jura (Culture magazine)
Morbier (Official Website)