I was a big fan of Ottolenghi even before I stepped into one of their restaurants. When I got a copy of Yotam Ottolenghi's first book, I was blown away by the photographs of gorgeous dishes, heaped with generous amounts of fresh chopped herbs, irregularly cut vegetables often seared and caramelized, and roasted, juicy meats accented with citrus or unexpected spices, usually with a Middle Eastern bent. The bold, big flavors came bounding through the pages and appealed to me as both a diner and a cook.
I tried a few times – unsuccessfully – to meet Mr. Ottolenghi, and, well…similar to my luck meeting other fellows in general, something always came up that prevented it from happening. So when I was about to come to London for the release of Ready for Dessert in England, I decided to give it one last shot. (Yes, I may not always be successful, but I can be tenacious.)
But how happy was I when I found out the publisher was hosting a breakfast at his restaurant, Nopi? And in spite of all he probably heard about me, he graciously showed up to say hi.
I knew I would love the restaurant even before I got there. And sure enough, coming in the door and being welcomed with a pile of giant loaves of pain au levain, with a basket of croissants and pains au chocolat waiting patiently alongside for the early morning rendez-vous.
The bread is made in one of the other Ottolenghi shops, but the morning pastries are made in the downstairs kitchen, which overlook two communal tables and a display of all the wonderful products the kitchen uses. Shatteringly crisp croissants that explode into a gazillion buttery little bits when you rip into them, grain-filled carrot and apple muffins under a lid of nutty streusel, and slabs of griddled focaccia bread, ready to be smeared with British golden butter, everything was the best example of its genre.
After I polished off a double espresso, a cappuccino, and a fantastic juice blend of carrot, ginger and apple, for breakfast (which has me seriously questioning the wasted years that I drank plain ol' orange juice when I could have had this), I had Shakshuka, a heavy copper skillet brought to the table filled with a spicy tomato sauce and smoked cheese with two eggs gently poached in the stew. It was so good, I strongly considered skipping lunch, just to keep the taste of it in my mouth for as long as possible.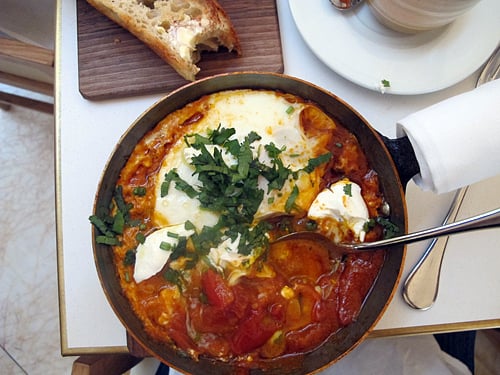 A woman dining alongside me dug into an enormous plate of scrambled farm eggs and Forman's smoked salmon, along with a heap of fresh herbs. If I wasn't embarrassed by my inability to try to eat every morning pastry on the table (although I did give it my best shot), I would've stuck my fork in. But since there were members of the press in attendance, I remembered that I needed to be on my best behavior. Rats.
(As you can see, Yotam likes that apple, carrot, and ginger juice as much as I do.)


Nopi
21-22 Warwick Street
London, England


Ottolenghi Recipes
Fried Beans with Sorrel, Feta and Sumac
Caramel and Macadamia Ricotta Cheesecake (Nordljus)
Charred Asparagus, Courgettes and Halloumi (Drool Factor)
Soba Noodles with Aubergine and Mango (101 Cookbooks)
Chickpeas with Spinach and Honeyed Sweet Peas (Eats Well with Others)
Perfect Lettuce Salad with Radicchio, Radishes, Tomatoes, and Capers (Kalyn's Kitchen)
Olive and Rosemary Focaccia (Gourmet Chick)
The New Vegetarian (The Guardian)