A l'Etoile d'Or: The Best Candy Shop in Paris
Forget Catherine Deneuve and Carole Bouquet.
The most photographed and revered woman in Paris is Denise Acabo. With her braided pig-tails, necktie, and crisply-pleated kilt, Denise is the sweetest woman in Paris.
Her shop, A l'Etoile d'Or, has an ethereal selection of artisan confections and chocolates from France and whenever I go, I invariably find something new to try, something tasty, something that is so amazing, that I'm compelled to go back for more. What's a guy to do?
I give myself at least one hour to shop. Minimum. Words fly out of her mouth in rapid-fire French. She'll often use the tu word, instead of the formal vous, which suggests immediately comradery.
Don't understand a word of French?
That's ok, Just nod. She'll keep going.

The main reason to visit A l'Etoile d'Or is simply because it's the only place outside of the original shop in Lyon that sells Bernachon chocolate. If you've never had anything from Bernachon, close your laptop and get on the next flight to Lyon. Bernachon is one of the handful of chocolate shops in the entire world that makes the chocolate they use from scratch. That's right, folks. They buy sacks of cacao beans, then roast and grind them into pure, dark bittersweet chocolate.
And what chocolate it is!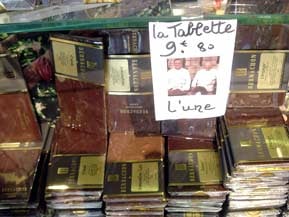 There's the Moka bar, chocolate ground smooth with espresso beans. Nuit et Jour (night and day), a tête-à-tête with part of the bar made with dark chocolate, the other half milk chocolate. Or how about a bar filled with Sicilian pistachio paste? Or another filled with rum-soaked raisins?
Some twenty years ago, Denise actually got down on her hands-and-knees and begged Monsieur Bernachon if she could please sell their chocolate. (What do you say to a woman in pigtails, wearing a tie, down on her knees?) So an alliance was formed, and you'll find stacks of these fine bars of chocolates lined up at her shop. When I was there last week, I lucked out–there were many stacked up. Other times you'll find her stock dangerously low.
Denise carries chocolates from selected French artisans such as Bonnat and Weiss, which makes a fantastic white chocolate flecked with vanilla seeds and is almost impossible to find.
Having high standards, she is one tough customer. She refuses to carry chocolates that contain lethicin, an emulsifying agent used in small quantities by some chocolate makers. And once I told her I was going to bring her in some homemade Rocky Road Candy. When she asked what it was, I responded "Homemade marshmallows, roasted peanuts and cocoa nibs enrobed in dark chocolate", a dark mood crossed her face. She leaned down, lowered her forehead and her voice, and said, "I won't allow peanuts and chocolate together in my shop!" …perhaps an allusion to US-based candy bars which are infiltrating France.
The candy bars she will carry are from Bernard Dufour, who makes chocolate near Lyon, like Bernachon. I suspect if you were stressed (or depressed) this hefty, jumbo Anti-Stress bar would smack you right upside the head and lift you right out of it. Other tablets from Dufour are beautifully embedded with glacéed orange and lemon peel, and vividly-green pieces of candied angelica.
And unless you're planning on heading to the coastline of Brittany, I know of nowhere else where you can get the superb CBS caramels from Henri Le Roux, the best caramel-maker on earth. CBS means Caramel-Beurre-Salé (caramel-butter-salt) and she's got 'em. I crave nature (plain) the most, although she always tries to seduce me by unwrapping a different flavor and popping it in my mouth. I did agree with her that summertime is the best time to enjoy the citron vert (lime) which was as refreshing as a caramel can be. Other times she's tried to persuade me with fresh ginger, chocolate, pomme Tatin, reminiscent of the famed caramelized apple tart.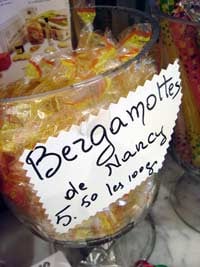 English tea drinkers will love Bergamottes from Nancy, a lovely city in the Lorraine region (best known for it's quiche), where these hard candies originate. Flavored with the balmy citrus bergamot, it's best-known as the essential and unmistakable flavoring in Earl Grey tea. I'm not a big fan of the candies; their taste reminds me a bit too much of lemon furniture polish (she also stocks marshmallows scented with bergamot, as well as fruit-flavors and vanilla, my favorite), but you'll find barley sugar lollypops and pâte des fruits, those marvelous sugar-crusted fruit gels made from natural fruit juices.
A l'Etoile d'Or
30, rue Fontaine (9th)
Métro: Blanche
Tel: 01 48 74 59 55
Open daily, except Sunday, and occasionally closed Monday)
(Call before coming on Monday, as hours may vary)
Related Posts and Paris Links:
How to survive Paris in the summer
Where is the best duck confit in Paris?
Two delicious dining guides to Paris
Where to find a good cup of coffee in Paris