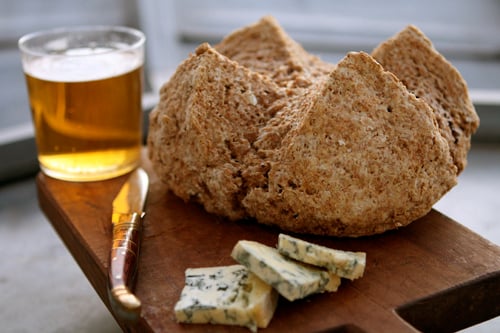 People often ask me if I make my own bread. Since where I live, within a one block radius of my apartment there are literally four very good places to buy bread that is baked fresh daily (and it's very inexpensive, around €1-€2 a loaf), although I admire those who do, I can't rouse myself to bake my own.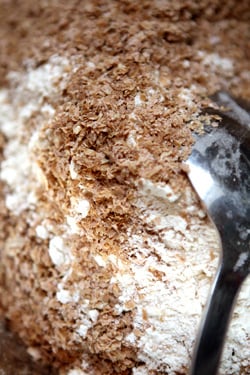 Yet when I got back from Ireland I found myself craving soda bread something fierce. There's no shortage of baguettes or other lovely breads here, but Irish soda bread has a certain je ne sais quoi—and I wanted some of that hearty, crumbly bread from the Irish isle. Partially to blame were a few rounds of Irish cheese that I carried back, including a tangy, creamy Cashel Blue, that was begging to be sliced and smeared over some wheaty bread.
Plus it was Sunday and the place that makes my favorite Tradigraines baguette was closed on the weekend. So I thought I'd bake up a loaf for myself.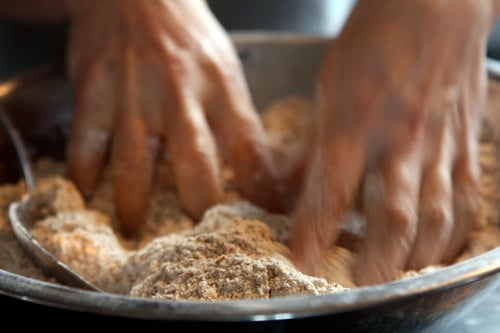 Before I go any further, I'd like to get this out of the way: None of the brown breads, Irish soda breads, and scones I had in Ireland bore any resemblance whatsoever to their American counterparts. Soda breads were plain, and I didn't see any scones overloaded with candied fruits, chocolate chips, or sugary glazes. At most, I saw a few raisins lurking in a scone or two. But all the Irish soda and brown breads I had were on the dry side, and many folks might consider them alarmingly plain.
That doesn't mean they weren't delicious, but we're so used to trying to add all sorts of things to make things "better", or expect things to be "the richest" or "the moistest" or sweetened, that whatever we're making ends up far from the original.
The brown breads I had in Ireland and also had very little salt in them, likely because they were going to be topped with salted butter or cheese. I doubt people just eat soda bread as is why is probably why they don't load them up with extras. And if you have good butter or cheese around, you'll find both are the perfect accompaniment and nothing else is needed. Except maybe a glass of cold beer.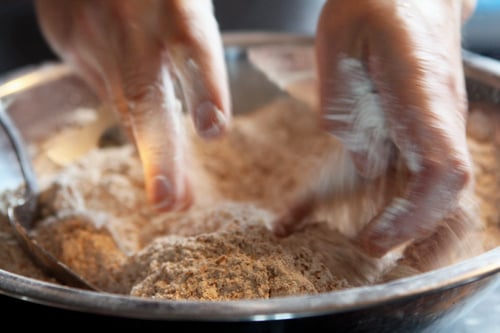 Brown bread is the ultimate quickbread. And when I say 'quick', I really mean it. It comes together in about three minutes; there's no fussy techniques, fancy equipment, or elusive ingredients to track down. True, you might not have buttermilk or wheat bran on hand, but if I could find them in Paris, you can likely find them where you live. (I got my lait fermenté at the Arabic market and wheat germ at Biocoop.)
I was fortunate that when I was at the Longueville House, chef/owner William O'Callaghan shared his Wholemeal Brown Bread recipe with me. I'd never heard of 'cream flour', which is regular all-purpose flour (although 'cream' flour sounds a little more interesting, doesn't it?) and his original recipe calls for half wheat germ, half bran. Since I had a bag of wheat bran (son de blé) on hand, I used all of that, but feel free to use a mix as he did.
As I was putting together his recipe, I realized it was a rather enormous amount of flour. Chefs have a way of exaggerating or making assumptions, like "Of course, someone will make the recipe and realize it makes two loaves, not one."
But then I started rolling and realized this make one nice-sized loaf, which is enough for a family to enjoy, or a table of guests at your Irish countryside manor. Once again, this is not a refined bread, but meant to be rough, coarse, and earthy. Don't worry too much if it doesn't look picture-perfect; once slashed and baked in the oven, it'll surprise you with how impressive it looks when baked.
I also added a touch of molasses to augment the hearty flavor of the wheat, although true soda bread is apparently unsweetened. Some folks add raisins, candied or fresh orange zest bits, fried bacon, or you can use all white flour and make a more refined loaf of regular Irish soda bread.
I don't really know the origins of bread made with baking soda. I suspect it has something to do with the large amount of buttermilk thrown off during the butter-making process and the frugal Irish found a way to use it up. I guess I could go look it up, but I don't have time. Because I've got a big loaf of fresh brown bread that needs my attention.
Brown Bread (Irish Whole Wheat Soda Bread)
I used T110 flour, which in France, is a light whole wheat flour. Which is wholemeal flour in Ireland, and similar to whole wheat pastry flour in the United States. You can use whatever is available to you, as making soda bread isn't supposed to be a stressful experience. Still, the loaf was a bit heavy. So I think next time I'm going to cut the amount of wheat germ or bran in half, or leave it out completely, to lighten things up a bit. I also think the large loaf, while a necessity if you're running an inn and feeding a lot of people, was pretty big for just me, so I would make two smaller loaves and reduce the baking time to compensate. Irish soda bread should be served the same day it's made; any extra can be frozen.
2 1/4

cups (250g)

whole wheat flour

2 3/4

cups (120g)

wheat bran or wheat germ

,

or a combination

4

cups (500g)

all-purpose flour

1 1/2

teaspoons

baking soda

1

teaspoon

salt

2

ounces (60g)

butter

,

salted or unsalted

2 1/2

cups (600ml)

buttermilk*

2

teaspoons

molasses
Put the rack in the middle of the oven and preheat the oven to 350ºF. (180ºC.) Line a sturdy baking sheet with parchment paper or a silicone baking mat and put it on the oven rack.

Mix the whole wheat flour and wheat bran or germ in a large bowl.

Sift in the white flour mixed with the baking soda and salt. Stir the flours together, to combine.

Cut the butter into little bits and rub them into small pieces with the flour mixture using your fingers, until as small as possible.

Stir in the buttermilk and molasses until the dough is uniformly damp. Turn out onto a lightly floured countertop and knead not-too-vigorously, until the dough forms a smooth ball. (If making two, divide the dough into two equal-sized pieces and roll each separately.)

Use a sharp serrated knife to slice a cross deeply into the top of the bread, about 1-inch (3cm) deep. Place the brown bread loaf on the hot baking sheet, being mindful that the baking pan is hot.

Bake for 45 minutes, or until the loaf is firm on top and when you tap the bottom, feels hollow. (If baking smaller loaves, I would begin to check them for doneness after 25 minutes.)

Remove from oven and cool on wire rack for one hour.
Notes
*For those who can't get buttermilk, mix 1 part plain whole-milk yogurt with 1 part low-fat or regular milk and let stand for five minutes before using.
Related Soda Bread Links and Recipes
Six-Seed Soda Bread (101 Cookbooks)
Irish Soda Bread (Andrea's Recipes)
Gluten-Free Irish Soda Bread (Gluten-Free Goddess)
Irish Soda Bread: Not actually Irish? (MSNBC)
Irish Soda Bread Muffins (King Arthur Flour)
Society for the Preservation of Irish Soda Bread
Irish Soda Bread (The Perfect Pantry)
White Chocolate-Sour Cherry Scones
American Baking Ingredients in Paris
Whole Wheat Pastry Flour
(Bob's Red Mill/Amazon)