Making Irish Butter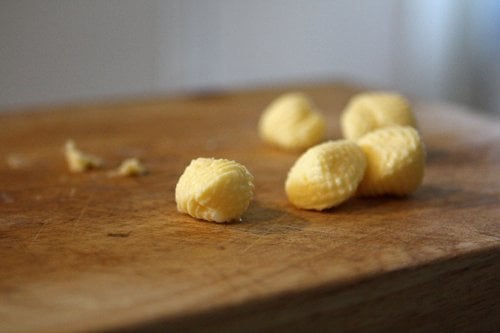 Who knew there was a museum of butter? Well, there is, and it's in Cork, Ireland. Of course, the country has a rich history making dairy products, but considering how supportive I've been of butter worldwide, it was somewhat of a pilgrimage for me to get to where it probably originated.
Throughout history, butter was considered extremely valuable as it was a source of fat and nourishment. Meat and other forms of protein were, and still are, considered items of luxury in most of the world. Im ur is sweet butter, in Irish (gruiten is salted butter), and no matter where it's made, butter not only takes quite some skill to produce, but historically has been women's work.
Centuries ago, women were in charge of making the butter as it was believed that the mystical powers that turned liquid cream into firm butter were best dealt with by womenfolk. According to Peter Foynes, the museum director, back then they didn't understand how butter was actually made; they churned it up and somehow it worked. Lucky charms, perhaps a bit of salt or a horseshoe (and a few less savory things, which aren't for the squeemish..and please don't ask, as it involved body parts) were often put under or near the butter churn, to ensure the fabled luck of the Irish.
The word daege (the root of the word 'dairy') in Irish means "woman servant" and producing and selling butter was one of the few ways that women could work independently and make money in twentieth century Ireland. And even today, many creameries and cheese shops are owned and run by women. Not just in Ireland, but around the world, in disparate places like Cowgirl Creamery just outside of San Francisco to Marie Quattrehomme in Paris.
Although it didn't look especially appetizing (and thank goodness they weren't offering samples), in the museum was a container of gray, crumbly 'bog butter', which was one thousand years old. Peter told me that there was an older wooden vat of butter in a museum in Dublin that was three thousand years old, and when I asked how they managed to find these butters buried under the mossy bogs, he shrugged and said, "They probably just forgot about them."
Someone who probably wouldn't forget one flake of butter is Madge Ahern, who gave us a butter-making lesson. She wouldn't tell us her age, but said she's been making butter almost every morning for "…oh, around fifty years, I'd say…."
She starts with Irish cream which is nearly 40% butterfat; French supermarket crème liquide is about 30% fat and American cream hovers in the range of 35%. For all the substitution folks out there, there's no substitute for good cream. And no, you can't use skim milk.
Madge poured three cups of cream into her hand-churning device, which she had chilled earlier to expedite the process and began cranking away. (If you want to try it at home, you can just shake it in a big, clean jar.) After about ten minutes of turning the paddles briskly, fearing the poor dear was tired, a few of us offered to take over the task. And after the crank got the best of a few of us less-hardly types, Madge stepped back up to her beater to show us younger kids how it's done.
When I broached the subject of using one of them new-fangled electric-style mixer gadgets, she said that they turned the butter too fast; that it needed to be slow and steady. She said that the best homemade butter was made by hand, and that was that.
Then she went back to her cranking.
After nearly fifteen minutes of continuously turning, when my arm surely would have fallen off, inside the big square jar I could see through the sides that the beaters were finally picking up butterfat solids, indicating the butter was happening. When it was finally in a semi-solid state, nearly the consistency of oatmeal porridge, she strained it through a cheesecloth, separating the butterfat from the whey. Then she poured the buttermilk into glasses and offered us a round of drinks.
Madge doesn't drink, as we learned later that night over dinner, when the rest of us polished off a few bottles and her glass was still full. I guess when you've been getting up every morning for the last fifty years to make butter for your family, you need to be well-rested so you're up to the task.
I noticed the color changing and deepening as she went, kneading the paste with her hand to release the water, until the butter came together into a smooth paste. Because of the process, the butter changed several times, from being wan yellow, to the more sunny hue of fresh butter as we know it. (And if you don't know it, do give it a try. Or come to Cork.)
Buttermilk is pretty valuable in Ireland too, and being a frugal culture, it's used to make bread, namely Irish soda bread, brown bread, and scones. We talked a bit about all the different kind of scones they have in Ireland.
With a look, and certainly not reaching that far back into her memory, she said "Oh, it's easy to make scones; Take a pound of flour, 4 ounces of sugar, 4 ounces of butter, 1/2 teaspoon baking powder, an egg, and 1/2 pint of milk or more, and mix them together. Then portion them out and bake at 190ºC for about fifteen minutes. And that's it."
I'm sure her family has enjoyed plenty of fresh, hot scones on a daily basis, and one lick of that butter, which they use to make them, and I could easily become a convert myself. If only I was Irish. (Can I convert?)
She didn't mention adding salt to her scone dough, but she does sometimes make gruiten but adding a dose of flaky sea salt to her butter when kneading. "Oh, I never measure. I just add some, salt—see how it tastes, you know" she admitted in her timely Irish accent.
Then she gave me a taste, warning me that it was too salty, which it wasn't. (It was, however, amazing.). Then she grabbed two wooden butter paddles with slats to form the hand-kneaded butter into a rounded, buttery brick.
For parties and guests, she offered, you can pinch off pieces of the butter and roll them into little rounds, which I'd imagine would be pretty good on a hot scone or some Irish soda bread, even if I was just helping myself.


Related Posts and Links
Getting Some Culture (Traveler's Lunchbox)
Cultured Butter at Home (Michael Ruhlman)
Homemade Butter (Wednesday Chef)
Salted Butter Caramel Ice Cream
Salted Butter Chocolate Chip Cookies