Midleton Farmers Market (Cork, Ireland)
When I leave Ireland, what I'm going to miss most is people calling me dearie. Sure the Irish have a reputation as brawlers and so forth (back in San Francisco, I once hired a group of Irish contractors who would routinely show up on Monday morning with at least a couple of black eyes), but wherever I go in Ireland, like a grocery store or the local pub, people are like—"What kind of beer are ya havin', dearie?"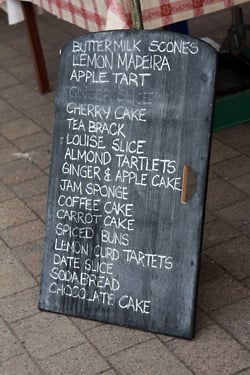 That generosity of spirit extended to the Midleton Farmers Market in Cork.
It was funny when Irish chef Paul Flynn of The Tannery restaurant and cookery school, said to me, "The market movement in Ireland hasn't quite caught up to where America, is. But we're getting there."
Which is a pretty curious thing, considering America isn't thought of—at least outside of the United States, as a place where there's good food. (Partially at fault are the stores and supermarket shelves that cater to expats, which are usually heavily stocked with marshmallow Fluff, macaroni & cheese mix, bottled salad dressings, and sugar-Frosted Flakes.)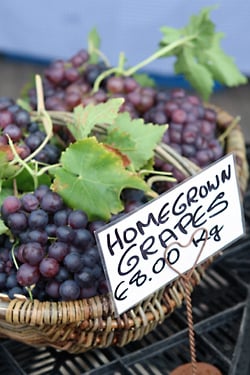 Well, I'm suppose I'm guilty, having cheated with a packet of onion soup mix one time. (But at least I used fancy fromage blanc with it.) And let's face it; it's just not Thanksgiving without Pepperidge Farms stuffing mix. But I had to tell them at a store in Paris selling strawberry-flavored marshmallow Fluff recently that that was one line I couldn't cross.
But I wasn't prepared for how wonderful the small Midleton Farmers Market was. The market was founded in 1999 with no resources, just an idea. And now, ten years later, there's a waiting list for stalls at this vibrant, friendly Saturday morning market.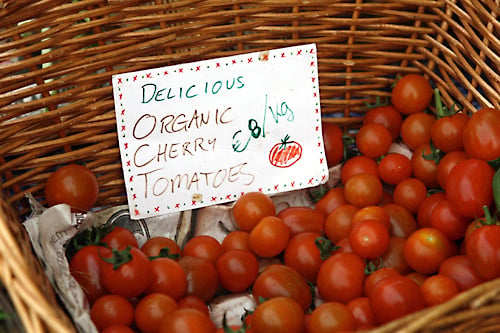 Located in a parking lot, surrounded by supermarkets and a sanisette, a French pay toilet (that was a lot spiffier than the ones in France), this market features fruits and vegetables sold directly from growers, and things like locally-caught fish and Irish farmhouse cheeses including Ardrahan cheese from Mary Burns.
I saw a few mangos and kiwi fruit in the mix, but just a couple of boxes and I'm not sure how they got in there or what the philosophy of the market was. But mostly there were plenty of potatoes, root vegetables, the last of the season's strawberries, blueberries, and peaches, cheeses, and baked goods. And judging by the ruddy hands and weathered foreheads, it would be likely that everyone here was growing all the goods that they were selling.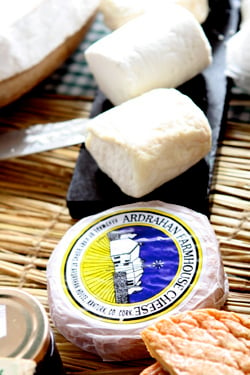 At the market, I was with a group of other food folks, and our mission was to put together a picnic to enjoy later that day by the water. I partnered up with the adorable Sara Kate Gillingham-Ryan from The Kitchn, and we charmed our way through the market. Although when you're as cute as Sara Kate, and your last name is "Gillingham", it doesn't take much to charm an Irishman.
Fortunately we both share the same strategy (which I've been try to train Romain to do for, like, seven years). It's to scan everything at the market quickly, see everything, then go back and take the time to buy what looks the best. (He just starts buying as soon as he sees something and on more than one occasion I've had to stop him from buying something a €12 cantaloupe or a €18 jar of honey.)
But we both broke our own rules (merci Romain!) when we became fixated on a genial fellow selling handmade chicken liver pâté. He spent about five minutes talking to us about his pâté, even going to far as to extending free samples.
Of course, once you had bite with the shallot jam, that he said took six hours to make (those must be some pretty tiny shallots), you just had to buy some. And not only did it work on us, but it worked on everyone else in our group; when we reassembled and had our show-and-tell, everyone else had bought the pâté as well. So take note folks at the markets in Paris; if you'd like to stimulate the sales, hand out tastes.
After we spent ten minutes talking to him as if we were long-lost friends, we moved on to the rest of the market. I was drawn to the cheeses and even though I live in the land of le fromage, I spent €34 on a selection of Irish cheeses because I once I started ordering (and again, the samples…), I couldn't stop.
After all that tasting and deciding, then the only decision left was overhead bin or checked. Judging from the odor emanating from the sack of wax-wrapped cheeses, I was leaning toward checked, since I once brought back what seemed like a few fairly innocuous cheese via the overhead bin, which when opened upon our arrival hours later, smelled like someone had stuffed a teamload of dirty athletic supporters in there.
Kathleen wrote on Twitter (where her icon photo is an Irish flag) saying that I should be sure to try the parsnips and carrots in Ireland, because they are "…the best in the world." And she wanted pictures. Since I usually only hear when I'm doing something wrong (like stuffing overhead bins with aromatic athletic gear), I hope I got it right this time. But with root vegetables so earthy, crusted with boggy dirt having been freshly dug from the ground, it was easy to comply.
Unfortunately we were having a picnic and although I've not tried one, I am fairly confident that raw parsnips aren't so good. And we didn't have a vegetable peeler for the dirty carrots, so we had no choice but to leave them behind. (Since they've introduced screw tops on wine, with the growth of farmers markets, are vegetables peelers destined to be the new corkscrew?)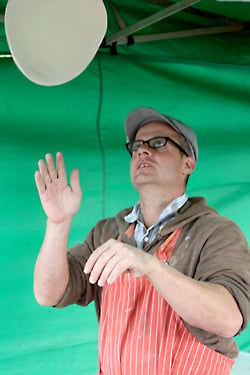 I'm not ready to give up on the poulet crapaudine that Catherine makes at my Sunday market, which is my default Sunday lunch, but I wouldn't mind having a pizza maker tossing his own pizzas with a wood-fired oven in tow, once in a while. There were a few kinds of pizza he offered but the last two slices of pepperoni that he had all ready looked tempting enough. And we'd spent so much time with pâté-boy, that we didn't want to be any more remiss in our mission before we regrouped.
Like the cheese, even though I live in the land of levain, the breads were beautiful, although being in Ireland, it was the scones and brown bread that really attracted me the most.
There were lots of Bakewells, and although we tried a few, I wasn't convinced they were ready to take on the cupcake quite yet. And the Millionaires' Shortbread that we tried probably wasn't the best example of the genre, which was too bad, since the idea of a caramel-filled shortbread bar covered with dark chocolate seems worth getting right.
With stomachs rumbling and market bags bursting, we jumped in the car and headed for the coast, where we reconvened an unpacked to sample everything.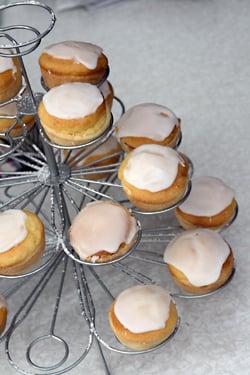 One surprising loser was the Seaweed Tapenade, which made Sara Kate's normally sparkling Irish eyes shine even brighter when she saw it. It was made with dulce, olive oil, cornichons, and capers by a local Frenchman. The idea was good, although we agreed the flavor balance was somewhat off and a few bites and we had enough.
(I did try a bit of salty carrageen (red algae) that a chef offered me a bite of, which he said is nibbled on with beer in pubs. When I loved it and said that I wanted to buy some more, and asked where I can get it, he replied "Buy some? Just head out to the ocean and grab a bunch for yourself.")
The salted fish and eel were a bit hard to cut, especially the stiff, steely length of eel. It was easy to see why the skin is used to make wallets and belts. The mackerel was oily and wonderful and I always think it's too bad this fish gets a bad name in the states because it's abundant, sustainable, and stays wonderfully moist when cooked or smoked.
I put bits of the smoked fish on a slice of soda bread smeared with Irish butter and while others were eying the cans of Guinness, I'm still a Frenchman, I guess, because the wine seemed to find its way into my glass instead of the stout.

Related Posts and Links
How to Make Bakewell Tarts (Becks & Posh)
Millionaires' Shortbread (The English Kitchen)