Alain Ducasse at the Plaza Athenee Restaurant
UPDATE: After the lockdown in Paris during the Covid pandemic in 2020/2021, the Alain Ducasse restaurant at the Plaza Athenée didn't reopen its doors, and the restaurant is now closed.
A few years ago in Paris, I was invited to a special lunch by Dan Barber, of Blue Hill in New York City, who prepared a meal at the restaurant of Alain Ducasse at the Plaza Athenée. I've been fortunate to be on the guestlist for some of these meals, including ones that profiled Japanese and Chinese chefs, meant to introduce the foods of other cultures to journalists and food professionals here in Paris.
Of course, Alain Ducasse has upscale restaurants in Paris, Monte Carlo, New York, and Tokyo. But during a recent renovation of the Plaza Athenée hotel in Paris, Chef Ducasse and his chef at the restaurant, Romain Meder, decided to break from – and challenge – the traditional definition of luxury dining, and feature the producers and farmers, who produce the food, where good cooking starts. The menu has been completely rewritten, focusing on vegetables and sustainable fish.
Before this transformation, when Dan Barber was at the restaurant, he gave an impassioned talk to the French journalists and food writers (along with a few of us anglophones) that were assembled, about what he's doing at his restaurants and his philosophy. Unfortunately the translator gave a word-for-word recapitulation, which didn't (and couldn't) explain the sociological shift and remarkable, and profound, transformation in American dining and eating habits over the last few decades. People used to say to me, "Don't all Americans eat at McDonald's?" But those who have been to the states now come back, and say "The food was incroyable."
Farmers' markets are in full swing in most major cities in America, and on airplanes (and in fast-food restaurants), you're likely to find bits of radicchio in your baby lettuce salad, and even my local Safeway in San Francisco had organic milk from a local producer and bean-to-bar chocolate. French cuisine has taken a notable hit, mostly because of the increased reliance on pre-packaged foods. But that's kind of becoming a thing of the past, and the tides are turning. And in this case, it's coming from the top.
Ducasse can afford to take a chance, as he has the wherewithal to do pretty much whatever he wants. (Although believe me, I'm sure it's not easy.) He spent years building the outstanding La Manufacture, the first (and only) bean-to-bar chocolate shop and production facility in Paris. And now at his three-star restaurant, he's taken meat off the menu, replacing it with what he calls La trilogie: Fish, vegetables, and grains.
Getting this out of the way, yes, I would love to see this concept and cuisine coming in at a lower price point, to a wider audience. The dinner menu costs €380 (which includes taxes and service), and for me, a dining experience like this would fall into the "very special occasion" category. I was invited (which happens on certain occasions, and I more often than not, decline), but was very interested in seeing what was going on. Especially since the restaurant has been sold-out since the hotel was remodeled from the ground up, including the restaurant, which has been transformed into a lighter space, with the massive chandeliers surrounded by delicate, sparkling crystals. Gone are the starched, pristine tablecloths in favor of polished oak tables. And there is a curious swooping arch over part of the dining room, enveloping a table for four, but also giving the illusion that somehow you're taking in some sort of presentation. It's a touch of drama, and I like it.
Shortly after we sat down, close to the kitchen, the waiter poured us two glasses of a healthful "vitamin" drink, made of carrots, celery, apples, and a touch of fresh ginger.
We put our health issues aside when we saw the massive basket of salted raw milk butter, which they generously slathered on wooden spoons for each of us, which accompanied bread from Chambelland.
They told me the superlative butter comes from a Monsieur Leroux in Cauville.
If I lived closer to that dairy, that would be my "house" butter, too. Unfortunately Google maps showed that it's a forty-two hour walk from my apartment, but one could argue that would be a good way to work it off. Non?
A few tastes were brought out, probably to prevent us from overindulging on the butter (which was a real possibility!) including a delicate ceramic bowl containing raw salsify slices on a bed of wild sorrel, which was excellent. Also called "oyster plant," the salsify had the iodine-rich flavor of les huitres. Salsify is one of those things that's hard to come by, and I'm going to keep an eye out for it in the future. I always forget how much I like it.
Since dinner coincided with Romain's birthday (who was treated to a new winter coat for the occasion), he was encouraged (by me) to start with the Breton langoustines with caviar, which was heaped up in an exceptionally generous portion, which is the only way to eat caviar, in my humble opinion. It's like when I do chocolate-tastings, it drives me nuts when people gingerly take a rice-sized sliver of chocolate from the chopped up bar. That teeny bit is not going to do it for you like a big bite of it will. So if you're going to do it with caviar, this is how it's done.
I went with the Légumes des jardins du château de Versailles, a lovely piled of just-picked vegetables from Alain Baraton, the "gardener in chief" of the vegetable garden outside of the château. (It's open to the public, and you can even take tours from Paris.)
Each vegetable with perfectly and precisely cooked; tiny turnips with the little leaves still attached, slender fennel bulbs no larger than my pinky, silky caramelized onions, and tender beet leaves. The vegetables were so good that they didn't need the slightly rich, contrasting sauce on them. A nice chervil butter would have been just perfect.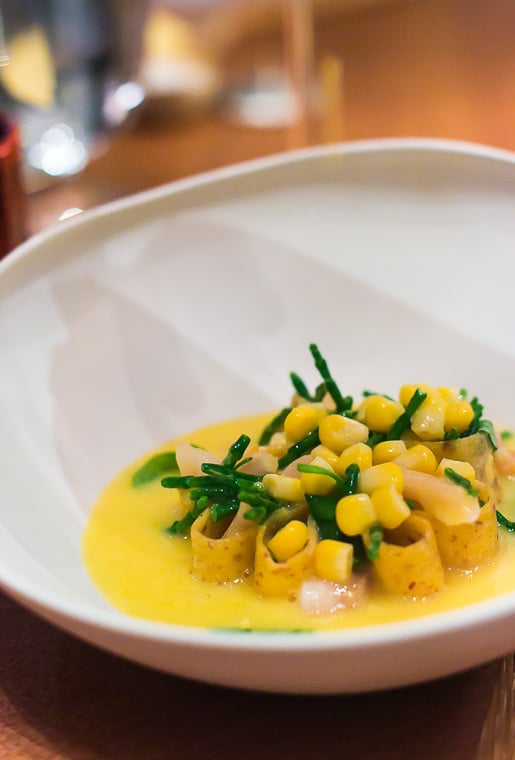 Because I wanted to try it, the waiter kindly brought us out Maïs grand roux du Pays Basque en bouillon, coquillages, a dish composed of kernels of fresh corn (a rarity in France, as fresh corn isn't traditionally available, or eaten), chewy, super-fresh shellfish morsels that were just perfect, tendrils of samphire (also called salicorne, or sea beans), and a ribbon of whole grain pasta that I wouldn't have minded if they'd left in the cooking water for another minute. (I mentioned that and was told it was done intentionally, to preserve the flavor of the grains in the ribbon of pasta.) This was the knockout dish of the night and I was sorry that I had to share it, and that we only had requested a small dish of it, to boot.
I was sending some pictures out on Instagram during dinner, and posted a picture what I thought was the spectacular-looking cauliflower with Comté cheese, baked inside brioche. I thought it was amazing-looking, and an intriguing idea. But a number of people made disparaging remarks about cauliflower. (And in fact, I wrote about that in My Paris Kitchen.) But I was curious about this treatment of a vegetable that most people have mixed feelings about.
When I took my first bite of it, after the waiter had sliced off a wedge for me, accompanied by scallops and an overload of white truffles (I pretended I was having trouble with my camera, and kept making him shave more and more on), I knew I had made the right choice. And knew better than to trust everything you read on social media. This is the way to cook this vegetable, which upstaged everything else – even the fragrant white truffles. (Apologies for the not-great picture of them. The light was quite low and they were much lighter in color than they appear in the picture.) It was nice to see a common vegetable being subjected to such an esteemed position. And if I wasn't getting full at this point, I might have asked for another portion of that surprisingly magnificent cauliflower dish.
We also shared a dish of stockfish, a curious fish that's salted and dried until it is rock-hard, for long-preservation. It needs to be soaked in multiple changes of water, for up to a week until it's soft enough to use. I saw them in Nice and I didn't pick one up (the smell, for one thing, doesn't exactly make them conducive to those of us who live in enclosed city apartments), and I was excited to see it on the menu. So asked if we could try it.
The dish was served with a ragout comme à Monte-Carlo, and while it was quite good, it was hard to eat a rich tomato sauce-based dish after the more ethereal fare that came before it. When we were ordering, the waiter has suggested it might be a bit of a challenge at that stage of our meal, and he was right.
We were getting pretty full by that point (although, oddly, I could have eaten a lot more of that butter…), so instead of the usual blitz of cheese from the rolling cart, the waiter selected a few cheeses for us – Stilton, Ossau-Iraty, Stilton, a mountain cheese whose name escapes me, and a sensational Comté that had been aged for three years.
Yet that darned French cheese cart was still lurking in the background, so they brought it over and Romain was treated to a wedge of Camembert de Normandie and Saint-Nectaire, served with a few grilled slices of the ever-popular pain des amis from Du pain et des Idées.
Enfin, it was on to dessert. The server mentioned that the Citron niçois (lemon from Nice) was a pretty intense experience, served with kombu and tarragon, and he was right. I thought "intense lemon" was my middle name, but even I was unprepared for the forceful bowl of frozen lemon emulsion, which tasted like a cross between ice cream and sorbet, with tendrils of candied lemon peel scattered below it. We fell hard for what is the signature dessert, caillé de brebis (curdled sheeps milk), céréales (candied grains), and miel arbousier (arbutus), a dark, bitter honey, presented oozing from the honeycomb, and scooped by the waiter tableside.
I've learned not to go with the wine pairings at these kinds of dinners. While it's tempting to try and see, and taste, what the sommelier comes up with, my palate gets tired quickly of so many tastes and I prefer one or two wines (we had a lovely white Burgundy from Pascal Marchand, up above) and I also like to see how the same wine evolves as the meal progresses, as it opens up, changes, and compliments different dishes as they come.
My phone memory konked out with the dessert wines (the Delectable wine app kept telling me to restart my phone — zut! — but I was too busy eating, and didn't want to miss a minute – or a bite), but from my memory, I recall that one was a lovely sweet muscat that tasted like green grape skins that has been macerated in a lovely, grape-rich syrup, and just mildly sweet. The other was a sweet Vouvray that was drier than the muscat, although I liked both very much.
After doing some damage to the bar of chocolate praline made from their bean-to-bar chocolate (which I'm nibbling on now, courtesy of le doggy bag, we picked up our things, folded up the table, and headed home.
Not everyone can imagine a meal without meat, so there is a short menu offered to those sticklers for animal protein, which, on the night we went, featured farm-raised veal with squash from the gardens of Versailles, and chicken from the Landes with wheat berries, vegetables, and white truffles. We weren't given those menus as they're encouraging people to "go with the flow," so to speak.
As Alexander Lobrano astutely noted in his just-updated book, Hungry for Paris, Alain Ducasse is "the gastronomic equivalent of Chanel." There's room in the world for haute couture (and haute cuisine), as well as Old Navy and Uniqlo (and taquerias and burger joints). One doesn't replace the other, they just serve different clientele, and different functions. To some, dining out is a socio-political act. To others, it's about having a luxurious experience. But I've venture to say that most of us dine out for pleasure and sustenance. This restaurant falls into that middle category and for most of us, it's not an everyday experience.
My view is that Alain Ducasse is taking a leadership role, as he has the expertise, power, and resources to do so. Many of these foods are costly to obtain and to prepare, but as a leader, hopefully the ideas will trickle down to the younger chefs and cooks in France, who will adopt the ideas and do them in smaller kitchens and restaurants, at different price points in simpler surroundings. Vegetables often get short-shift in restaurants and Paris, and perhaps this will prompt others to start highlighting them on their menus, too. I'd love to see Chef Ducasse open an airy, warehouse space next with simple communal wood tables, with fresh, sustainable foods served forth on large platters and bowls. Maybe he, or someone else, will do that in the future. There are so many outstanding foods in France, and it's a joy whenever someone wants to feature them, no matter what the surroundings.
Alain Ducasse at the Plaza Athenée
25, avenue Montaigne (8th)
Tél: 01 53 67 65 00
Métro: Alma-Marceau