A Visit to Moet & Chandon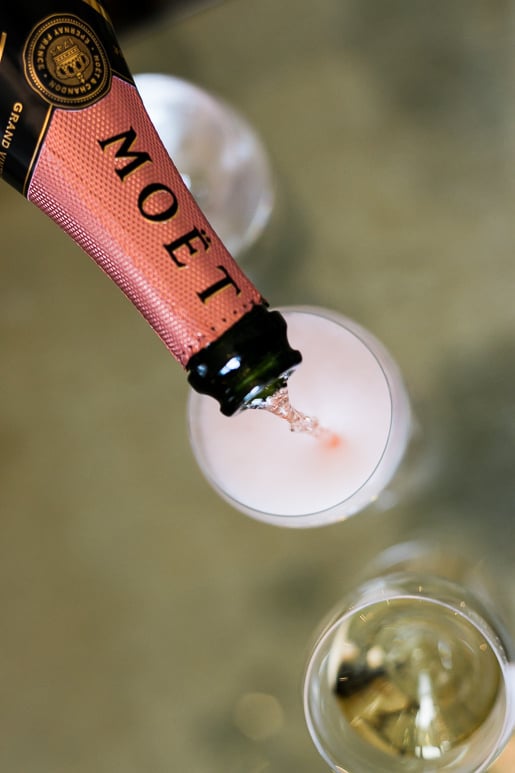 One of the things that France is known for, and does very well, is luxury. Or, as it's shortened to, in French — le luxe. It's a world that I don't often dip into. In fact, I'm usually on the other end of the stick. When I worked in the restaurant business, I was always the one in the back of the kitchen, stirring and baking away while everyone else was having a fancy dinner. My idea of luxury in those days was getting home at 2am, taking a shower, putting on a bathrobe, and eating a bag of tortilla chips and salsa with my feet propped up on a cushion while watching reruns of The Love Boat – and not having anyone talk to me.
Higher up than tortilla chips, in terms of price (and to some, in status) is Champagne, which is perhaps the most obvious product associated with French luxury, and fortunately, it's an affordable one. I don't sit around drinking it as much as I should, or would like to. (Imagine how much crazier this blog would be if I was drinking Champagne while writing it, rather than my usual trilogy of desktop snacks; bread, cheese, and chocolate?) But I do drink it from time-to-time, and it's one of those things that in spite of globalization, the French still do best.
One can buy a bottle of it, starting at around €20 or so in France, although prices go up from there, somewhat steeply. Still, it's something that's within reach of most people and interestingly, in the period starting in mid-November, through Christmas and New Years, almost every wine shop and supermarket in France has amazing deals on Champagne. I often stock up for the year! Come to think of it, I still have some from last year that I should probably use up before restocking the larder. (Who can resist a sale? Especially when it's on Champagne…)
Fortunately I don't live far from Champagne, the region where the grapes are grown for the sparkler that we all love, then pressed and bottled in caves underground. Dotted around the region are the big Champagne houses, the ones that most people know about. And the smaller ones, which I'd love to visit at some point, although I need a designated driver, and that much-needed social secretary I'm waiting to show up, to make appointments as you can't really drop into Champagne cellars unannounced, and belly up to the bar.
One good tip, if you're traveling anywhere in France, is to go to the tourism office and tell them what you're looking for, and ask them what's open and how you can arrange for a visit. Don't be shy. That's what they're there for, and they are usually happy to help you, especially if you show an enthusiasm for whatever the region is known for. Although when we went to Niort a few years ago, which is world-famous for candied angelica, no one in town had a clue to where I could find the fresh stuff. Or oddly, what it even was.
One of the bigger houses is Moët & Chandon, which has a presence in Napa Valley as Domaine Chandon, which I remember from my years living there. A number of the French Champagne producers wanted to get in on the "action" in the California sparkling wine business, and I remember the quality steadily improving over the years that I lived there. But you have to be careful and not call it "Champagne," as that designation is reserved only for the sparkling wine that comes from this region. I goofed on the way to the domain and said "Le champagne de Californie," (even though I know better – honest!) and was quickly corrected.
And while it's now a French company, the name Moët is Dutch, so you pronounce the final "t." That much, I do know.
I didn't just "drop in" to Moët & Chandon, but was invited by a friend who works with them to have a visit and tasting. (Most Champagne makers, large and small, don't have open tasting rooms and tours; you usually need to call in advance.) And because I refuse to do anything "luxurious" on my own (because I don't want to make a fool of myself), I was happy to go with my friend Hélène of The Luxe Chronicles. We've traveled a bit together before, making a rather odd couple: she dressed smartly in couture, speaking impeccable French, and I, a disaster on both counts – the clothing, and the gaffes in French – as well as a few others.
We once had lunch together in the Marais, near the Saint-Paul métro station, but not far from the Bastille. When it was time to go, even though the Bastille station had a direct train to where she was going, when I questioned why she was taking the métro from Saint-Paul, and not talking the two blocks to the Bastille, which has a direct train, she replied, "David…have you seen these heels I'm wearing?"
So it was good to have her along, to provide a bit a class. (In contrast, to me.) And I'm dedicating this week, here on the blog, to upscale experiences…before I get back to what I do the other 362 days of the year.
We started our tasting adventures, not in Épernay, where their Champagne is made, but just off the Champs-Elysées in Paris, in the kitchen of Pavillon Ledoyen, where chef Yannick Alléno has just taken the helm.
Chef Alléno chatted with us for a while, extolling the virtues of classic French cooking, while we sampled some vintage Champagne. And he even rubbed caviar on our hands, which he said improved the flavor of the caviar. He's probably right, although I think that works best if you kept your hands off the métro handrails before the tasting.
(Fortunately as a former food service professional, I'd washed my hands after taking the métro, before entering the kitchen.)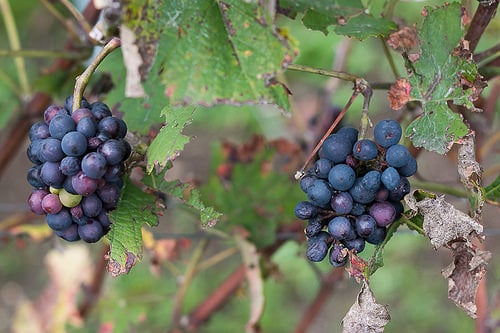 Most Champagnes are a mix of grapes – Chardonnay, Pinot noir and Pinot meunier, and the larger houses are skillful at mixing the grapes to achieve a consistent product. They're blended, usually from different years, to achieve a flavor profile that will appeal to a wide audience. Which is why if you pick up a bottle from a large producer, it's going to be reliably good. (And there's nothing worse than not-good Champagne.)
Vintage Champagnes fall into another category and are the result of grapes from one years' harvest and are stored longer than non-vintage Champagne. They tend to have more complex, deeper flavors, and are more expensive, of course. The first time I went to a tasting of vintage Champagne, I felt like a rube because I said that I didn't really prefer it to regular Champagne. (See? I keep telling people that want to get together with me that I'm not fit to be out in public. That's why they always push the pastry people to the back of professional kitchens.) But I've since come around to appreciate the deeper flavor of vintage Champagne, although I tend to reserve them for very special occasions. Like, when a handsome chef is smearing caviar on your hands.
With our 2006 vintage bubbly, we tasted some "essences" that he'd made, which concentrated and focused certain flavors, everything from shellfish to mushroom reductions, which enhanced the Champagne experience. We didn't get to dine in the restaurant, but it was nice to have a few sips and tastes in the kitchen with the chef. And I was tempted to snitch one of the gougères that were awaiting the lucky diners coming for lunch.
However a few days later, we found ourselves on the zippy TGV train to Épernay, to meet Philippe Lesne, who took us out to the vineyards to show us the grapes.
This year's harvest was finished and there were just a few grapes left on the vines. Philippe said that they grow 38% Pinot noir, 34% Chardonnay, and the rest (do the math), is Pinot meunier.
The leaves had turned beautiful colors, and I had to get down in my knees in the mud so I could get a better look. And for you to get a better look as well. As I'm learning, this luxury stuff is sometimes a dirty business.
My always well-dressed friend Hélène was wearing heels so she was a bit more prudent than I was, with my German clompers on my feet. Philippe noted that because of the changement climatique (global warming), the weather was becoming more and more variable, and inconsistent. Even though the region is usually somewhat chilly, which is part of what gives the grapes a certain characteristic for Champagne; the grapes grow slower than other grapes grown elsewhere, giving them what the Champagne website calls a certain "crispness" and "freshness." This August was their coldest in twenty years.
When I brought up the thorny question of whether Normandy, the most northern part of France, and – mon dieu! – England, would someday be important wine regions, he said that no, Champagne will always be made in Champagne because of the terroir, which includes the chalky soil the vines are planted in, which provides good drainage and lends a mineral taste to Champagne.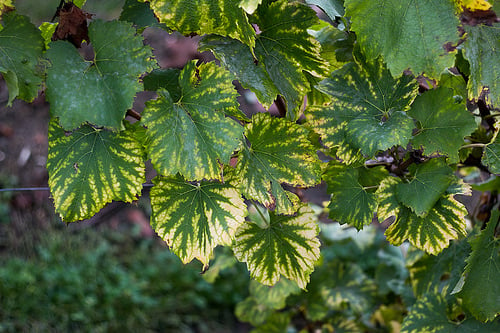 After traipsing through the soil, it was hard to leave the gorgeous foliage behind, as each leaf was pretty spectacular in its own right and I was mesmerized by them, we left the cool air outside, and headed inside to taste a few vintage Champagnes with Benoît Gouez, who runs the Champagne cellars, and lived in the Napa Valley for quite some time. Although the Napa Valley doesn't have anything like this – oh la la!
We sipped a few different vintages…
…including a little 2006 rosé Champagne.
And how come I've never worked in kitchens that had open bottles of vintage Champagnes on the counters? Actually, when I worked in one particular restaurant, we had an unofficial rule that if the dining room was full, we got Champagne at the end of the night. Fortunately we were pretty full most nights. And when we weren't, we really pressured the hostess to accept any and all walk-ins.
Lunch was a glorious three-course affair served in a lovely dining room, that, for those of you who admire my life, I have to tell you, I had to walk away from mid-meal, and split.
Fortunately I did get to taste a lovely trio of scallops, lightly smoked in the kitchen.
But because I had to race back to Paris (good thing I was wearing sensible shoes…) due to a scheduling snafu, I missed the last two courses.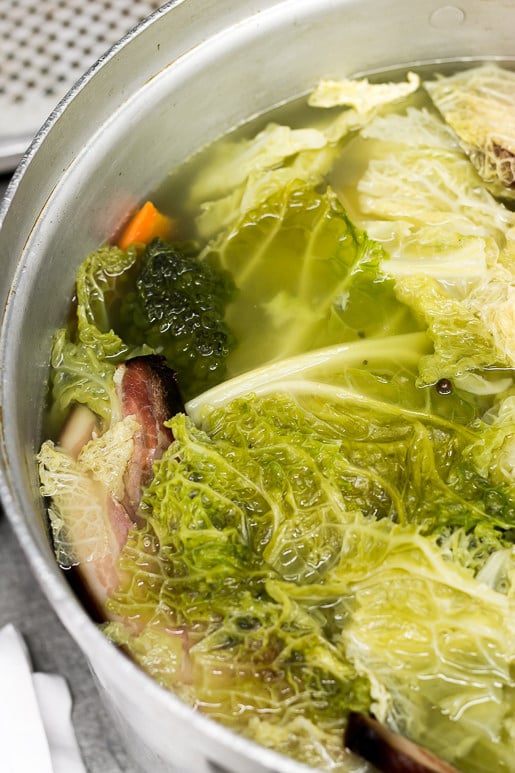 Chef Pascal Tingaud had prepared some fregola sarda, which I saw on a pre-lunch visit to the kitchen.
And later at the Paris airport, when faced with a poor selection of meal choices, I was craving le doggy bag.
Perhaps one with veal and chanterelles (called girolles, in French).
And perhaps a few post-lunch financiers : (
But there's no use crying over missed Champagne.
Well, maybe a little.
---
To Visit Champagne
If you want to visit Champagne, and have more time than I did, you can arrange a visit at Moët & Chandon cellars, which is close to the train station, and by visiting the website of other producers to see who offers visits and tasting. There are regularly scheduled high-speed TGV trains from Paris, departing from the Gare d'Est – the trip takes approximately 1 hour and 20 minutes. Champagne tours can be arranged by the Champagne Tourism Office and Épernay Tourism. Or you can contact individual producers to make your own arrangements.