Baked Apples with Ginger
One dessert I don't make often enough are baked apples, known in France as Pommes rôti au four, or Pommes au four – oven-roasted apples. We have great apples in France, which I like to buy from the local grower at my market. But Americans also have a long history with lovely apples and when I was growing up, we lived near a cider mill and bought bags of fresh apples, and fresh cider, from their stand by the side of the road
As kids, it was rumored that if you put the fresh cider on the roof, it would eventually turn into something alcoholic, although we never got around to experimenting with that one. However if I had done that, I would have been somewhat of a trailblazer at twelve year's old because now home fermenting has become all the rage. (Although drinking at that age might not have been such a great idea in terms of child development.)
As a well-adjusted adult, nowadays, I like to play around with fruits. I wrote this recipe up well over a decade ago and revisited it while in the U.S. around Thanksgiving, with apples available at local grocery stores and outdoor markets. I tested a few varieties of apples (two with explosive results) to see what kinds would work best. In the U.S., like in France, there are often plenty of good apples to choose from, especially if you live near farmland.
However not everyone lives near an apple orchard, so when writing a recipe, I like to do what I call "the supermarket test" and use apples from the grocery store. I like to test recipes with everyday items – butter, flour, etc – from supermarkets, because that's what's available to the majority of people. But in the case of apples, I do think if you live near a farmers' market, the different in flavor between an heirloom apple and a supermarket apple is miles apart.
In San Francisco, I knew some apple farmers and remember tastings familiar varieties like Red Delicious, that gets a bad rap, and Granny Smith and Golden Delicious, which were so good when purchased from a farmer, rather than in the supermarket, I felt like I was discovering entirely new apples when I tasted them.
Most Granny Smith and Golden Delicious apples are picked underripe and very green, so they are super tart. (Which I always find interesting because Americans are known for our love of sweet things.) But the homegrown Red Delicious were a revelation, so don't turn your noses up at varieties that you think you know if you're at a greenmarket. Happily, in the U.S., they often give samples so you can try them out.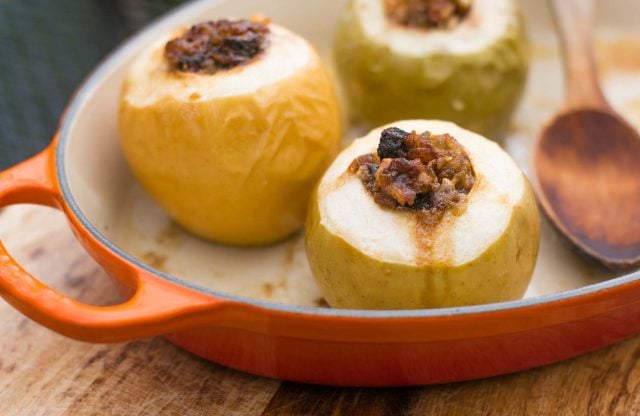 Because apples are fruit, and fruit varies, some may split or explode a bit when you bake them, so no need to stress if a few do. I prefer to use fruit that isn't uniform or perfect. Usually those fruits are the ones that taste the best, too, because they are bred for flavor, rather than appearance.
In my recipe that I revisited, I played around with the amount of sugar and wondered why, when I wrote up the recipe, I had added egg yolks to the filling. So I did a side-by-side comparison, and the adage "Your first instincts are usually the best" rang true; the yolks gave the filling a bit of a candy-like texture, melding together all the ingredients in the filling, so they don't fall apart when you dig your spoon into the apple.
My original recipe also used chopped pitted dates, whose sticky sweetness is a nice contrast to the zip of fresh and candied ginger. But way-back-when, when I originally wrote the recipe, we didn't have access to dried cranberries like we have now, so I used those this time around, which took them in the direction of a holiday-friendly dessert. However like all my experiments, we enjoyed (lots of) baked apples for a couple of days, and found them to be a great breakfast in the morning, served with just a pour of heavy cream.
| | |
| --- | --- |
| Baked Apples with Ginger | Print Recipe |
I like to hand chop the fresh ginger, rather than use a grater, since the little pieces add a bit of spicy bite to the filling. You can omit the flour to make them gluten free or substitute potato or corn starch. I did a bunch of tests using various amount of sugar, as people often ask me about reducing it in recipes. I did prefer them with the higher amount of brown sugar which, combined with the egg yolk, creates a bit of a crunchy "cake" inside the apple. If you want to go with the smaller amount, you can, or you can find a happy medium between the 1/4 cup and 1/2 cup. You can swap out another diced dried fruit for the cranberries or dates. Use a good baking apple, one that won't fall apart when baking. Some options include Sierra Beauty, Rome, Golden Delicious, Winesap, and Granny Smith. If you live near a greenmarket or farmers' market, ask the apple vendor which of their apples are best for baking.
1/4
to 1/2 cup (45 -90g)
packed light brown sugar
1/2
cup (65g)
toasted pecans or walnuts
1/3
cup
dried cranberries, coarsely chopped, or diced dates
1/4
cup (35g)
diced candied ginger
2
tablespoons
melted butter,
salted or unsalted, plus additional butter for preparing the baking dish and brushing the apples
1/2
teaspoon
ground cinnamon
1
inch (3cm)
piece fresh ginger,
peeled and finely chopped
3/4
cup (180ml)
white wine, apple juice or cider, or water
1. Butter a medium-sized baking dish, one that will fit the apples in a single layer. Preheat the oven to 350ºF (180ºC).
2. In a medium-sized bowl, mix the brown sugar, nuts, dried cranberries or dates, candied ginger, 2 tablespoons melted butter, flour, cinnamon, fresh ginger, lemon zest and salt. Mix in the egg yolks.
3. Remove the core from six apples with a melon baller and dig out enough of the insides so all the seeds and any firm bits are removed. Use a paring knife to cut a 1/2-inch (1,25cm) ring around the top of the apples.
4. Stuff the filling into the apples, place them in a baking dish, and brush the tops of the apples and the filling with melted butter. Add the wine, apple juice, or water to the pan.
5. Bake until the tops of the apples are browned and the apples are cooked through, about 45 minutes. If the liquid in the pan begins to get too low - some apples exude juice, others don't - feel free to add more liquid to the baking dish before it becomes dry. (Adding liquid to the dish if it's dry, and made of ceramic or another material, can cause it to crack. So be careful.) If the filling gets too dark before the apples are cooked through (a paring knife should pierce them easily when done), drape a sheet of foil over the apples and finish baking.
Serving: Serve the apples warm or at room temperature with any pan juices spooned over them, along with cold heavy cream, or a scoop of vanilla ice cream or cinnamon ice cream. The apples can be baked in advance and rewarmed in a low oven, covered with foil. They are best served the same day. (Although cold, they're not bad for breakfast the next day.)
Related Posts and Recipes
Spontaneous Hard Apple Cider (Delicious Obsessions)
The Best Apples for Baking (The Kitchn)
Best Apples for Baking (Farmer's Almanac)