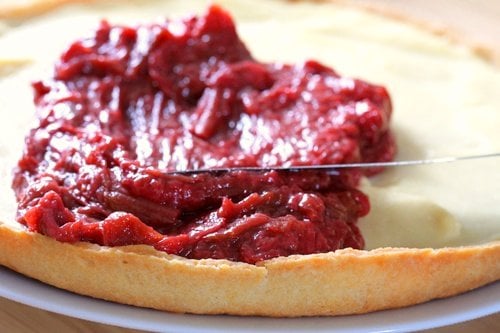 I hadn't planned on buying rhubarb yesterday morning, but I was at the stand of my favorite producteur and there it was, and there I was, so our collective fate was sealed.
As I waited for him to wrap my stalks tightly in brown paper, my mind raced to think what I would do with them. By the time I handed over a couple of euros, I'd made up my mind that they'd make a fine filling for the baked tart shell I had waiting at home, with a thin layer of lemony pastry cream.
It's been odd around here lately. I think there's something in the air; le morosité of Paris, as they call it, the general malaise that smacks the city in a collective wallop, like the tiny, sharp grains of pollen that are wreaking havoc on the sinuses of us all. Yes, it's warmed up and the city is even more beautiful, but a string of May holidays has Parisians bolting for the borders, heading away for le petit weekend any chance they can. There's just something odd in the city that I can't quite put my finger on.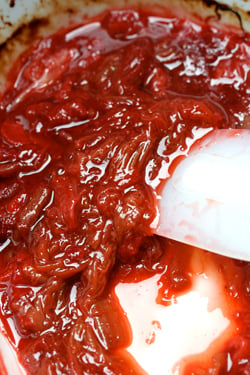 As a result, I've been engaging in all sorts of dubious behavior lately, making me question my sanity. Last week I was doing things like running the dishwasher when it's only three-quarters full, or…get this…cleaning my freezer at 7:04am. And one recent morning I actually got dressed before noon. Yes, before noon. Well, you get the picture, folks. I think I'm ready for la maison des noix.
So yesterday I made an appointment for a spa day (well, my ship hasn't quite come in yet, so for now it's gonna have to be a half-day) which seemed like a great idea so I barreled my way through the harrowing crowds on the streets of the Marais, a magical place where people lose sense of time and place, and the idea of walking in a straight line is come bizarre concept that eludes the masses. Something seems to happen to people when they enter that quartier; the rest of the world magically vaporizes and it's as if no other person exists but them.
In my haste to avoid being crushed, or bruised by gold chains on jeans, slashed by a zipper on an errant backside, or blinded by sunglasses where the D&G logo dwarfs their well-tanned ears, I passed a store window and saw the shoes of-my-dreams inside, which cost roughly the same amount as the few hours of horizontal, oily bliss I was planning on having later this week.
Hmmm, let's see. Twin pieces of leather and lace that will thrill me for years? Or a chance to lie on a table, flip over my Etch-A-Sketch of the past few months, give it a good shake, and turn it right-side-up again?
It was a tough call, my friends. Thankfully the shoe store was closed, so over to the hamman I went to make an appointment for the rendez-vous. (All bets are off if I pass the shoe store again en route to my appointment…I might have to detour around the magasin des chaussures.)
So, back to my market haul. When I got home, I was thinking of what would be the best way to exploit the tangy flavor of rhubarb and the fact that when cooked, rhubarb almost does all the work for you by thickening beautifully. So I washed the dirty stalks, cut them into bâtons, and baked them with some strawberries that were so ripe and rouge, that they looked positively hostile if I didn't use them right then and there.
(I don't know if it's me, or if I'm paranoid, but thinking even the strawberries are giving you the evil eye makes me think that I should definitely opt for the spa appointment. For the safety of all, the shoes, I think, better wait.)
The fruit got stewed in the oven, and tasted great, but when I smeared it over a layer of pastry cream in the tart shell and grabbed my camera, all I could think of when I looked through the viewfinder was one thing: pizza. For some reason, the whole thing just didn't come together like I thought it would. Which paralleled the way the last few weeks didn't quite come together like I thought they would either.
And sure enough, the friend I invited for a low-key dinner last night, the first words out of her mouth when she saw it were, yup…you guessed it: "Hey, pizza!"
I'm not giving up on this recipe yet. But tasting it, for some reason, the whole thing just didn't come together. The tart shell was delicious and buttery, and pastry cream nice and smooth, and the rhubarb filling tasted great. In the future, I think it would make a great base to a tart with fresh raspberries placed across the surface or even as a compote with yogurt. Yet for now, like those shoes, I'm calling it quits.
But if you see a crazed-looking man racing through the streets of the Marais, the only one walking in a straight line, with his shoulders well-above his ears, wearing a new pair of black lace-up shoes, I don't recommend stopping him for a chat. He's probably in need of a good massage. Or maybe just in search of a better rhubarb tart recipe.


Rhubarb-Strawberry Compote/Tart Filling

Enough for one 9-inch (23cm) tart

I used muscovado (raw) sugar, since when there's so few ingredients, it's nice when each one can contribute something to the mix. You could use dark or light brown sugar in it's place.

If you're the kind of person that likes to tinker, a little freshly grated orange zest would be nice, or try a cinnamon stick baked with the fruit. You could swap out raspberries or blackberries for the strawberries as well.

4 stalks (1-pound, 450g) rhubarb, washed and trimmed
10 blushing-red strawberries (6 ounces, 180g), hulled and quartered
1/2 cup (120g) muscovado sugar
juice of half a lemon
1 tablespoon kirsch, or another liqueur

Preheat the oven to 375F (190C).

1. Slice the rhubarb lengthwise in half, and cut into 3-inch (8cm) bâtons. Mix in the baking dish with the strawberries and remaining ingredients.

2. Cover the dish tightly with foil and bake for 20 to 30 minutes, until the fruit is soft and fully cooked through.

3. Remove the foil, reduce the heat to 325º and bake for 10 more minutes.