Tuscan and Torino Treasures
Having returned from my trip to Italy, narrowly escaping the hairy fangs of the too-vigilant EasyJet luggage police, I returned with a suitcase full of great Italian foods: chocolates from Amadei, and Domori, coffee (and more chocolate) from Slitti, jars of bittersweet chestnut honey, 12-year old syrupy Balsamic vinegar, luscious sun-dried tomatoes, and of course, bottles of fruity Tuscan olive oil.
Fresh Dried-Pasta
I've seen a lot of noodles in my time, but stopping in Pastificio Defilippis (via Lagrange, #39, in Torino) I had to take a moment to collect myself. Lining the walls were every kind of dried pasta imaginable, all made right there on the premises. Members of my group made a beeline for the pasta al cioccolato, but for some reason they ignored the coiled-up stewed eels available for antipasti.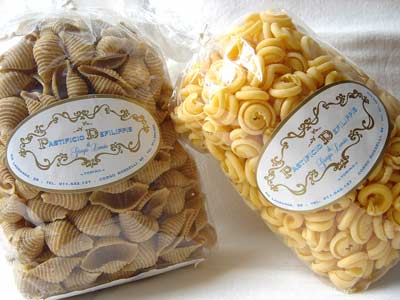 Mesmerized, I found these two pastas irresistible. One I nicknamed 'bellybutton pasta', which I had to translate for the pasta maker by lifting up my shirt ("Boys Gone Wild: Torino!"), and the other is a whole-wheat pasta. If you haven't had whole-wheat pasta, it's great tossed with fresh or good-quality tinned tuna, pitted olives, sun-dried tomatoes, finely-shopped anchovies, fresh thyme leaves, topped with crumbled feta cheese.
Cocoa Beans
Is chocolate good for your health? There's no easy answer for that (although a simple yes would do.) Some research proves that the antioxidants in chocolate have health benefits. Yet a chocolate-maker that I know says most of the antioxidants disappear during processing.
What I tell people is that any health benefits in chocolate are likely found in the cacao beans. Either way, it's unlikely you'll get any health benefits from, um, say, Chocolate Cheesecake. Skip the 'cheesecake' part and just go for the chocolate.
These are cacao beans from Domori that I was blogging about earlier. They are the best beans I've tasted.
Lardo
(If you're kosher, or vegetarian, skip this section….)
I don't know what prompted me to try lardo in the first place. It's pork fat, thinly sliced, and served on warm toast with a flint of rosemary leaves. But it's one of those things that if you eat it once, you're hooked and you will never, ever get over the craving for. We don't get Food Network in Europe, but it seems every time I see it in America, Mario Batali is going on and on (and on) about lardo.
The name alone is a blatant indication that it's probably not good for you. But imagine grilled Tuscan bread moistened with just-pressed olive oil, draped over it are soft, rich and buttery slices of lardo. MMmmmmm….
Here's a photo so you can avoid a similar fate:
Formenton Garfagnana
I love polenta. And it's impossible to find in France. You have to make do with instant polenta which isn't bad, if you like baby food. At a lunch in a villa near Lucca, the chef gifted me a sack of artisan polenta, called formenton garfagnana. When I asked him what made it different from polenta, he began getting very excited, explaining it in detail, in rapid-fire Italian. I didn't have the heart to interrupt and let him know that I had know idea what he was talking about, so I kept nodding, avoiding the deer-in-the-headlights look. So if anyone can edify us all, post it in the comments section here. (Preferably in English!)
Chestnut Honey
Years ago I innocently dipped my finger in a jar of Italian chestnut honey, anticipating sweet syrup. Instead I recoiled from the bitter taste which lingered way too long in my mouth. Now that I'm all grown up and so much more sophisticated, I begin each morning with a smear of velvety, savory chestnut honey on buttered toast. Yum! Is this stuff good. It can be expensive in the United States, but in Italy, it's common. Italians use so much of it that I even bought some from a street vendor in Pisa. I ended up lugging home in my carry-on enough jars of chestnut honey to last me for at least a year, I hope.
Two extraordinary vendors in the Central Market in Florence will mail order authentic Tuscan foods directly from their stands:
And if you live in the San Francisco Bay Area, you can visit the warehouse of Village Imports, which has open warehouse sales throughout the year.