Summer tomato salad recipe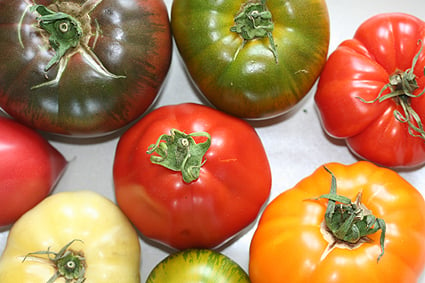 Most larger buildings in Paris have a concierge.
But before you think that I live somewhere that's all fancy and stuff, it's basically another name for the gardienne, normally a woman who takes care of things like delivering the mail and making sure repairs get handled. But even more importantly, she ensures that not even the slightest infraction of the rules or smallest detail of gossip gets by her, and at my friend's apartment in the 5th, theirs has a one-way mirror on her front door…so be careful who you drag home.
In French, there's an expression; 'faire la gardienne', which means to 'make like the gardienne'—'to gossip'.

They also leave notes just in case some American, who shall remain nameless, can't take the smell of their stinky neighbor down the hall anymore and is brazen enough to crack open a window to air out the hallway.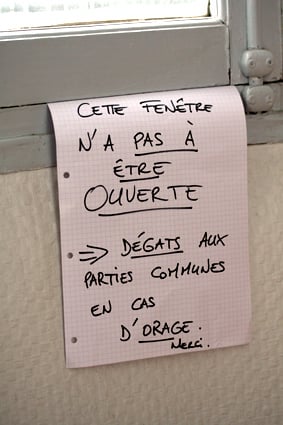 I won't get into the fear around here of the 'open window' or ventilation in general since the last time I did it raised another kind of stink around here, and I won't bore you with the story of how the other night at dinner in an Indian restaurant, in August mind you, the Indian folks naturally had the door and windows open to let in the warm summer air and this woman sits down next to us then motions to the waiter to please close the door so we look at each other and we're ready to flip since it's pretty hot in there and the gentle breeze feels, well…rather nice, thank you very much and after all it is summer and the waiter looks as startled as were and refuses—and since we're neither on French nor American turf there, we live by the rule of the Indian waiter…and the door stayed open.
Salaam!
…where was I?
Oh yes. Like the rest of the folks around here, except the stinky guy on my floor (who's probably not able to go anywhere, since if he went to the beach, he'd have to bath first so he didn't pollute the ocean) the gardiennes also takes a month off during the summer, and mine is no exception. Madame André took off on the first of July, which caused me great consternation last week when the water in my apartment was inexplicably cut off.
There was no one to complain to and no one to resolve the problem—and she's tough, if you want a problem solved, she's the one to do it. And since I ply her and her family with lots of cakes, cookies and yummy ice cream, things get done for me around here, pronto.
So I spent a couple of days without water (and luckily I had a non-stinky >houseguest), which meant no showers, no washing of hands or food. And no flushing. Meaning we dragged buckets of water up from the street for one particularly important task…comme au moyen âge, like the middle ages, until the water came trickling back in once I found the source of the problem. The contractors downstairs, I guess, figured I'd be fine without water for a few days.
Maybe they confused me with someone else on my floor?
Also, during this entire month, my mail is mysteriously not trickling in and I've received maybe just three letters all month, one being my rejected Vélib' application: the bank form for the security deposit you need to leave on the bike that I downloaded off their site on the internet apparently isn't good enough and they wanted l'original, so I am Vélib'-less. I know, I know…which begs the obvious: Why do they have the form on their website in the first place? But weeks and weeks have passed and I've heard nothing about my bike card while I gaze longingly at everyone else who's been gliding around Paris on those spiffy new bikes.
And where is my other mail? Where is it all going? Did my bike application and check get lost? Will I ever get it? Do I have any bills? Any personal correspondence? Any offers to judge Top Chef Paris? I want my Vélib' card!
None. Nada.
Pas de tout.
Not going to happen.
But what I do have are tomatoes.
And what beauties they are!
My houseguest lives in Switzerland where I presume organic heirloom tomatoes like this are abundant enough to haul across the border and unload some onto an appreciative friend. Although we had to wait a couple of days for the water to come back on so we could wash them off and eat them, they were worth the wait.
My favorite way to prepare summer tomatoes is simple. You can, of course, vary it to your liking. I happen to like a lot of vinegar, perhaps because I'm around so much sweet stuff, I use more than you might customarily use. (And if you don't like it, get yer own blog. I'm certain www.illikelessvinegarinmydressingthandavid.com is still available.)
But whatever proportions you use, like olive oil, be sure to use good vinegar too. My caviste threw a hissy fit when I showed up with store-bought Maille sherry vinegar one day in my basket, which I thought was a pretty decent bottle. Who knew je suis idiot? But I 'got it' when I upgraded to a better brand and will thank her more profusely someday. I should probably send her a thank-you note, but I'm a bit leery of sending anything this month.
Marinated Tomato Salad
Although this tastes great using fresh, in-season tomatoes, it also transforms ho-hum orbs into something much better. Let them marinade a little bit first, up to an hour beforehand. But for really good tomatoes, I simply toss and serve right away. A good rule of thumb is the better the tomatoes, the less you need to marinate 'em. Either way, you can marinate the shallots hours ahead in the vinegar with some salt as the shallots as they only get better and mellower after an hour or two. Then go ahead and put the rest together whenever you want leaving you time to do something else. Like read your mail…if you're lucky enough to get it.
1

small shallot

,

(And you do use shallots, don't you?)

2

teaspoons

sherry vinegar

salt and black pepper

1

tablespoon

extra-virgin olive oil

,

(right now I'm lovin' my bottle of Picholine)

3

medium tomatoes (1-pound, 450 gr),

,

rinsed (if possible...)
1. Peel and mince the shallot, or slice it very fine. Mix it in a medium-sized non-reactive bowl with the vinegar and a nice pinch of salt and a few turns of freshly-ground black pepper. If possible, let stand a couple of hours.

2. Stir in the olive oil. Slice the tomatoes then toss them in the dressing.

3. Let sit a few minutes, stirring a couple of times, then pile on a plate and serve.
I love serving this alongside, or piled atop, some grilled chicken or tuna or even alongside some 'interesting'-flavored tuna, perhaps with prunes or lime and coconut added. (Just can't bring myself to do it…yet.) It would be good on swordfish as well, except I don't like eating swordfish. With apologies to all the swordfish out there, in the restaurant kitchen we used to call you "The garbage cans of the ocean."
Other tasty additions you ask?
How about pitted, chopped black olives, rinsed and chopped capers, a dab of Dijon mustard, good anchovies (yum!), fresh thyme, chervil, tarragon, savory or flat-leafed parsley—or even better, a chiffonade of fresh basil leaves. (Tip: If you live in Paris, oddly, the best and biggest bunches of fresh basil to be had are at Monoprix.)
There's no law around here or there (er…yet…) that doesn't give one the freedom to toss a handful of plumped farro or cracked wheat in there, and I also like to scatter feta cheese or crumble chèvre or ricotta salata over the top and pile them over arugula.
Then serve it for dinner with toasted levain bread drizzled with olive oil before toasting in the oven or over the grill, if you have one. Then rub the slices of bread, hot out of the oven, with fresh garlic cloves while still warm. One fragrant whiff and you'll agree that it's one terrific smell that doesn't require cracking a window open for.
Not that you could.