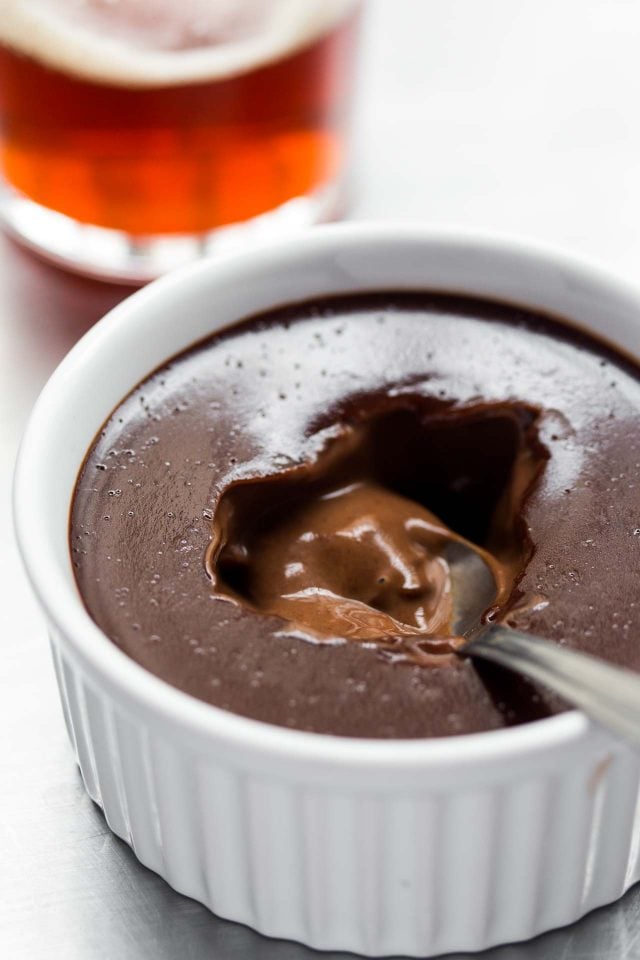 I'm not a huge beer drinker. I joke that I only drink beer if I'm on a sunny beach in Mexico, thinking that someone will take me up on that to prove it. So far, that hasn't happened, so I may need to change my tactic. While I figure out another way, one thing I am sure of is that there's no shortage of beer in France.
Young Parisians almost exclusively drink beer, at least from what I see on every café table in my decidedly hipster-heavy neighborhood. Most of what they drink is draft beer (bière pression), often in generously oversized glasses. But there are some very good French craft beers, and several bars, stores, and even microbreweries in Paris, specialize in beer. However, beer is rarely paired with food, like wine is.
The artisan beer movement in the States has been chugging along for a while. Last year the Brewers Association, an association designed to support, and make people more familiar with, independent brewers, hosted a dinner in Paris to pair some American beers from small producers with food for some locals. It was interesting for me to become familiar with some of the lesser-known brews from the United States in Paris, even if we weren't in Mexico. And I was reminded how good, and varied, beer can be.
One of the people I met that evening was Adam Dulye, who is the executive chef for the association and for Craftbeer.com. We had a good chat in between sips of various beers and learned that we had something in common, which was that we'd both cooked professionally in San Francisco.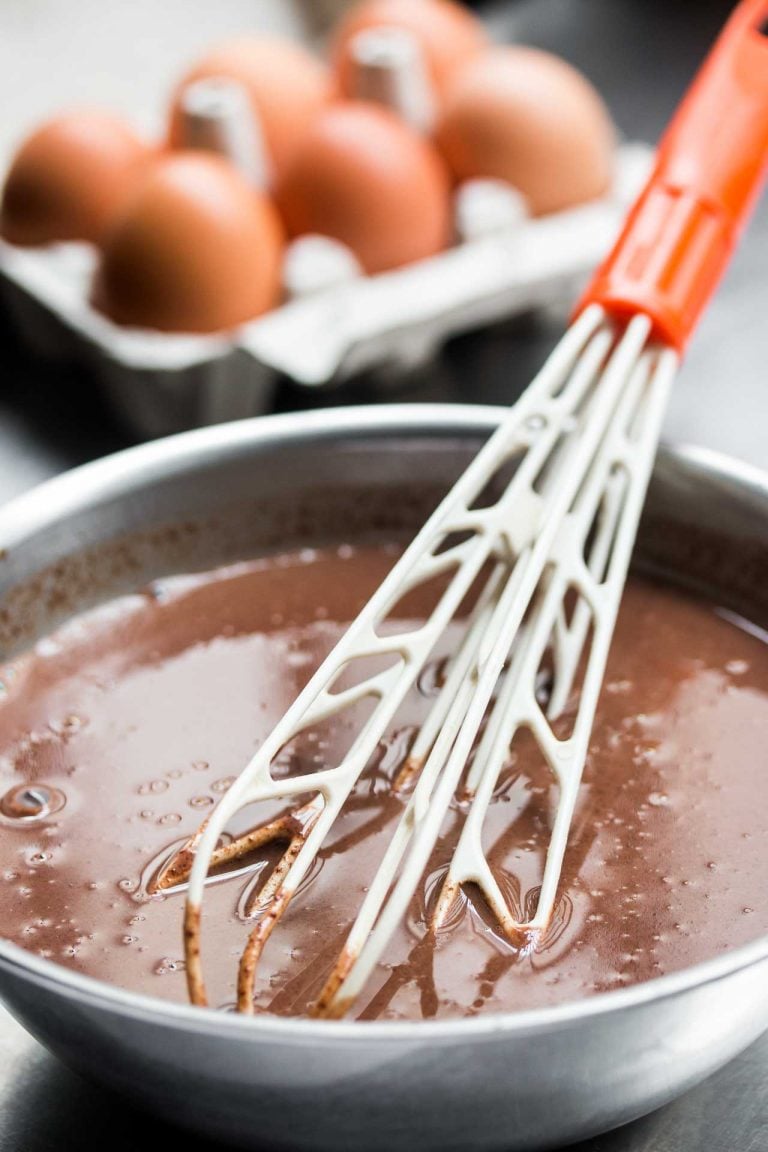 Adam was in town last week and dropped by to give me a copy of his new book, The Beer Pantry, a collection of recipes that show the variety of foods that one can pair with craft beer, along with suggestions. As I was leafing through it, I mentally stuck a bookmark in the recipe for pots de crème, little "pots" of chocolate custard, whose recommended pairing were a few stouts, one with chocolate in it. Beer brewed with chocolate? I don't need to be on a beach in Mexico to be down with that.
I didn't find any beer brewed with chocolate around town, but when I was at my local natural food store, I spotted some beer made with blé noir (buckwheat), which sounded like it'd work well with the dark chocolate custards. And it did.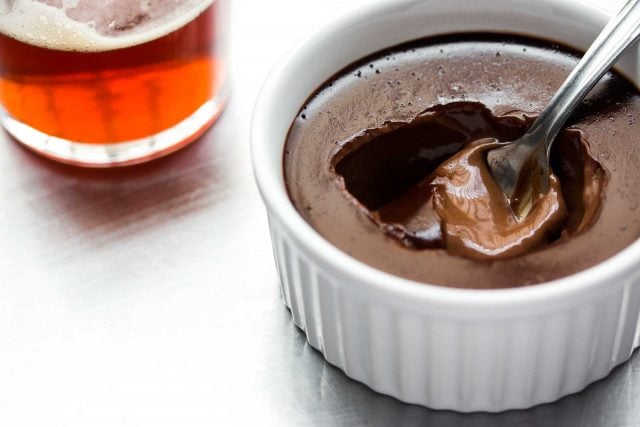 As I chugged (…okay, sipped) and spooned up the custard, I was happy to learn something new. Not only that I don't need to go to Mexico to drink beer, but that beer can be enjoyed in unexpected places, such as alongside desserts such as these lovely, unapologetically rich pots de crème, which, fortunately, are best enjoyed by little spoonfuls. Use a good dark chocolate for these. Since there aren't many other ingredients in them, it's worth using a better one here.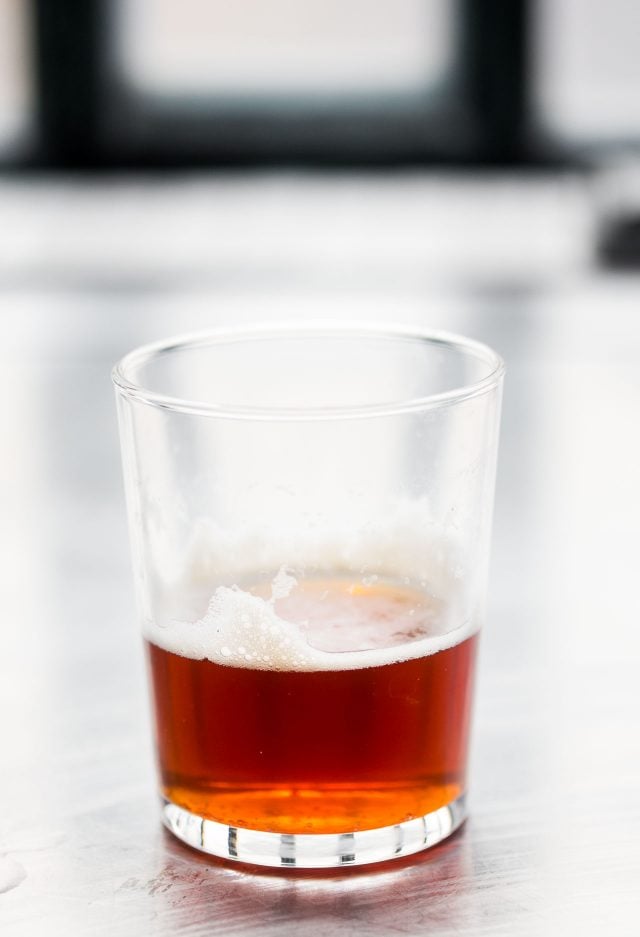 I also think they're best either warm or at room temperature, rather than chilled. I like breaking through the glossy-smooth dark chocolate surface and diving into a pudding-soft interior. You might want whipped cream on top, which is fine if you're so inclined. But one thing I can tell you is that a glass of beer isn't bad alongside. That, I'm certain of.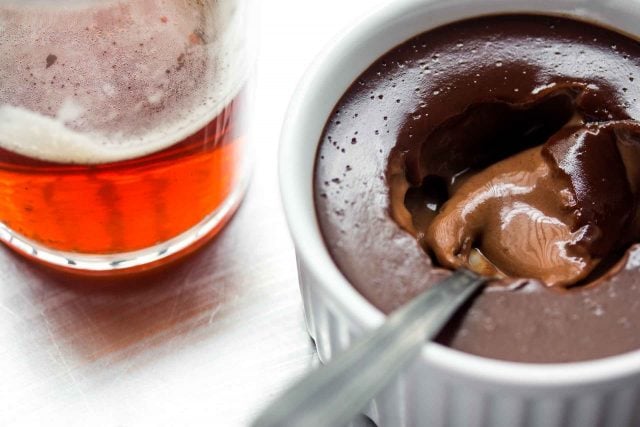 Chocolate Pots de Creme
Adapted from
The Beer Pantry
by Adam Dulye with Michael Harlan Turkell Ramekins and custard cups run the gamut in terms of sizes. Mine hold about 4 ounces (120ml) each, although you can make them smaller or larger. Be sure to check them before the recommended baking time since ovens also vary, especially if using smaller sized baking vessels. Some people like the pour the water into the baking dish when it's already on the oven rack, in step 4, to avoid sloshing water into the custards when transferring the pan to the oven. I have a zen-like steady hand when it comes to custard so do it before putting them in the oven. But you can fill the pan with water and cover with foil when the custards are on the oven rack. The original recipe said to bake them uncovered, but the "pastry chef" part of me felt compelled to bake them covered. I circled back to Adam, who told me he tested them both ways and covering them didn't seem to make a difference. So you could try baking them uncovered. If you do, let us know how they turn out You can add a dollop of whipped cream and some chocolate curls to the top of the custards, when cool, but I like them with any adornment. I don't want anything to get between me, and that
pot of
creamy, dark, bittersweet chocolate!
8

ounces (225g)

bittersweet chocolate

,

coarsely chopped

1 3/4

cups (430ml)

heavy cream

1/2

cup (125ml)

whole or lowfat milk

1/8

teaspoon

kosher or sea salt

6

large

egg yolks

2 1/2

tablespoons

sugar
Preheat the oven to 325ºF (160ºC).

Put the chocolate in a medium bowl. Heat the cream, milk, and salt in a small saucepan. When it begins to simmer, remove it from the heat and pour it over the chocolate. Stir with a whisk until smooth.

In a medium bowl, whisk together the egg yolks, then whisk in the sugar. Gradually add the melted chocolate mixture while whisking until well-blended. Strain the mixture into a large measuring cup or pitcher, or another bowl.

Place 6 ramekins or custard cups in a roasting pan or baking dish. Divide the custards amongst the ramekins. Add hot water to the baking dish until it reaches halfway up the outside of the ramekins.

Cover snugly with foil and carefully place the pan in the oven. Bake until the custards are set around the edges but still slightly soft and jiggly when you nudge them, about 30 to 35 minutes, but check them before as ovens can vary. Remove the pan of custards from the oven and lift off the foil.

As soon as the custards are cool enough to handle, remove them from the hot water bath and place them on a cooling rack.
Notes
Serving: The custards are best enjoyed warm or at room temperature. They can be served on their own, or with a dollop of whipped cream and some chocolate shavings. Storage: The baked custards will keep in the refrigerator for 2-3 days. They can be rewarmed either in a microwave oven or by putting them in a tray of hot water and gently rewarming them in the oven, covered or uncovered.