Pickled Sour Cherries Recipe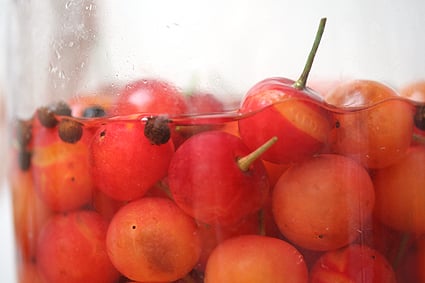 Believe it or not, there's much more to France than Paris.
Or so they say. I obviously don't get out much, but last year when I went to Camp Cassoulet, also in attendance was Jennifer of Chez LouLou. Although all who were invited I knew previously, she was the only one I didn't. Brave girl!
LouLou lives in the Southwest of France, which I think it just beyond the 13th arrondissement. (I haven't tried to take the métro there, but that's where I think it is…isn't it?)
She'd written up an intriguing recipe on her blog for Sour Cherries with Bay Leaf and bookmarked the page, assuming I wouldn't see sour cherries in Paris: they're about as hard to find here as they are in the states.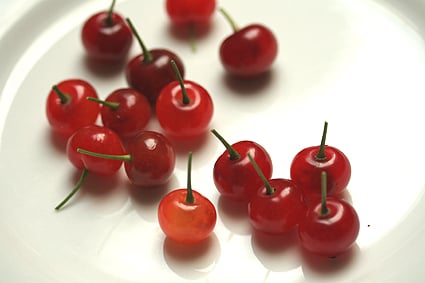 So when I saw fresh griottes, I almost lunged at the stand, and walked away with 2 kilos (about 4½ pounds).
The downside of coming home a big sack of sour cherries is that if you even look at them funny, they start to discolor, so you need to use them really quickly.
Actually, there were two bins of them at the stand. And one bin of sour cherries was twice the price of the other. When I asked what the difference was, the woman pointed at the more expensive ones; "These are plus belle". I've learned that the French often see things that I miss (like why my mobile phone plan at 20€ for a measly 60 minutes of talk time is a good deal), I took my chances and since they both looked exactly same to me—one wasn't prettier than the other—I bought the less-expensive ones.
I find the best way to pit sour cherries is with my fingers. Aside from being a good way to ensure that you've extracted the pit, it's also very effective for finding any tiny cuts you might have in your fingers as well. I spiced-up the recipe a bit, adding some allspice.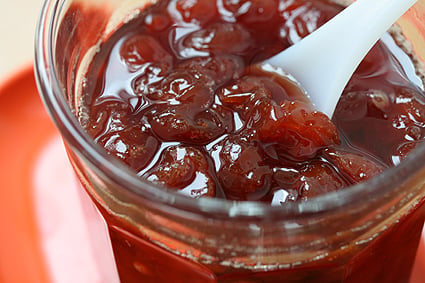 Obviously I'm not so concerned about my friends. But I am concerned about you. And because my Recipes page reverted back to its 2001 status when I upgraded my system last week, causing me premature hair loss (from pulling what's left of it out), I thought I'd be nice and point you to some of my favorite cherry recipes, which you can make with sweet or sour cherries.
I'm made Sour Cherry Jam with the rest of my cherries, just in case you're worried about me and the rest of the cherries.
Pickled Sour Cherries
1/2

cup (125ml)

white vinegar

1/3

cup (180ml)

water

4

ounces (115g)

sugar

20

black peppercorns

2

bay leaves

1/2

pound (225g)

sour cherries

,

rinsed, stems clipped in half
Bring vinegar, water and sugar to a boil, until sugar is dissolved.

Remove from heat and add the peppercorns and bay leaves.

Prick each cherry with a pin and drop them into the hot liquid.

Pour the contents into a clean jar (I pour boiling water into it, or run it through the dishwasher, then let it dry first), cover, and refrigerate until ready to serve.
Notes
It's best to let the cherries sit at least one week before serving. They'll keep in the refrigerator for at least one year.
Other Cherry Recipes on the Site