"Where are you from?"
It's considered rude in France to ask people who you've just met—"What do you do?"
It's kinda like asking someone how much money they make.
We Americans are used to freely discussing money, or anything financial, and have no qualms about admiring someone's new shirt, and in the next breath asking them how much it cost. Or walking into someone's apartment and asking them how much they pay in rent. My pet peeve is when people take you on The Tour of their remodeled house and tell you how much everything cost. I always feel like they want me to chip in or something.
Around here, the most common question seems to be—"Where are you from?" In France, people seems to move much less than Americans: we're often born in one place, go to college in another, then move somewhere else after that. Plus in France, people always want to know your genealogy; like where your parents and grandparents are all from, and all that kinda stuff. Since America is a jumbo melting pot, and few of our relatives hopped off the Mayflower together, it can get a bit complicated.
So when I'm asked "Where are you from?", I never quite know what to answer.

Do I say where I was born? Or where I lived during and after college for eight years? Or am I "from" San Francisco, since I lived there for the longest time of my life, before moving here?
I usually do tell people I'm "from" San Francisco, since Europeans like the city a lot, and they can pronounce it easier than my home state of Connecticut. I was explaining to Romain last week how to pronounce Poughkeepsie, which is even more of a killer. The look on his face trying to pronounce it was rather priceless.
Curiously, a lot of people in France think I'm from England, for some reason. In addition to my gleaming-white chompers and an inability to drink more than ½ pint of beer unless I'm baking in the hot sun on a Mexican beach, I'm not-terribly British, but très américain. And during my last couple of weeks in the US, I had a great time reveling in all that is American, from my mini shopping spree, to getting my badly-needed fix of burgers.
I'd heard a lot about the hamburger at the Fairway Café, which got lots of favorable reviews. But I wasn't particularly impressed. The burger was overcooked, the fries were uninspired and dull, and the service was beyond lax: I don't mind if a waiter forgets my drink order and has to ask me again, but I do mind if after the third request, he fails to bring it at all. And rare and medium-rare I think means that the meat inside should have at least a touch of red left in it. Right?
But…oh, did I indulge in other Americanisms, from endless shopping to tucking in some darn good bar-b-q with Luisa and Adam, and sucking down as many chocolate malts, glasses full-to-the-brim with ice water, and downing as many bottles of root beer as I could. And why not? In America, there's bathrooms everywhere!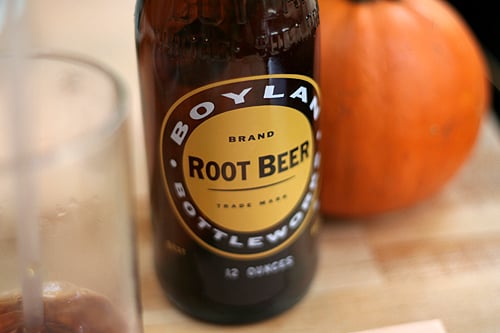 And speaking of bathrooms, is there anything better than the thunderous water that comes bursting forth from the American shower heads? If so, let me wallow in that splendor for a while before you break the news to me. Especially when afterward, you can dry yourself with one of those big fluffy, plush, thirsty towels that Romain fell in love with, instead of the tissue-thin Euro ones that seem more suitable to a Romanian prison than to an after-bath experience.
I was having a great time in America…where I'm from, and didn't want to leave. But eventually my time ran out and this morning, I arrived at 6:13am back at Charles de Gaulle Airport, with two overstuff suitcases filled with ancho chiles, a new iMac, Rancho Gordo beans, a stack of new cookbooks, a spiffy new tripod and lens, chapstick and razors, and a jumbo Sunday New York Times, which I plan to savor over the next several weeks, one delicious section at a time.
When I finally got my bulging suitcases into the elevator, then into my apartment (a feat which had overtones of my overly-eventful arrival in Paris years ago) I found myself craving French food again. I suddenly had to have a very fresh Tradigraine baguette from my bakery smeared generously with lots and lots of salted butter. And I missed my morning café au lait, which only I can make exactly the way I like it: anyone else would need to be a microbiologist to get the proportions just right. So after jamming the first of four loads of laundry that I'm working on today, (with no dryer, French-style) I did the rounds of places in my neighborhood, then sat down to the perfect petit dejeuner.
Fortified, I decided to head to the BHV department store to get an adaptor for my new iMac. I was a little nervous, since I tried that with a brand-new ice cream cone-maker a while back, which caused quite a bit of smoke to start coming out the moment I plugged it in. And while I like the idea of homemade ice cream cones, I like the idea of typing away on a shiny new iMac even better.
Walking through the Marais, en route to the BHV, at least six or seven Parisians walked right into me without making even the slightest acknowledgment that there might be other people on the sidewalk.
But on the plus side, only one car sped up when they saw me in a crosswalk.
Safely back home, with my adapter working well, I hopped in the shower and realized that I'd kinda missed home, with my feeble shower head which produces a mere trickle of tepid water, rather than the powerful cascade I'd become re-acquainted with back in the states. Stepping out of the tub, I noticed on the ledge was a can of Lysol-brand disinfectant spray that I guess one of my friends who stayed here while I was gone, left behind. I'm not sure what kind of message they were sending to me, but with all the bleach my housecleaner goes through, most surfaces are so clean that I'd feel pretty comfortable having open-heart surgery on anything bleach-able around here.
Okay. I didn't really miss my lame shower. Or the scratchy towels. Or Parisians that walk right into me. But I did miss a few other things, like fresh bread, delicious butter, and my morning coffee made just the way I like it. So I guess when people ask, "Where are you from?" from now on, I'll just say Paris. Since that's where I make my morning coffee.
It's good to be home.