Shallot Marmalade Recipe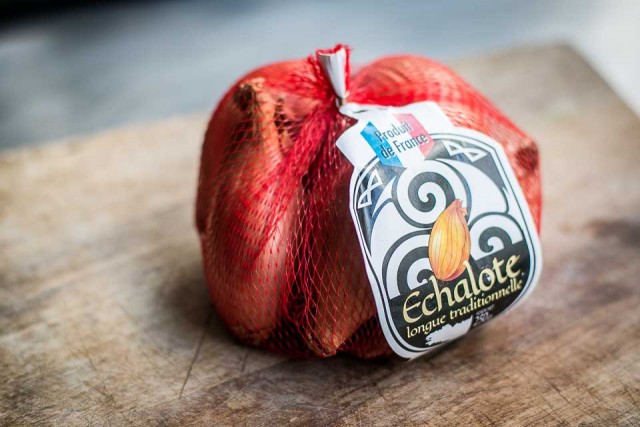 Shallot jam is a wonderful addition to many dishes. It's a bit sweet and a little tangy, the best of both – and a generous spoonful goes well with roasted meats, pâté, and can dress up a grilled chicken breast. You might not be familiar with shallots, but they are common in French cuisine and are the sweeter cousin to onions. I buy them by the sack at the outdoor markets and in American supermarkets, you'll find them tucked away in the onion aisle.
Here are a few general tips on jam-making:
Hard & Fast
Most conserves benefit from being cooked quickly, over moderately-high heat. This allows the ingredients to retain much of their character.
Don't Overcook
There's nothing worse than overcooked jam. That's when the sugar caramelizes, and that flavor overwhelms whatever else is in the jam. There's not much you can do to save it at this point, so watch out.
Brighten Up
Fruit jams often benefit from a squirt of lemon juice or a shot of liqueur added to brighten up flavors.
Don't Overreact
Never use reactive cookware when making jams. Materials such as non-anondized aluminum and tin can react with the acids and leave a tinny aftertaste. To avoid burning and hotspots, use heavy-duty cookware with a thick bottom.
Don't Double Your Pleasure
In general, don't double recipes. Better to make two small batches, since each will take less time to cook, preserving the appealing flavors of your ingredients.
Degrees of Faith
If you aren't sure if your jam is cooked to the right temperature, check it with a candy thermometer. For this jam, it's easy to gauge its cooking, but fruit jams 'set' at about 220 degrees Fahrenheit (104 C).
Shallot Marmalade
About 1 1/2 cups

This condiment goes great with pâté or as a sweet counterpoint to anything rich and meaty. In Paris, there's normally a gathering before dinner for drinks, such as a kir or a glass of Champagne. I've served this with slices of foie gras on toasted brioche, a perfect partnership. You can use large or small shallots. Feel free to another dried fruit (diced, if necessary), such as apricots, figs, dried cranberries, or cherries, in place of the raisons or prunes.

1 pound (450 g) shallots, peeled and sliced
2 tablespoon unflavored vegetable oil
big pinch of coarse salt
a few turns of freshly-cracked black pepper
1/2 cup (100 g) beer
1/4 cup (50 g) sugar
2 tablespoons honey
3 tablespoons cider or balsamic vinegar
8 prunes (3 oz/90 g), pitted, and cut into tiny pieces, or 1/2 cup (80g) raisins

1. In a medium-sized heavy-duty skillet or saucepan, heat the oil and sauté the shallots over moderate heat with a pinch of salt and pepper, stirring frequently, until they're soft and wilted, which should take about 10 minutes.

2. Add the beer, sugar, honey, vinegar, and prune pieces or raisins, and continue cooking, stirring frequently, until the shallots begin to caramelize. While cooking, continue stirring them just enough to keep them from burning.

3. The jam is done when the shallots are nicely-caramelized, as shown in the picture in the post. (Do not overcook; there should still be some juices in the pot when it's ready.)

Store the jam in the refrigerator, where it will keep for at least 2 months.
Related Recipes