Hey — it's December, and the holidays are once again upon us. While I used to reflect on all the cookbooks that crossed my desk, and kitchen counter, over the past year, I've lost track of what I've made from which book, and when. (One year I got wise, and started the list on January 1st, and continued adding to it as I went. And come December, it was all set to go.) Well, I'm not so organized anymore, a combination of not enough time, doing a number of other things, and bobbing up and down in the flow of life happening around me. So I decided to feature some things that really caught my interest this year – a kitchen tool that I found particularly useful, my favorite travel accessory, a book that may change my life (hope springs eternal…), and a few edibles.
---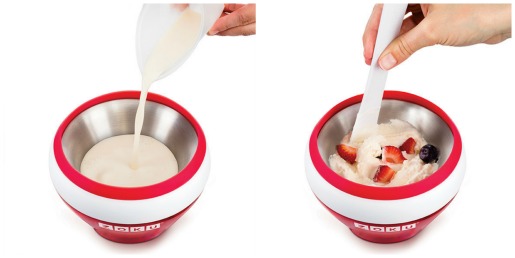 Zoku Single-Serve Ice Cream Maker
If you have friends or family who want to churn up just one batch of ice cream, all for themselves, the Zoku Ice Cream Maker Bowl promises to "churn" up a single serving of ice cream in just 10 minutes. This pint-sized gift (actually, it makes 6 ounces), can be used to "churn" up ice cream, sorbet, sherbet, or gelato whenever the needs arises. Another gift for them? They won't have to share.
---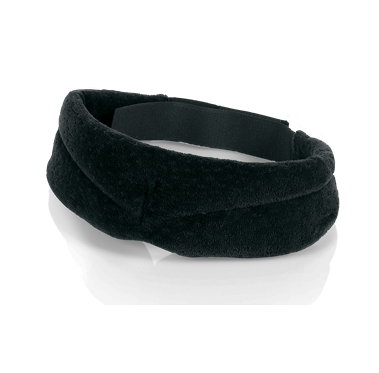 Know a light sleeper? (In addition to me…) Get them a Tempur-pedic sleep mask. I've lost sleep counting the number of eye masks I've tried that suck. Most let in light, which is the reason you buy an eye mask in the first place – or are uncomfortable to wear. This one blocks out 100% of light and after wearing it for a few minutes, the memory foam conforms to your face and it feels like you're wearing nothing. I take mine everywhere I go when I want to block out light and get a good night's sleep, such as when staying at hotels (what's with all those appliance power lights that illuminate the room when you're trying to sleep?) or on airplanes. Or even just at my place, during the months when the sun wakes up before I want to). This is my favorite travel object and I don't go anywhere without mine. (I actually have two, because I am terrified that I'm going to lose one.) A great gift for any traveler.
---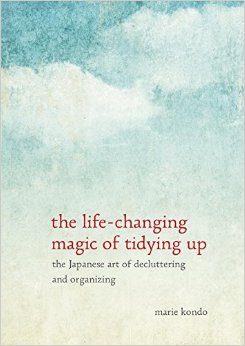 The Life-Changing Magic of Tidying Up
One day, a little packet arrived in my mailbox. My publisher had sent me a copy of this book with a note tucked inside the cover, saying that it created a sensation in their office, so they wanted me to have a copy. Thumbing through The Life-Changing Magic of Tidying Up, I could see why they found it so inspirational. (And with over 2 million copies sold, we're apparently not the only ones.) Just after I started reading it, I spent a few days going through all of my clothes and shoes, and cleared out half of the drawers in my bedroom, seeing something called "empty space" for the first time in years. It was, indeed, life-changing. And kind of "magic" that I got off my duff and did it.
Next up? Getting around to the rest of Marie Kondo's suggestions. This pocket-sized book is great motivation not just for cleaning out closets, but for making space in your life, and moving forward on a number of things. It was a great gift to me, and worth passing along to friends as well.
---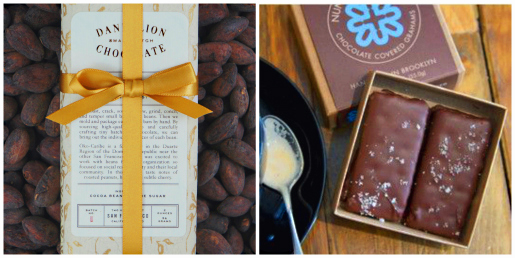 Nunu Chocolate, Woodblock Chocolate, and Dandelion Chocolates
Who doesn't love chocolate? In the last decade or so, there's been an explosion of wonderful chocolate makers and chocolatiers in America. As someone described it to me, it's a true American revolution. A few favorites that have been part of the revolution are Dandelion Chocolates and Nunu Chocolates, both owned by people who I first met in Paris – of all places.
Dandelion changes their bars depending on whatever beans they can get their hands on, and they're roasted and ground in their tiny factory in San Francisco. They offer a wrapped gift set, which are three bars and a letterpress tasting guide, as well as sets of three bars. Due to high demand, availability may be limited. (Disclosure: I am a small shareholder in the company.) The folks at Nunu chocolates offer various chocolate assortments, including a Beer Box, blended with craft beers in Brooklyn, the Booze Box with mezcal, rye, and absinthe, as well as a Caramel Blend, melded with various nuts and salt. Bonus: Both companies will deliver gifts for you.