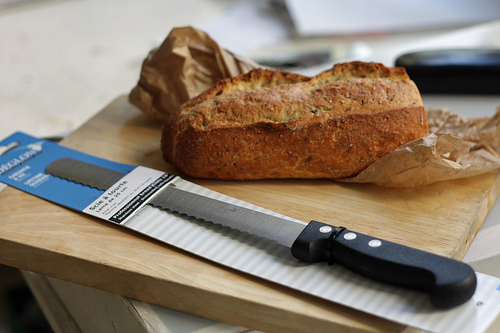 When I moved to France, the one thing I made sure to bring along was my bread knife. It's not that you can't get bread knives here, but I was particularly attached to mine, having used it for nearly three decades. It was a good value Victorinox at the time, and if you don't believe that I've had it for so many years, I think I paid about $14 for it, and the list price now is nearly three times higher.
(And for those who live in the Bay Area, I think I might have bought it at Whole Earth Access – if you can remember that far back.)
Of the knife "trilogy" that I think everyone should have – a chef's knife, a paring knife, and a bread knife – the first two should be of top quality, since you'll be chopping on a board and relying on their sturdiness and good blades to cut through firm vegetables and meats.