Award-Winning Chocolate Friends
Every year the International Association of Culinary Professionals hands out awards for what they deem are the Best Cookbooks of the Year. Last month in Seattle, I attended the ceremony with a few friends and instead of getting drunk on the free wine and champagne and heckling the winners as usual, I was thrilled when the names were called and not one…not two…but three of my 'chocolate' friends won awards!
Chocolate: A Bittersweet Saga of Dark and Light
By Mort Rosenblum
Award: Literary Food Writing
When I moved to Paris, chocolatier John Scharffenberger told me that I must meet Mort Rosenblum. He told me stories about what a colorful character he was, living on a boat in the Seine, and being a war correspondent for the Associated Press. Not being very adept at making friends via the 'cold-calling method', I worked up the verve and took his advice, and Mort turned out to be one of the most, um, interesting people I've ever met! Having spent a lifetime as a journalist, he tackled chocolate in his latest book, researching everything from the working conditions on the Ivory Coast of Africa to the Mexican chocolate culture of Oaxoca, and finally exploring the exclusive realm of chocolate in Paris, including the laboratoire of the elusive Jacques Genin.
Mort also writes of an interesting 'incident' about my experience with a certain, er, French chocolate company that wasn't very, um, nice to me. Even though my mother always said, "If you don't have something nice to say, blah…blah…" (she obviously didn't have a blog), he coaxed some of the gory details out of me. The rest was a story in my chocolate book, which was later deleted, so you'll have to wait for my posthumous biography for the real dirt.
Since I can't keep a secret for very long, you can read about some of my encounters with them in his book, Chocolate: A Bittersweet Saga of Dark and Light.
I'll be leading a sold-out week-long Chocolate Exploration of Paris in May with Mort that promises to be great fun and we'll be visiting Jacques Genin* himself for a hands-on presentation and tasting. Will report on that in May.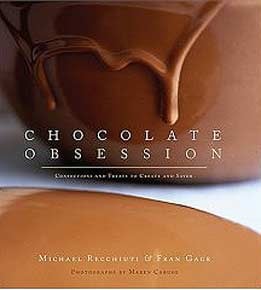 Chocolate Obsession
By Michael Recchiuti and Fran Gage
Award: Best Photography and Food Styling
After knowing him for almost 10 years, I think I've got his name right. In spite of my mangling his name too many times to count (we're still friends)…and there's certainly nothing convoluted about Michael's sensation chocolate creations. I admire him so much that he's one of America's great chocolatiers, and I profiled him in The Great Book of Chocolate. After working for years in restaurant kitchens, he launched his company in San Francisco in 1997, selling his chocolates via local shops. An advocate of using locally-grown ingredients, soon Michael was a fixture at the San Francisco Ferry Plaza Farmer's Market, and gave out tastes of his chocolates to eager early-morning shoppers. Once the farmer's market opened their spanking-new, gleaming indoor facility, Michael opened his first boutique and his fame spread far-and-wide. With creations like Key Lime Pears, thinly-coated in bittersweet chocolate, and his do-it-yourself kits for making terrifically-gooey S'Mores (hey!…I'll bring the marshmallows…), Chocolate Obsession reveals many of his secrets and tips for successfully producing chocolate desserts and confections in your own home.
And if you ever get a chance to visit his shop, his chocolate fudge brownies are a-m-a-z-i-n-g…
(Maren Caruso, who won the Photography Award for her stunning photography, and co-award winner Kim Konecny, food stylist, will be shooting my next cookbook, due for release in the May of 2007.)
Chocolate Chocolate
By Lisa Yokelson
This oversized book is almost overwhelming with the variety of chocolate recipes. Lisa likes things over-the-top, everything from Chocolate Pancakes to deep-chocolate bar cookies studded with chips and nuts. Everything here is loaded with so much chocolate that you'll go crazy.
You may go insane.
You may end up like TomKat.
But I hope not.
*Many of you have asked where you can get Jacques Genin chocolates. A limited selection is available at Pain de Sucre, 14 rue Rambuteau (Tel: 01 45 74 68 92). As far as I know, they're unavailable in the United States. You can also try to visit his laboratoire at 18 rue St.-Charles. It's not a shop and normally not open to the public, but he's quite nice and often he'll sell his chocolates to visitors if the weather is right, the planets are in correct alignment, and he's in the mood.