White Chocolate & Sour Cherry Scones
The year was 1999 and my first book had come out and was nominated for one of those terribly-important cookbook awards. During the dinner and awards presentation, everyone thought I was a shoe-in and so I was seated right up in front, sharing a table with Graham Kerr, Claudia Rodin, some woman from Sweden (I had no idea who she was; the only Swedish women I've committed to memory are the ladies of Abba, I'm afraid)—and, gulp, Julia Child.
It was nice to be considered, but the real reason I wanted to win was because Alice Medrich was presenting the award in my category and I quickly thought of something that I wanted to say about her. When I was starting out as a baker, I used to step into her shop, Cocolat in Berkeley, on my way to work and get a truffle or a wedge of cake, which I would devour before beginning my own baking shift. And I credit her for introducing me, and a lot of other Americans, to the pleasures of fine chocolate.
Unfortunately I didn't win and the following year, I was relegated to the rear of the room, back with rest of the riff-raff.
But sour grapes do not make a good sorbet, although sour cherries do make an excellent addition to scones. I've been meaning to do a recipe from Alice's amazing book, Pure Dessert, and when I saw her scone recipe which combines rustic buckwheat and crunchy cornmeal, I knew it'd be a perfect vehicle for not just the cherries, but for rough-cut chunks of white chocolate, too.
Like all of Alice's treats, this one relies on a few ingredients, is easy-to-prepare, but with results that are always better than the sum of their parts. And this one is a winner.
(Unlike me.)
And speaking of sour, last week while at the health food store, I was craving tofu (after my week-long chocolate tour, can you blame me?) I spotted low-fat organic milk and decided right there that it was time to make the switch. The milk is only, like, 80 centimes more than regular milk and why not contribute to the cause when and where I can?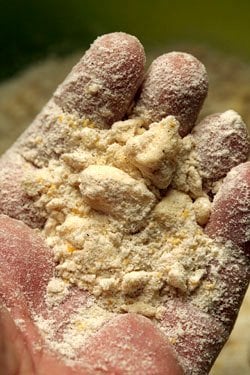 Okay, well…I found a reason. When I opened the bottle, this big ol' wad of cream was blocking the top, which pretty much nullified any benefits of its demi-écrémé designation. And even though I shook the life out of it before I added it to my morning café au lait, when I poured it in, it curdled into a zillion tiny little bits. And take it from me, peering into a brown bowl of steaming-brown liquid teeming with curdled fragments of milk fat bobbing on the surface is the last thing you want to face first thing in the morning.
Being Monsieur McFrugal, I decide to use it for making these scones, and they came out great. And I guess tips them towards the 'healthy' category. Which is a good thing, because I made these twice this week and ate almost both batches all by myself. I would've handed them out to friends, but I don't know the word for scones in French, nor do I know how to describe them.
So that's my excuse. And I'm sticking to it.
White Chocolate and Sour Cherry Scones
Adapted from
Pure Dessert
(Artisan) by Alice Medrich You can swap out dark chocolate for the white chocolate chunks. I prefer to used chopped chocolate because those pre-prepared chips don't melt and get as gooey when baked. You can also swap out any other bits of diced dried fruit for the sour cherries; California dried apricots would be fantastic with the white chocolate chunks. See the Notes at the end of the recipe for tips on handling the dough.
1

large egg

a scant 1/2

cup (115 ml)

cream

,

whole, or low-fat milk

1 1/3

cup (170g)

flour

1/3

cup (45g)

buckwheat flour

1/3

cup (45g)

cornmeal

,

preferably stone-ground

1/3

cup (65g)

sugar

2 1/2

teaspoons

baking powder

1/2

teaspoon

salt

6

tablespoons (85g)

unsalted butter

,

chilled, cut into cubes

1

cup (140g)

white chocolate chunks

1/2

cup (60g)

coarsely-chopped dried sour cherries

1

teaspoon

egg yolk mixed with 1 teaspoon milk

coarse sugar (or granulated) for dredging the scones
Preheat the oven to 400F (200C) and line a baking sheet with a silicone baking mat or parchment paper.

In a small bowl, stir together the egg with the milk or cream.

In a large bowl, whisk together the flour, buckwheat, cornmeal, sugar, baking powder, and salt.

Using a pastry cutter, work in the cold butter until the pieces are about the size of corn kernels. (You could use an electric mixer or food processor instead.)

Add the egg mixture, stirring with a spatula, until the dough is moistened, then stir in the white chocolate bits and sour cherries.

On a lightly-floured surface, pat the dough into an 8-inch (20 cm) round. If it's too wet and is very sticky, knead in a spoonful or two of flour on the countertop. (The originally recipe called for 3/4 cup (180 ml) milk and cream, and my dough was very sticky, which may be the original intent, but I found it hard to work with. Slightly less than 1/2 cup, (115 ml) seemed right. Good thing making scones isn't rocket science!)

Use a pastry scraper to divide the dough into eight wedges.

Brush the tops of each wedge with the a glaze made by stirring the egg yolk with the teaspoon of milk together with a fork. Dip the top of each scone in small bowl of coarse or regular sugar so they're generously coated, then set each one right-side up on the baking sheet, evenly-spaced apart.

Bake the scones for 25 minutes, or until the tops are golden brown.
Notes
Notes: There's two theories about making biscuits and scones; one says the batter should be firm enough the cut, the other says it should be wet and spoonable. If your dough is very soft, or you don't want to get the counter dirty, you can certainly spoon it onto the prepared baking sheet in 8 mounds.
For firm, neater-looking scones, the dough should be not too sticky and you can knead a bit more flour into the dough. I'm happy to sacrifice picture-perfect scones for ones that are light and tender. If you're looking for a sturdier scone, you might want to check out my Chocolate Cherry Scone recipe in my book, The Great Book of Chocolate.
Since the scone dough is on the soft side, this is the time to get out your metal pastry scraper. If you don't have one, a metal spatula will make lifting the dough, and the cut scones, a little easier.