Fruitcake Bar Recipe (Friendship Bars)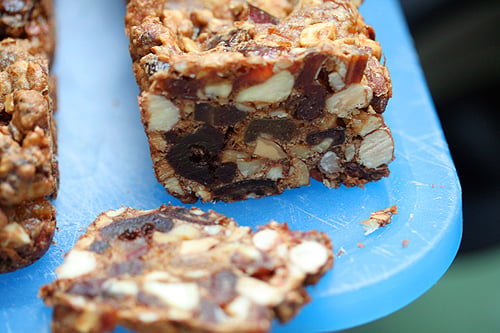 Maybe this happens to you. Maybe it doesn't.
You're invited to a party and as a nice gesture, you bring something along. Being a baker you decide, naturally, to bake something.
So you get to the party, you're wining and dining, loosening up and enjoying yourself. But when people find out you've brought a dessert, they all of the sudden get very interested in you, and what you've brought, what's it called, how you've made it, what's in it, what's the recipe, etc..etc…
The most difficult was when I brought a Bûche de Noël to a Christmas party, which is a fairly complicated affair involving spongecake, chocolate buttercream, soaking syrup, and lots of crackly meringue mushrooms for decoration. Some nutty woman followed me around all night with a pen and note pad, prodding me for recipe details and I spent the whole night trying to avoid her.
But let's say you've been working on recipes all day, or adding recipes to your blog. So you go to a party and maybe you'd rather just not talk about what you've made: After all, don't they know you have a food blog and a couple of cookbooks where they can get all that information?
(And no, I don't have a recipe for Bûche de Noël. But thanks for asking…)
So my technique for throwing 'em off the scent is to make up names for things I've baked that mean nothing, something innocuous that no one can possibly question what's inside it. I've brought to parties Chocolate Surprise Cake, Mystery Spice Cake and Baked Summertime Fruit Dessert. But you need to be careful since if you pick the wrong name, something like Chocolate Emergency Cake, you'll have to explain the story behind the moniker 'emergency'.
And we can't have that, can we?
Then there's Friendship Bars, which is the name I often give these Fruitcake Bars.

This recipe is a riff from Alice Medrich's book Pure Dessert.
These Date and Walnut Bars hold special appeal to me and they don't have any icky green cherries or other oddities in there. Instead they're packed with lots of healthy dried fruits and nuts, and are one of those great desserts to make when you don't feel like going shopping, since you're likely to have these ingredients on hand. There's no butter either, so they keep for quite some time and could easily to filed under 'low-fat' recipes, so you don't have to feel bad when you polish off the whole pan in one afternoon.
Recently I've been taken by these tiny dried Armenian peaches I found at my friendly Arab market since it's impossible to find tart dried California apricots here. A few friends, perhaps not so in-the-spirit-of-friendship, nicknamed them Chernobyl peaches. Perhaps I'm just naive, but I've been snacking on them a lot lately and haven't noticed any ill effects—so I'm going to keep using them. But if I no longer feel the need for a nightlight in the dark or I start sprouting a third arm, I'll stop. Probably.
Come to think of it, a third arm could definitely come in handy sometimes. Like it might be good at warding off all those people swarming around, trying to get the recipe out of you.
Fruitcake Bars
About 16 bars

Adapted from Pure Dessert by Alice Medrich

Feel free to use any friendly combination of dried fruits that strikes your fancy. The dates really do make the recipe, but I've tossed in a scoop of dried sour cherries or cranberries as well with great results. Whatever you do, stick with the quantities below and no one will get hurt.

For all the folks that absolutely feel they have to change things (and you know who you are…) a handful of candied ginger, a few swipes of freshly-grated citrus zest, or some crushed anise seeds might be welcome. For those of you who are gluten-free, I imagine you could substitute another starch for the flour, but otherwise I recommend sticking pretty close to the recipe, since these Fruitcake Bars are perfect just as they are.

6 tablespoons (50 g) flour
1/8 teaspoon baking soda
1/8 teaspoon baking powder
1/4 teaspoon salt
6 tablespoons (90 g) packed, light or dark brown sugar
2 cups walnuts, almonds, or pecans (200 g), toasted and coarsely chopped
1½ cups (170 g) dates, pitted and quartered
1 cup (170 g) dried apricot halves, preferably from California, snipped in half
1 large egg
½ teaspoon vanilla extract

1. Line an 8-inch (20 cm) square pan across the bottom and up the sides with two sheets of aluminum foil, making a big criss-cross with the sides overhanging.

2. Preheat the oven to 325F (160C) and position the rack in the center of the oven.

3. In a large bowl, toss together the flour, baking powder, baking soda, and salt. Add the brown sugar, walnuts, dates, and apricots. Use your fingers to mix the fruit, separate any pieces sticking together.

4. Beat the egg and vanilla in a small bowl, then mix it with the fruit and nut mixture until everything's coated with the batter. Spread the mixture in the baking pan and press gently to even it out.

5. Bake for 35-40 minutes until the top of the bars are golden brown and has pulled away just-slightly from the sides of the pan. Cool the bars in the pan, then lift out.

6. To cut the cooled bars, use a heavy sharp knife, such as a bread knife, for best results in getting clean slices.

Storage: The bars can be stored in an airtight container at room temperature for up to a week.
Note: I used my Baker's Edge pan, which I've fallen head-over-heels for. Because the pan is larger than the 8-inch pan the recipe calls for, you should double the recipe if using one. And instead of driving yourself nuts trying to line this wacky pan with foil, grease the pan lightly with nonstick spray instead.