Friendship Bars (aka Fruitcake Bars)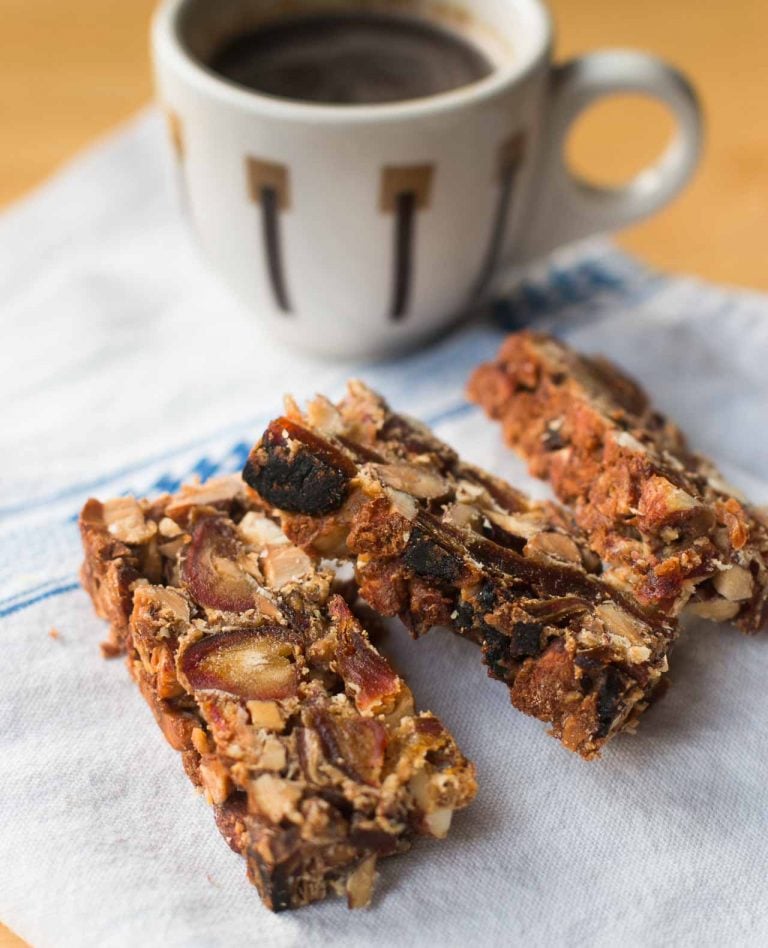 Note: This recipe was updated to become Fruitcake Bars, and you can get a printable version of the recipe here.

| | |
| --- | --- |
| Friendship Bars | Print Recipe |
Adapted from Pure Dessert by Alice Medrich Feel free to use any friendly combination of dried fruits that strikes your fancy. The dates really do make the recipe, but I've tossed in a scoop of dried sour cherries or cranberries as well with great results. Whatever you do, stick with the quantities below and no one will get hurt. For all the folks that absolutely feel they have to change things (and you know who you are…) a handful of candied ginger, a few swipes of freshly-grated citrus zest, or some crushed anise seeds might be welcome. For those of you who are gluten-free, I imagine you could substitute another starch for the flour, but otherwise I recommend sticking pretty close to the recipe, since these Fruitcake Bars are perfect just as they are.
6
tablespoons (50g)
flour
6
tablespoons (90g)
packed,
light or dark brown sugar
2
cups (200g)
walnuts
almonds, or pecans, toasted and coarsely chopped
1/2
cups (170g)
dates,
pitted and quartered
1
cup
dried apricot halves,
preferably from California, snipped in half, 170 g
1/2
teaspoon
vanilla extract
1. Line an 8-inch (20 cm) square pan across the bottom and up the sides with two sheets of aluminum foil, making a big criss-cross with the sides overhanging.
2. Preheat the oven to 325F (160C) and position the rack in the center of the oven.
3. In a large bowl, toss together the flour, baking powder, baking soda, and salt. Add the brown sugar, walnuts, dates, and apricots. Use your fingers to mix the fruit, separate any pieces sticking together.
4. Beat the egg and vanilla in a small bowl, then mix it with the fruit and nut mixture until everything's coated with the batter. Spread the mixture in the baking pan and press gently to even it out.
5. Bake for 35-40 minutes until the top of the bars are golden brown and has pulled away just-slightly from the sides of the pan. Cool the bars in the pan, then lift out.
6. To cut the cooled bars, use a heavy sharp knife, such as a bread knife, for best results in getting clean slices.
Storage: The bars can be stored in an airtight container at room temperature for up to a week.