Tu bi'Shvat Cake
I've never given Israeli food all much thought. Sure, I'd had my fill of falafels and hummus in my lifetime, but there is a trip in my future and I was at a dinner party the other night and the woman hosting us had lived in Israel for a number of years and said it was her favorite place in the world.
Other people at the party chimed in saying also that the food was great – especially the salads, something I miss from years of living in California – all those vibrant, fresh greens and luscious tomatoes bursting with flavor that we had an overload of at the farmers markets! But I've never given much thought to Israeli desserts. (I adore Black and White Cookies, but don't know if those qualify.) So when I came across this Tu bi'Shvat Cake in The Book of New Israeli Food, as I'm fond of anything packed with dried fruits and nuts, I thought I'd give it a try.
The cake is almost too simple to put together; it's just a lot of chopped dried fruits and nuts baked in a minimal amount of batter. However I was concerned about the 90 minute baking time noted in the book, and wasn't sure if I should rely on the recipe – or my instincts. After fifty minutes, peering in the oven, the cake looked done and I wrestled in my mind a bit whether to take it out or not. I had used one of my precious bags of American dried sour cherries in the cake, and was hesitant. So after pondering the issue as the minutes ticked by, and the cake continued to cook in the humming oven (and my concern grew), when I was sure I was doing the cake in, I decided to pull it out.
Coincidentally, a few days later I got a message from someone who had sent me the book, who knew the author. So I took advantage of the opportunity to ask about that extensive baking time. who replied that the "…lengthy baking…gives the cake its unique texture and taste." And that the finished result is a dense and chewy loaf.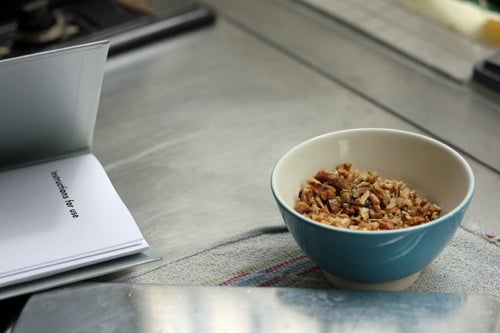 So I gave it another try with the extended baking time, and voilà, it came out just fine. The re-do also gave me a chance to try out both of my new ovens, which are each different, so I could figure out all those dials and displays.
I don't even want to tell you this, but because I got preoccupied with reading the voluminous instruction manual…I realized halfway through the baking time, as I was cleaning up, that I neglected to add all of the nuts. Which prompted me to learn a new word in Hebrew: חרא (merde.)
| | |
| --- | --- |
| Tu bi'Shvat Cake | Print Recipe |
Adapted from The Book of New Israeli Food by Janna Gur Tu bi'Shvat is a celebration of an abundance of fruit, so feel free to celebrate in your own special way by using any kind of dried fruits that you might have in abundance. I used apricots, dried sour cherries and prunes, but anything that strikes your fancy would be suitable. This curious cake is dense and chewy, not light and airy, so it makes a good accompaniment with coffee as a mid-afternoon snack, when your energy is wavering. The original recipe says exactly it keeps for "a long time."
7
tablespoons (60g)
flour
7
tablespoons (60g)
sugar
1/2
teaspoon
ground cinnamon
1/4
teaspoon
ground nutmeg
1/8
teaspoon
ground cardamom
1 1/2
cups (200g)
dried fruits; any combination,
such as sour cherries, cranberries, raisins (whole) or figs, prunes, apricots, peaches (diced)
1 1/2
cups (150g)
nuts,
lightly toasted and coarsely chopped
1. Preheat the oven to 300ºF (150ºC.) Grease a 9-inch (23 cm) loaf pan and line the bottom with a piece of parchment paper.
2. Mix the flour, sugar, eggs, cinnamon, nutmeg, cardamom, cloves, and salt in a large bowl.
3. Stir in the dried fruits and nuts.
4. Scrape the mixture into the prepared pan and bake for 90 minutes. Let cool, then remove cake from pan.
Serving: Use a sharp knife to cut in very thin slices. The cake will keep for at least a week, wrapped, at room temperature.
Related Recipes
---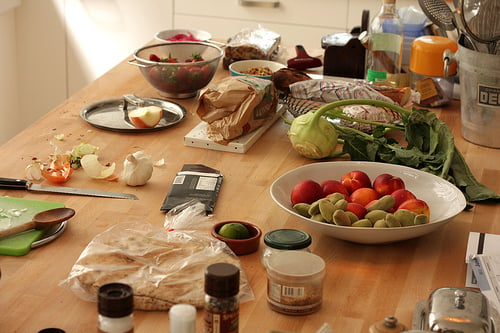 Note: A number of you have inquired about my kitchen which is still in a rather unruly state. And consequently, so am I. (For those of you who have been through it, you know what I am talking about.) I appreciate reader's interest – but I've got my hands full trying to pull it all together, and working on the six month backlog of work to catch up on that I let slide, so I'll give some glimpses in the future on various posts here when things are a little tidier. Thanks for your interest, but I'd like to keep the comments/questions on the subject of the posts. But at least I am able to cook at home again! Whew…