Bee's Knees Cocktail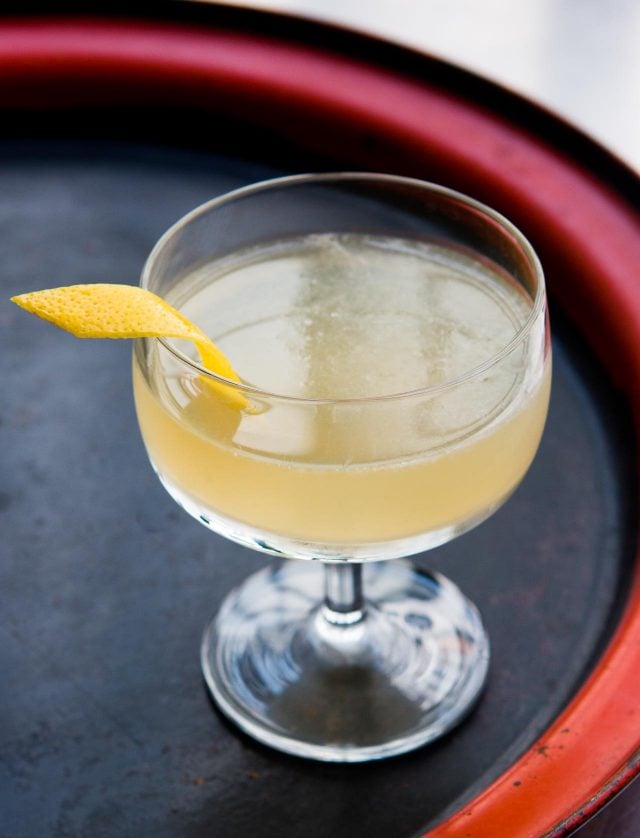 While doing research for Drinking French, I was on the prowl to find a substitute for Amer Picon, the classic apéritif from France that's not available in the U.S. While I found some alternatives that were available in America (which I listed in the book) my very favorite was Sepia Amer, made by Audemus Spirits in France. (h/t to Josh of Paris Wine Company for the intro.)
As someone who ran out of organic crunchy peanut butter recently, and can't watch Schitt's Creek, I share your pain at not being about to get something you want where you live. But if you come to France, or live in a country that does carry their spirits, such as France, the United Kingdom, Australia, and others, I recommend you pick up a bottle or two.
You may not be able to get their fine spirits everywhere, including their lively Pink Pepper gin that I used, but you can certainly recreate this refreshing Bee's Knees cocktail at home. It's a prohibition-era cocktail, so if they could make it back then which what they could get, then I hope you can too.
David A. Embury says in The Fine Art of Mixing Drinks that it's probable that honey was added in the creation of the drink at the time to improve the taste of bathtub gin. Fortunately gin these days is a lot better and in France, gin has become an art form with lots of people making, and discovering, gin. Audemus has done an admirable job with their Pink Pepper gin, which I'm happy to add to my liquor shelf next to my treasured bottle of Sepia Amer.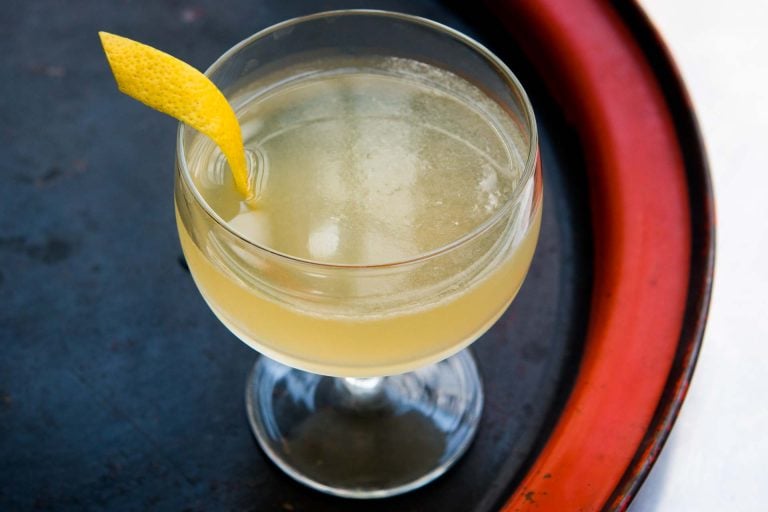 I don't love sweet cocktails but if you're concerned about the honey in this one, don't worry; this buzzy cocktail definitely falls on the sour side.

| | |
| --- | --- |
| Bee's Knees Cocktail | Print Recipe |
From Audemus Spirits I made a 1:1 honey syrup, mixing a tablespoon of honey with 1 tablespoon of very hot water, stirring them together, and letting it cool. The Audemus team uses 2:1 (2 parts honey) and they like to use their Covert liqueur, which is made with fig leaves, honey, and Cognac. It depends on which liqueur you go with, of course, but if you want a sweeter cocktail, you can use their 2:1 proportions. (Also you can play around with different types of honey, from rugged buckwheat or wildflower, to mild clover.) If you don't have Covert liqueur, as I don't, they recommend using another favorite liqueur, such as amaretto, orange liqueur (such as Grand Marnier, Cointreau or Triple sec), liqueur de noyau (made from apricot kernels, which you can buy in France or make from my recipe in Drinking French), or another favorite liqueur.
3/4
ounce
freshly squeezed lemon juice
1/2
ounce
honey syrup
(see headnote)
1/2
ounce
Covert, amaretto, or another liqueur
(see headnote)
1. Add the gin, lemon juice, honey syrup, and liqueur to a cocktail shaker. Fill two-thirds with ice and shake vigorously until well-chilled, about 15 seconds.
2. Strain into a chilled cocktail glass and garnish with lemon twist.