I have quite a few "issues", including an aversion food that's blue which wasn't intended by nature to be so (I don't understand what's up with that 'blue raspberry' soda), I don't like getting dressed first thing in the morning or talking to others for at least the first hour of the day, I get uneasy when being driven anywhere by a taxi or hired driver, and I'm so terrified of my bank back in Paris that I avoid making money so I don't have to go in there and do anything scary like, say, make a payment or deposit money into my bank account.
But nothing strikes fear in the heart of me more than one thing: Hotel Breakfasts.

Aside from requiring me to hop out of bed and try to look presentable, plus having to suffer under a round of cheery "Good morning, sir!" by the staff when I walk in the dining room, I tend to eat things I wouldn't normally chow down on at home as I have zero power to resist a big tray of hot crispy bacon or Migas, scrambled eggs with corn tortillas. But not undercooked scrambled eggs, please; those yellow goopy curds fall under my list along with eating a bowl of blue raspberries. None for me, thanks.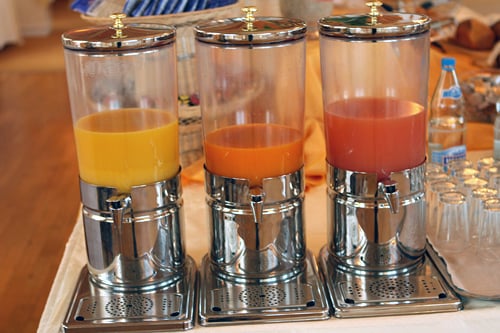 After thirty-five years in the restaurant business, no one appreciates how hard people work in kitchens and dining rooms. But I just feel like saying, "Look, here's the deal: Let me help myself to coffee instead of you sprinting across the dining room to top it up every time I take a sip. You can say a sincere 'Hi' when I walk in, but that's as friendly as you need to be to me. (And considering I'm not the nicest person in the morning, that's a pretty good deal.) And if you only come over if I truly do look like I need something, I promise to give you your 20% tip."
I prefer how they do it in Europe with bringing a basket of bread and jam, a pot of coffee and some warm milk, and letting you eat in solitude. Or better yet, just putting everything on a buffet and letting you help yourself.
(Although this morning's meal in the hotel dining room was a little more interesting for me because from the sound of things, the man in the next room last night was having an amazing time, which I deduced from the very vocal moaning and groaning that came through the wall at various intervals. However I was surprised to discover this morning at breakfast that he was, indeed, alone. Which raised a few questions about him—but I won't get in to those now. He's obviously got bigger issues than things like blue raspberries and undercooked eggs to deal with.)
It's surprising that I like Bircher Müesli so much since yet another thing I'm not fond of is soggy food. Yet there's something strangely compelling—and delicious, about oats, grains, and whatever, mixed with yogurt and left to rest overnight. After coming directly to Switzerland from Sharjah, there's a bit of another culture shock. And I miss the creamy hummus spreads and spiced eggplant purees we had every morning, so you can imagine the appeal of a big bowl of creamy Bircher Müesli had for me.
My first experience with müesli was Alpen cereal, which was introduced in America when I was a teenager. I was the bulls-eye on the target for their advertising campaign as it made me feel really continental to open that coarse dark cardboard box of oats and grains in the morning, the one with a Swiss-style window overlooking the majestic Matterhorn on it, and eat it with milk. Even back then I had a hard time reading the fine print, but it probably said that it was meant to be mixed with yogurt a day ahead and enjoyed for breakfast the following day. But I had it just poured milk over the untoasted oats and grains and munched my way though anyway thinking I was all European or something.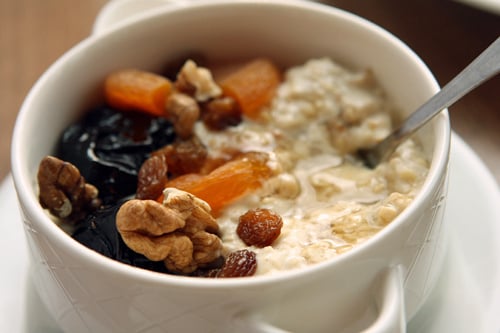 This morning at my hotel in Switzerland, after I had my fully-cooked scrambled eggs, toast, and fresh fruit salad, I noticed the Bircher Müesli on the self-service buffet, and filled a bowl with a healthy dollop.
I added some dried fruits and nuts and took a spoonful, and it was wonderful and I felt healthy and revitalized, and ready for the day. A little honey spooned over the top with a second pot of hot coffee, and I can say it was pretty great to just sit there and eat it undisturbed while reading the paper and looking out through the tall windows at the fog sitting over the expansive lake that placidly rested outside.
Oh, and the bacon at the buffet was pretty good, too. So much so, that I went back and took seconds—all by myself.
Links and Related Recipes
Maximillion Bircher-Benner (Wikipedia)
Next Generation Bircher Müesli (delicious:days)
Bircher Müesli (Nami-Nami)
Bircher Müesli (Kitchen Parade)