No-Bake Granola Bars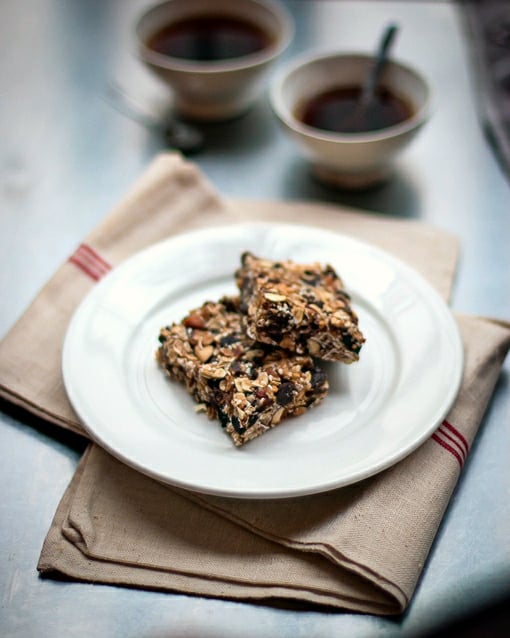 Someone once asked me how I know when to give up on a recipe. Sometimes I realize after a few tries, that I should just forget about it. And others, like the tarte tropézienne in my next book, I made seventeen times until I got it just right. (Because I got a little crazy about getting it just right, including bringing slices around to local bakeries to get their opinions. Plus making a second trip to the bakery in the south of France where I had the one that inspired me to include it.) And the cake has four components, so multiply that times seventeen, but I still didn't give up until I got it just right.
Speaking of my next book, I had a kind of funny idea (well, at least to me…) to end the book with a recipe that has been vexing me for ages: granola bars. And I would accompany my spectacular barre de müesli recipe with a triumphant story about how I was able to succeed in the face of multi-grain adversity, which somehow I could turn into a metaphor for my culinary life. (In that very special way that I do…which has editors scratching their heads as my writing curves from one completely different subject to eventually landing on another – which, if I/they have any luck, is on the recipe at hand.)
But after a whole other round of testing, as my deadline loomed – and I had depleted all the flacons d'avoine (oats) in the natural food stores of my neighborhood – I realized that it was time to give up my idea of including a naturally delicious dream bar, and move on with the rest of my life.
Then, one day, I had little peanut butter frosting leftover from a project, sitting in a bowl on the counter. And since we were taking a trip and I wanted to bake up something to take along to snack on, I mixed it up with some nuts, dried fruits, and whatever I had around – then pressed the whole shebang into a pan and baked it up. And you know what? Bingo! They were the best granola bars I'd ever had, hands down. C'est la verité.
Realizing that I had finally hit le jackpot, when I got back into my kitchen after the trip, I tried to reproduce them without the generous dab of frosting, over and over, and over and over. And I knew I couldn't publish a recipe that called for 7 5/8th tablespoons of peanut butter frosting. (You're welcome.)
But after I had fiddled, and futzed, and soldiered on, scraping batch after batch of sticky or crumbly granola bar mixture out of pans, I was ready (again) to toss in the torchon (kitchen towel).
I don't mind failure, because you learn so much from it. And anything successful is probably the result of the many failures that came before it. But I had come, once again, to accept defeat. And being in France, I have the paperwork to prove it.
Then, one fine winter day, several months (and several kilos of rolled oats) later, I came across a bunch of recipes for no-bake granola bars online.*
So I resumed my frenzied testing this week, as if I had never stopped. And even though I had some failures, the upside is that I've contributed generously to the financial well-being of the natural food stores in my neighborhood. Although these bars may crumble a bit when you slice – and eat – them, they're pretty great to snack on. If you have any problems, there's always granola**, which I've tested a number of times as well (!)
Enfin, I am now officially done with granola bars. And since so many are into pin-point precision, you are welcome to bookmark this page and keep it for future reference, and throw this whole oaty, nutty episode back in my face. These granola bars get their flavor from equal amounts of natural peanut butter and honey, which bind together a crunchy mix of peanuts, almonds, sesame seeds, and dark chocolate chips, with a handful of dried sour cherries thrown into the mix.
| | |
| --- | --- |
| No-Bake Granola Bars | Print Recipe |
One 8-inch (20cm)
square pan
One of my many tries was made with almond butter. While it was tasty, almond butter doesn't have quite the same smoothness of peanut butter. But it tasted good so feel free to play around with that, or other thick smooth, nut butters that interest you. And you can swap out any kind of nuts that you wish. I liked half almonds and half peanuts; the candied peanuts that I snuck in during one try were particularly tasty. I used Deglet nour dates, but any dates would work fine. Avoid chunks or bits sold as "date pieces," which often contain oat flour and are kind of dry.
1 1/2
cups (150g)
rolled oats
1/4
cup (45g)
sesame seeds
1/2
cup 60g)
whole almonds
1
cup (125g)
pitted and diced dates
1/3
cup (50g)
dark chocolate chips
1/3
cup (35g)
dried sour cherries,
coarsely chopped
1/2
cup (75g)
roasted peanuts,
coarsely chopped
1/4
cup (65g)
smooth natural peanut butter
1. Line the bottom of an 8-inch (20cm) square pan with parchment paper. Preheat the oven to 350ºF (180ºC).
2. Spread the oats and sesame seeds on a baking sheet and toast for 10 to 12 minutes, stirring once or twice while baking, until they are slightly browned. Scrape them into a large bowl. Spread the almonds on the baking sheet and toast for 10 minutes. Let cool, then coarsely chop and add the almonds to the oats.
3. Add the dates, chocolate chips, cherries, and peanuts to the bowl.
4. Heat the peanut butter, honey, and salt in a small saucepan, stirring until warm, but not boiling. Pour the peanut butter and honey over the mixture in the bowl and stir until it's completely incorporated; using your hands is the best way to go. Transfer the mixture to the pan and pat it down so it's as flat as possible. Freeze the granola bars for30 minutes.
5. Remove the pan from the freezer and run a knife around the edge to release it from the pan. Tip the mixture out, remove the parchment paper, and cut into rectangles. If the mixture looks like it's going to crumble (I hear ya!) – cut bars directly from the pan.
Store the granola bars in the refrigerator.
*This recipe is adapted from recipes by Minimalist Baker and Government of Canada.
**If you end up with crumbly granola bars, break the mixture into small pieces, separating them with your fingers on a baking sheet. Toast in a 350ºF (180ºC) oven until the mixture is lightly browned, about 10 minutes or so, stirring it a few times during baking. Let cool, and store your delicious granola in an airtight container.
-Regular baked granola bars that people have had success with are those by Ina Garten, Smitten Kitchen, Melissa Clark, Alton Brown, and King Arthur Flour.