Peanut Butter Granola Bars
I have a mixed history with granola bars. The only ones I've ever made that were absolute perfection was when I had some peanut butter frosting leftover from a cupcake recipe that I was playing around with. I mixed in some other ingredients into a bowl of leftover frosting on the counter, perhaps more peanut butter, some nuts, a handful of oats, etc, until it looked like what I thought granola bar batter would look like, then pressed it into a pan and baked them. I took them on vacation with us and sitting on the beach in Provence, we enjoyed what turned out to be the best granola bars ever.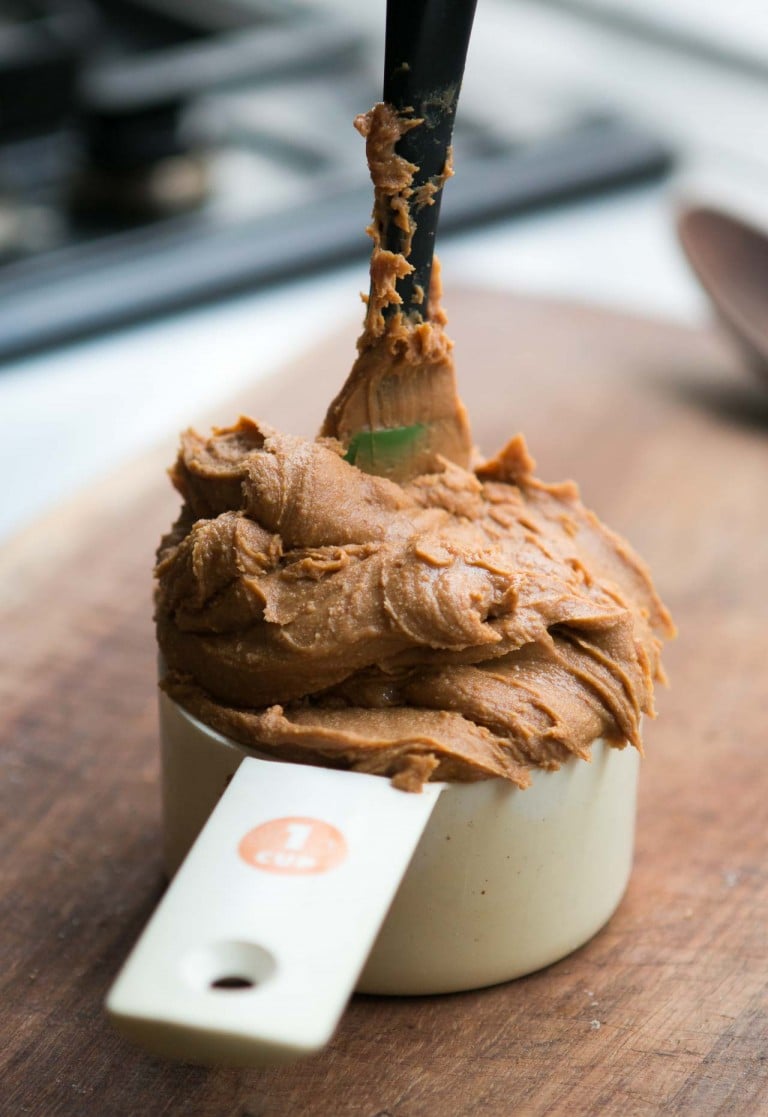 Since I was on vacation, and didn't have a kitchen, it wasn't the time to recreate them, but I did jot down some notes for when I got home. And sure enough, after multiple trying to get them right, again, I gave up.
In a lesson that you don't need to hold onto things, and that it's okay to enjoy something at that moment – then let it go – let it go, I did. And then, I didn't. I had planned to include les barres de céréales maison (sometimes known as barres énergétiques) as the last recipe in my book, as sort of an allegory of triumph over adversity. (Which seems to be a recurring theme in life…) But as sometimes happens, adversity just wins and you just gotta let it go, once and for all.
However I was recently doing a video on Snapchat while foraging around my apartment for snacks and treats while I was working, and a few people laughed and said they did the same thing. I plowed through a box of After Eight mints that I got for my birthday, with a speed that astonished Romain. I ripped through a few packets of chocolate-covered sunflower seeds that I got in New York, which frankly, aren't as good as I remember. Although that hasn't stopped me from eating them…
I've got tablets of bean-to-bar chocolates that I discovered in a box, that I hadn't gotten around to tasting yet. (Apologies to the people who sent them to me during my last trip to the U.S.!) And rice cakes and crunchy organic peanut butter, the former from my local natural foods store, and the peanut butter, from the U.S., when I want something salty, crunchy, and énergétique.
I do have a stash of peanut butter that I bought in France (see below, the FAQs) that I occasionally add to things like Thai dishes and so forth, so I can extend the life of my jar of hand-carried, organic, crunchy peanut butter. (Actually, on my last visit, I brought back two jars and generously gave one to a French/American friend. I thought she was going to cry when I handed it over.)
Procrastinating further, in between foraging for snacks around my apartment, I was leafing through Ovenly: Sweet and Salty Recipes from New York's Most Creative Bakery, one of my favorite collections of recipes from two wonderful bakers in Brooklyn, and came across these peanut butter and oat bars. I had all the ingredients on hand, the equivalent to the stars aligning for a home baker, so lined them all up and mixed up a batch.
I could see why the customers at Ovenly are addicted to them. I couldn't keep myself away either, and imagine they would make a nice, healthy breakfast treat for those who want something as a grab-and-go in the morning like Agatha and Erin said their customers do at their bakery.
I'll confess that I have been snacking on the bars when I get up in the morning too, while preparing my morning coffee and toast. (Which I do before the other-half wakes up because I don't want him to know that I am très américain and eat peanut butter bars, or chocolate chip cookies, first thing in the morning.) But to me, they really do shine most brightly as an afternoon goûter, or snack, as they say in France. I'm glad the recipe makes a lot because I have so much work to do, and it's nice to have a batch of these bars around for my copious breaks.
Peanut Butter Granola Bars
Adapted from
Ovenly: Sweet and Salty Recipes from New York's Most Creative Bakery
, by Agatha Kulaga and Erin Patinkin Erin and Agatha recommend Skippy peanut butter for these hearty granola bars, which also happen to be gluten-free for those avoiding wheat. I used peanut butter from one of the multicultural food supermarkets in Paris, in Belleville. (I am certain similar bars, like Jif, would work as well.) Natural peanut butter is quite oily and while I love it for snacks, I don't think I would use it in the recipe. (My French/American friend would probably cry if she saw me scraping a jar into a batch of granola bars!) Check the FAQs after the recipe for further notes and advisements.
4

cups (395g)

rolled oats

1 1/2

teaspoons

ground cinnamon

1 1/2

teaspoons

baking soda

1

teaspoon

ground ginger

1/2

teaspoon

salt

1/2

cup (80g)

chocolate chips

1/2

cup (45g)

unsweetened shredded coconut

1/2

cup (80g)

dried sour cherries

8

tablespoons (115g, 4 ounces)

unsalted butter

,

at room temperature

1 1/3

cup (235g)

packed dark brown sugar

1/4

cup (50g)

granulated sugar

3

large eggs

,

at room temperature

1 1/2

cups (375g)

smooth peanut butter

1

teaspoon

vanilla extract

flaky sea salt

,

for finishing
Preheat the oven to 350ºF (180ºC). Butter a 9 x 13-inch (22 x 33cm) baking pan.

Mix the oats, cinnamon, baking soda, ginger, and salt in a medium bowl.

In a small bowl, mix the chocolate chips, coconut, and dried cherries.

In the bowl of a stand mixer fitted with the paddle attachment, or in a large bowl by hand, beat the butter and brown and granulated sugars until light and fluffy. Add the eggs one at a time, scraping down the sides, to make sure they're well-incorporated.

Add the peanut butter and vanilla and mix, then add the oat mixture and mix on the lowest speed of the mixer for two minutes.

Mix in the chocolate chips, coconut, and cherries and stir until completely incorporated, making sure everything is well-mixed.

Scrape the dough into the prepared pan and smooth the top. Sprinkle gently with some flakes of sea salt and bake until the top is golden brown and the center feels just set when you press it lightly, 20 to 25 minutes. Remove from the oven and cool completely before slicing.
FAQs
What can I use in place of the coconut?
I'm not sure, but I suspect that almond flour would work, or maybe some extra ground oats, nuts or seeds, pulverized in a food processor or blender.
Can I use natural peanut butter?
I used regular peanut butter (the authors recommended Skippy) and suspect that natural-style peanut butter, or another nut butter, may be too oily. The brand I used in France was PCD made in Holland. (With 96.5% peanuts in the ingredients.) If you do try it with natural-style peanut butter, let me know how it turns out in the comments. But my recommendation is to use regular peanut butter. (UPDATE: Several readers used other kinds of peanut butter, and nut and soy butter, and reported good results in the comments below. You can scroll down to get their versions and read about their results.)
Where can I get unsweetened coconut?
Check your local natural foods store. If they don't have it, it's okay to use sweetened coconut. No need to reduce the sugar in the recipe, unless you feel like you want to. (Sorry, can't advise exactly how much you would have to do it by since I don't know how much sugar is added to the sweetened stuff. Another option is to soak sweetened coconut in hot water. When cool, squeeze out the excess – which helps remove most of the sugar. Lightly toast the coconut in a low oven until it's dry, and use that.)
Can I use something other than the chocolate chips?
Sure, you can chop up your own block of dark chocolate and use those pieces, or swap out another ingredient like nuts or seeds, by weight or volume.
Can I use another dried fruit in place of the cherries?
Yes, just swap another one for them, measured by weight or volume. If they are large, dice them first.
Can I make other substitutions?
Sure, but check out my post: Baking Ingredients and Substitutions.
How do I make this gluten-free?
Use oats that are certified as having been processed in a gluten-free facility.
Where can I get baking soda in Paris?
Check out my post: Ingredients for American Baking in Paris.
Can I use something other than rolled oats?
Sure. You can use another flaked grain, such as rolled wheat, barley or spelt. Check your natural food store for those, or other options.
What are rolled oats, and are they the same as steel-cut oats?
Rolled oats are flakes of oats, often sold in the United States as "old-fashioned oats." (Quaker is a popular brand.) Do not use instant oats, which are designed to cook fast and will become soggy. Steel-cut oats are not flaked and should not be used. For more on the differences, check out this post at The Kitchn.
How long will these keep?
Fortunately this recipe makes a lot because I like to snack. In spite of my constant lifting the lid off the box and grabbing one, what I didn't consume kept well for five days in an airtight container at room temperature. They could be frozen for up to two months.
Related Recipes and Posts
Salty, Deep-Dark Chocolate Brownies from Ovenly
Ovenly Salted Peanut Butter Cookies (Smitten Kitchen)
Chewy Granola Bars (King Arthur Flour)
Peanut Butter and Chocolate Chip Granola