That's the way the granola bar crumbles
I think the highlight of my Christmas dinner this year was when I entered the family kitchen, where I arrive bearing the dessert, and promptly dropped the the whole thing on the floor, where it shattered into a million pieces. I sighed, and guessed it was a fitting end to a fragmented year. Having seen more than my share of kitchen catastrophes in my time in various professional kitchens, like getting yourself stuck in a traffic jam, there's not much you can do once the damage has been done and I'm glad that I'm able to laugh them off.
This year, one of my catastrophic ideas was to tackle granola bars. I see recipes out there all the time—usually some sort of combination of oats, dried fruits, sometimes nuts, and invariably lots of sweeteners to hold everything together. I wanted to make a bar that was really grainy and nutty, without being overly chewy or sugary, but not one of my experiments turned out as I expected. And what I was left with after each of my attempts was a cutting board with some combination of oaty crumbs, miscellaneous dried fruits, dried out seeds of some sort, and a wounded ego.
But aside from my granola bars not working out – despite my best efforts, 2011 seemed like a pretty tough year outside of my kitchen as well. There was good news and bad from our neighbors in the Middle East, natural (and unnatural) catastrophes in Japan, we saw the continued polarization of America (which makes me wonder how much longer we're going to be able to use the word "indivisible" in our pledge of allegiance to each other), as well as a topsy-turvy financial roller-coaster that wound its way around the globe.
One thing I think we can all agree on in America is the proliferation of what are called "energy bars." As far as I know, no research exists that conclusively proves that these bars, many with the same ingredients in regular candy bars and the same number of calories as a Snickers bar, are any better or worse for you than a tablet of good chocolate. However I will just assume that all the oats and dried fruit make up for the overload of sweetness in some of them, and because they're handy for travel and so forth (and because I am a sucker for the promise of marshmallows, peanut butter, and chocolate chips as being part of a healthy snack), they get a pass.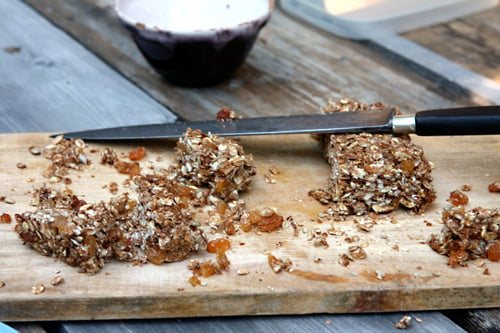 What I can't forgive them for are their dense, dough-like texture. And although I still grab a Clif bar whenever I'm back in the states and taking a plane, I've brought them back to Paris and stuffed them into my kitchen cabinet for a future trip. But then, I'll come across one of those chocolate chip-peanut butter or Smores bars whose expiration date had passed and pause before tossing it out.
(Although I've learned that expiration dates are sometimes 'suggestions' and not always followed, and I've been served a few past-dated food in my time, one which included a recent stint in a restaurant restroom where I was afraid that Catherine Deneuve – who was dining in the same establishment – was going to come into the restroom and find me curled on the tile floor in front of the toilet.)
Fortunately that didn't happen – well, the Catherine Deneuve walking in on me part – but what also didn't happen was me finding the perfect granola bar in 2011.
Interestingly, the French do have their own version of "energy bars" and I've slipped one into my carry-on for a trip, only to pull it out in a fit of ravenous hunger at the airport, only to find something that is about the size of a pack of gum. I've learned now to stuff a whole box into my carry-on since a whole box is roughly the equivalent to the size of one American energy bar. (No wonder we Americans have so much energy!)
But in terms of granola bars, now that we've reached the end of 2011, I've given up the idea, dragged my "Granola Bar" file into the trash…and am moving on. Not because I don't like granola, or granola bars – especially the ones with any combination of chocolate, peanut butter, and marshmallows in them – but because it's the end of the year and I've decided to start 2012 with a fresh, clean cutting board.
Lord knows, I've got plenty on my plate, or cutting board, and sometimes we cobble together what we do have, even if it's not picture-perfect, and make it work. Or realize that sometimes, well…that's just the way the granola bar crumbles. And that's that. And when it does, it's okay to just wipe the board clean, and start anew.