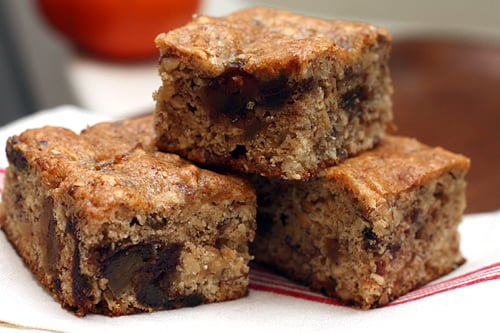 It's that time of year, when I evaluate a variety of things in my life (not all necessarily food-related…), including the contents of my refrigerator and pantry, and go through all the corners and crannies, and clear things out. When I visited the Barbès market a while back, I got an amazing deal on dates, so good that I had no choice but to buy a few kilos of them. Because one doesn't really want to eat a lot of dates all at once, I put some in a jar with some dark rum and let them sit in the back of my refrigerator. Where, of course, I promptly forgot about them.
Like Joe Yonan, who is Eating Down the Fridge, I'm trying to use up all those odds and ends lurking here and there at the moment, and decided to do some multitasking by making the Date Bars from The Homesick Texan Cookbook by Lisa Fain as well. Reading through the book, I recognized similar feelings of what it's like to live outside of your culture, but wanting to recreate familiar dishes from time-to-time in your adopted city, whether it be New York or Paris.
Aside from these date bars, there are plenty of Tex-Mex dishes in the book that I'm eyeing to use some of the Mexican ingredients that I've got crammed in my cabinets as well, such as green chile rice, west Texas carne asado, and at some point, I'm going to have to finally take the plunge and drum up the precious amount of euros needed for a bag of masa harina in Paris and make my own tortillas (page 359).
This Date Bar recipe couldn't be easier although due to their "Texas-size" heft, I could classify them more as a snack cake than bars. But don't let their simplicity fool you – whatever you call them, they're absolutely delicious.
Date Bars
Adapted from
The Homesick Texan Cookbook
(Hyperion) by Lisa Fain You could easily swap out another dried fruit or nut for what's called for, whatever is available where you live, or whatever you need to use up in your own pantry. Although the sticky dates really provide the best texture and I strongly recommend using them.
8

ounces (1 1/2 cups, 225g)

diced pitted dates

1

tablespoon

rum

1

cup (140g)

flour

1 1/2

teaspoons

baking powder

1

cup (200g)

sugar

1/2

teaspoon

sea salt

2

large eggs

,

at room temperature

1

tablespoon

melted butter

,

salted or unsalted

1

tablespoon

hot water

1

teaspoon

vanilla extract

1

cup

toasted pecans

,

chopped
Toss the dates in the rum and let them sit for a few hours.

Preheat the oven to 350ºF (175ºC). Line a 9-inch (23 cm) square pan with foil and coat the inside with non-stick spray.

In a small bowl, whisk together the flour and baking powder.

In a large bowl, whisk together the sugar, salt, and eggs until smooth. Mix in the butter, hot water, and vanilla, then stir in the flour mixture. Use a spatula to stir in the dates (and any liquid) and the pecans.

Scrape the mixture into the prepared pan and bake for 25 to 30 minutes, or until the top is golden brown and a toothpick inserted in the center comes out clean.

Let date bars cool, then lift out the bars. Peel away the foil and cut into squares.
Notes
Storage: The bars will keep for up to four days at room temperature, or can be frozen for up to two months.
Related Recipes and Posts
Salted Butter Chocolate Chip Cookies
Why you should use aluminum-free baking powder
How to tell if baking powder is still good