This is my go-to granola. I don't make many others, except for my chocolate chip – peanut butter granola, but this is the one that I always keep a batch of on hand because it's hands-down the best I've had.
To keep it on the healthy side, this granola recipe uses apples to replace the generous use of oil found in other granola recipes.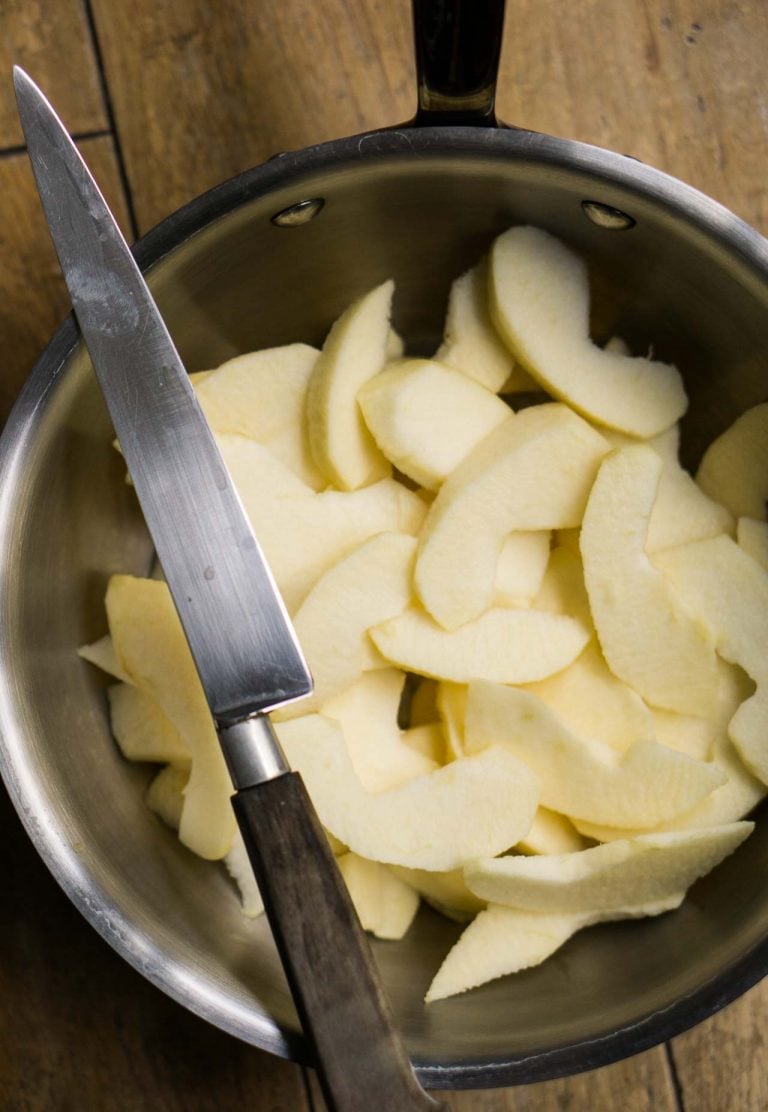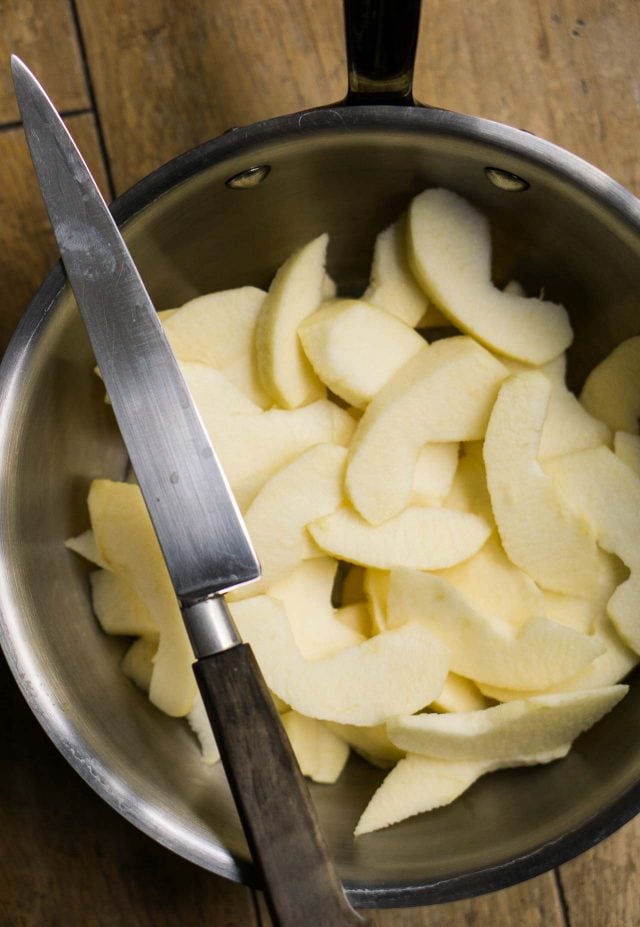 I had picked a bunch of apples in the countryside and put a few to good use in this granola. The rest? They went to apple jelly, speaking of breakfast. Yet as the seasons passed, I found that I could use other unsweetened fruit purees instead of the unsweetened applesauce that the original recipe I adapted from the lovely Nigella Lawson calls for. Peach, nectarine, pear, and banana puree have all been successfully stirred into the mix.
I sometimes use a multi-grain blend which I buy at the health food store called flacons 5 céréales, which looks similar to old-fashioned rolled oats but is a mix of wheat, oats, rye, rice, and barley. You can use regular rolled oats, but I think the mix makes the granola a bit more lively. I've used toasted and untoasted; both work fine. Of course, you can replace the almonds with walnuts, hazelnuts, pecans, or cashews.
The other good thing about this granola is that It gets nice and clumpy, but not so much that you feel like you're munching on a gravel pit. It's also low in oil and barely sweet. I can't resist nibbling on the big pieces the moment I pull the granola out of the oven. But really, it's best to let it cool, when it becomes crispy and crunchy, as the best granola should be. And this is it.
Granola
Adapted from
Feast
by Nigella Lawson
5

cups (450g)

multi-grain flakes or old-fashioned rolled oats

3

cups (375g)

almonds

,

coarsely chopped

1

cup (125g)

sunflower seeds

3/4

cup (100g)

untoasted sesame seeds

1/2

cup (100g)

packed light brown sugar

2

teaspoons

ground cinnamon

1

teaspoon

dried ground ginger

1

teaspoon

sea salt

3/4

cup (180g)

unsweetened applesauce

,

or another unsweetened fruit puree

1/3

cup (100g)

rice syrup

1/4

cup (60g)

honey

2

tablespoons

vegetable oil
Preheat the oven to 300ºF (150ºC).

In a very large bowl, mix together the flaked grains or oats, almonds, sunflower and sesame seeds, brown sugar, cinnamon, ginger, and salt.

In a small saucepan, warm the fruit puree with the rice syrup, honey, and oil.

Mix the fruit mixture into the dry ingredients until thoroughly dispersed, then divide and spread the mixture evenly on two baking sheets. (If you have ones with sides, often called jelly-roll pans, use them.)

Bake the granola, stirring every ten minutes, until the granola is deep golden brown between 30 and 40 minutes. Do start checking for doneness a bit before the 30 minute mark. I've found that sometimes the granola cooks more quickly than 30 minutes, but generally takes between 30 and 40 minutes.

Remove from oven, then cool completely.

Store the granola in a large, airtight container. It will keep for up to one month.
Related Posts
Ingredients for American Baking in Paris
When to Use (and Not Use) Corn Syrup
White Chocolate & Sour Cherry Scones
Peanut Butter Cookies with Salted Butter Caramel