Blog Notes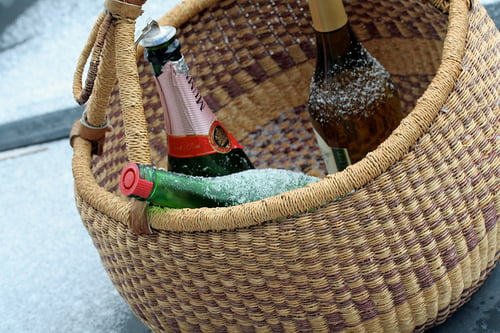 Links Page
There's a splashy new look to my Links page. Voted off the island is the long list of blogs with annotations, and now you'll find an ever-changing feed of blogs and websites I read and find interesting. It will change as the various sites update, all by its lonesome, so you can check in there as frequently as you can (well, when the boss isn't looking…) and see what I'm reading. And hopefully you'll find and discover more sites about food and Paris.
(Thanks to Elise of Simply Recipes for the idea, and her tutorial. And to my web designer, Jesse, who did in probably ten minutes what would've taken a tech knucklehead like me ten hours.)
Sharing is Caring
You might, or might not, notice that at the end of each post is a little green zig-zaggy Share This icon. If you want to share a post on any of your favorite social networking sites, such as Stumbleupon, Digg, and Facebook, or email a post to someone, you can do it with a single click. Ok, I think it may be two clicks. But still, that's not too much to do. Is it?
I'm not only a fan of doing this, but I'm the President (at least around here) and do this frequently with sites I like, sharing them on my Facebook page, so I practice what I preach, spreading the seeds of link love far and wide.

Speaking of Linking
Some readers like to leave links in the comments section, which is fine, especially if the link leads to something pertaining to the post. But some of them are quite l-o-o-o-n-g, with a capital L. And when they're too long, they can't be read or clicked on.
So if you can, it's best to code them as a hyperlink, which means that readers can click on the words, which'll take them to the link. There's a couple of tutorials to learn how to do that, at Food Blog S'cool and Eggbeater.
E-mails
I love hearing from you, and appreciate all the comments that are left here. But I'm unable to answer all the e-mails and queries. (And I just found 686 messages patiently awaiting in my spam folder…mon dieu!…which have been lurking in there for weeks and weeks.) If you have a comment about a particular post, it's best to leave that information there. And believe me, the first thing I do in the morning, and the last thing I do at night, is read the comments on the site. I've even been known to get up in the middle of the night and read comments after nature's called, too.
If you have a question about Paris, first look in my FAQ and the My Paris pages. Or use the search engine at the top. There's a lot of information on the site, from bakeries and chocolatiers I like to visit to transit information and hotel suggestions, which hopefully you'll find helpful.

Subscribe and E-mail Notifications
You can subscribe to the site and have posts e-mailed to you. Simply enter your e-mail address in the field in the far right sidebar where is says 'Subscribe'. To avoid things going into your spam folder (…ummm…) you might need to mark messages from my domain as 'not spam'.
To receive my newsletter, which has pretty pictures, silly stories, respectable recipes not found on the site, plus late-breaking news, you can leave your e-mail address in the field just beneath that, in the right sidebar.
In neither instance is your e-mail address shared or used for any other purpose.
Second Paris Chocolate Tour for 2009 Added
Speaking of my domain, due to overwhelming demand, my upcoming Paris Chocolate Tour with Mort Rosenblum in May is sold-out and there's a waiting list, so we've decided to probably add an additional week in April of 2009. Priority is going to be given to those who are on the waiting list, but if you're interested in coming, depending on space, there might be additional openings.
With airfares dropping, now might be a good time to visit Paris before the summer, when prices rise substantially. For further inquiries or to get on that list, use the contact link on my Tours page, at the end of the tour description.
Lastly….
Thanks to all of you who've been reading the site and enjoying it. Since the redesign, its been much easier to update for me and I hope cleaner to read and navigate for you.
I'm really happy to have a place to share my stories about Paris, baking tips, recipes, favorite things I find around to eat, and other goofy stuff.
I really do appreciate you folks who stop by regularly and let me share my tales…so thanks to you all!
Okay, One More Thing…
I was recently struck by the story of a 17-year old boy who started a project to buy fuel-efficient stoves for the people who live in refugee camps in Darfur. In order to cook food, the destitute women and young girls have to leave the camps and walk for hours to collect twigs of wood for fires. During their search, many of them have been assaulted or killed.
Spencer Brody's project, Stoves for Darfur is working to supply these women and their families with stoves that are very fuel-efficient, by up to 75%, which means the women have to make far fewer dangerous expeditions out of the camps. For only $30 per stove, it's an amazing project, especially when you consider a teenage boy is the brainchild behind it.
Unfortunately the genocide doesn't seem to be ending soon, and although we usually briefly see these refugees on the news while flipping channels, it's very easy to help. (What Is the What is an outstanding book, which puts a human face on the situation in Sudan, and is a must-read.) Check out his site and for less than the price of a round of cocktails, you can make a huge difference in the quality of life for others who have nothing. I bought two, so far.
You too can do it! Purchase a Stove here.