Cold Noodles with Peanut Sauce
Contrary to popular belief, people who work in restaurants preparing food rarely have time to eat. And even though the line cooks could sit down after they were done feeding everyone their first and main courses, that was the the most hectic time for us pastry folks since all the dessert orders would come tumbling in.
Bakers are known for eating things like butter sandwiches just because bread and butter are readily available and you don't need to sit down to eat it or ask the line cooks if they had time to made you something more nutritious. When I left the restaurant business, I made one promise to myself: I would never again eat standing up or just mindlessly jam food in my craw. So when people ask why so many pastry chefs and professional bakers aren't enormous—well, that's why.
For a few years, I was the pastry chef at at the Asian restaurant, and white rice became my "bread" and peanut sauce replaced the butter. I'd never had unfettered access to rich, spicy peanut sauce and man, in that stuff good!
(I learned a few years back in Belgium that it's amazing on French fries. All I can say is thank goodness the restaurant wasn't one of those fusion places, serving something like Belgian-Asian cuisine. Otherwise I couldn't fit into my skimpy Paris apartment.)
The owner of the restaurant was Bruce Cost and I've worked with quite a few very talented people, but he is the best cook I've ever met. Seriously. He would stand over the giant wok with the flames racing up against the side of it, calmly adding in spices and whatever else he was cooking, and stir it with a reserved calm.
When he was done, he would scrape whatever dish he had prepared onto a plate, often with a spicy or other sauce made from the bottles of chili oils, soy and fish sauces, and Shaoxing wine he poured in without measuring, and hand it over. You'd take a bite and thought you'd gone to culinary heaven. It was from him that I learned the extraordinary depth and flavors of authentic Chinese cuisine, and how they differ from what's normally offered. He once said to me, "Just because you're from a country doesn't mean you're a good cook of that country's food. There's a lot of bad Chinese cooks in China and bad American cooks in America." Which is very much true.
The sticky ribs he cooked in dark, thick black vinegar and caramelized until they were tasty little sticks of pork candy which I'd gnaw off the bone like a madman I can still taste. And to this day I cannot eat spicy Kung Pao Chicken anywhere because I know it won't compare to his. But the shrimp toast were my downfall; imagine a paste of very fresh shrimp (never frozen), smeared on a raft of white bread, then deep-fried until golden brown and crispy on the outside, with the taste of top-quality fresh shrimp, not the rubbery stuff you normally get, when you bit into one.
The line cooks would have to make them before the hectic service started and since they didn't keep until the next day, at the end of the night they'd fry the remaining ones up for the staff. I will not divulge how many I ate during my time at the restaurant (which has since closed), but it was a number somewhere between 100 and 1000.
After I'd left the restaurant business, I was planning a trip which involved the dreaded swimsuit. Having been somewhat slim most of my life, I looked down one day and noticed something new hanging over the waistband of my swimsuit and I could only point a finger at the spicy, lumpy, rich ladles of peanut sauce that I was spooning generously over bowls of white rice for a quick lunch on-the-go, and plates of deep-fried shrimp toasts for dinner.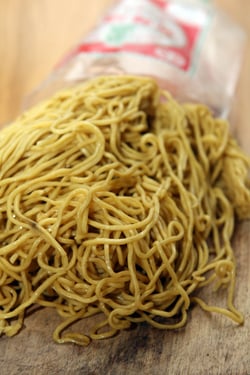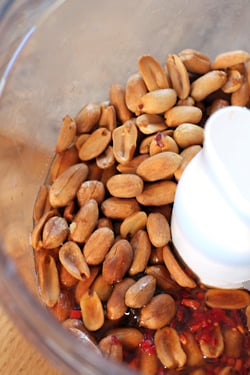 Like a lot of 'foreign' recipes, the ingredient list may look a little daunting (and require a trip to an ethnic market), but once you have those ingredients on hand, you can make a number of dishes. Living in Paris, a lot of these things one might think would be elusive to track down. But I'm always up for a quick trip to the Belleville neighborhood, and a walk up and down the rue de Belleville can yield everything from red-hot chili peppers to exotic spices.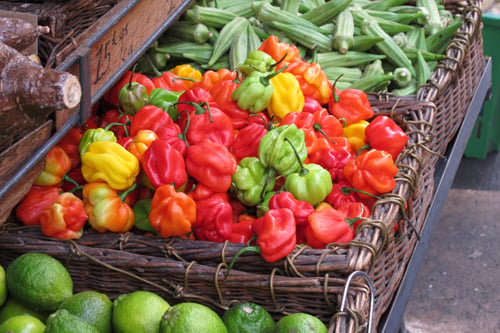 Once you gather the ingredients, most of the work is done by a food processor. Speaking of easy, I serve this with chicken and cucumbers and a few sprigs of cilantro, and that's it. At the restaurants I also learned a really simple way to cook the chicken breasts, and they always come out perfectly cooked with absolutely zero fuss.
Of course, vegetarians could make this without the meat and use fried tofu or some still-crunchy steamed vegetables. Or as they say in France, vegetables cooked "California-style." Just be aware that keeping a bowl of this in refrigerator is a little dangerous. And remember that peanut sauce isn't a replacement for a real meal, it's an accompaniment. But one could argue that the boneless chicken breasts and cucumbers offset some of the richness of the sauce, although my swimsuit might say otherwise.
Peanut Sauce
This recipe makes about 2 cups (500ml) of peanut sauce, which is more than you'll need for four servings. But it's pretty great on white rice as an afternoon snack or French fries. The chicken needs to be hand-shredded since the uneven surface makes it easier for the peanut sauce to adhere to the meat. Toast the peanuts in a 350ºF (180ºC) oven on a baking sheet for about twelve minutes, stirring a few times during baking, until they're well-toasted.
2

cups (300g)

dark roasted unsalted peanuts

1/2

cup (125-180ml)

to 3/4 hot black tea

1/2

cup (125ml)

oil

,

preferably peanut (see Notes) or coconut milk

1

tablespoon (10g)

peeled and minced fresh ginger

2

cloves

garlic

,

peeled and minced

2

small chiles

,

seeded and finely chopped

1 1/2

teaspoons

kosher or sea salt

1

tablespoon

light or dark brown sugar

1 1/2

tablespoons

soy sauce

1/2

teaspoon

ground Szechuan pepper

,

(if available)

1/4

cup (60ml)

fresh lime or lemon juice

2

tablespoons

toasted sesame oil

1 1/2

teaspoons

chili paste or chili oil

1/3

cup (15g)

packed cilantro sprigs or chives

1

tablespoon

fish sauce

1

pound (450g)

wide Chinese noodles

,

often called Shanghai noodles (see Notes)

2

chicken breasts

,

boneless or on the bone

1

large cucumber

sprigs of cilantro
Put the peanuts, 1/2 cup (125ml) of hot tea, and the oil or coconut milk in a blender.

Turn the machine on and let it run for a few minutes until the peanuts are almost smooth. Then add the remaining ingredients and let the machine run until the sauce is pureed.

Check the consistency. If it's too thick for your liking, add up to another 1/4 cup (55ml) of tea.

Cook the noodles in a pot of boiling salted water according to the time on the package. (I usually cook them a little less, since I like them chewy.)

Once done, drain and immediately run cold water over the noodles in the colander, turning them with tongs to cool them as rapidly as possible. Toss the noodles in a drizzle of oil and set aside.

Put the chicken breasts in a medium saucepan, cover with cold water and add enough salt to estimate the saltiness of sea water. Cover and bring the water to a boil.

Once the water comes to a boil, turn off the heat and leave the chicken breasts in the water for twenty minutes, covered. After twenty minutes, remove the chicken breasts from the liquid and let sit until cool enough to handle.

Shred the chicken breasts by hand into bite-size strips.

Peel the cucumber. Cut it in half lengthwise then remove the seeds with a spoon. Slice the cucumber diagonally.

Divide the noodles between the four bowls, top with chicken and cucumbers, then add a few generous, heaping spoonfuls of peanut sauce. Garnish with sprigs of cilantro and encourage guests to mix everything together in their own bowls.
Notes
Storage Tips: The peanut sauce can be made up to one week in advance and refrigerated, or frozen for up to two months. The chicken breasts and the noodles can be cooked and refrigerated up to one day ahead.
Notes
Peanuts versus Peanut Butter: Quite likely a number of you are wondering if you could use peanut butter which is made from already ground peanuts. I haven't tried using it with this recipe, figuring since I have to grind everything up in a machine anyways, I may as well use freshly roasted peanuts.
When I worked with Bruce Cost, the cooks deep-fried the peanuts, which were delicious but a bit impractical for many home cooks. So I roast my own raw peanuts in the oven, but you can use store-bought unsalted roasted peanuts as well. For those who wish to experiment with peanut butter, I'd say use the same quantity of peanuts, then add enough oil to get it to a consistency you like. I linked to a recipe below that uses peanut butter as a base.
Fish Sauce: This is one of those ingredients that really makes a different. Available at Asian markets, a dash of fish sauce adds a je ne sais quoi to many dishes. You'll be surprised what it adds to sauces like this. Three Crabs is one good brand. But if you don't have fish sauce you can leave it out. There is a link to a recipe for vegetarian 'fish' sauce below.
Peanut Oil: I really like Lion & Globe brand peanut oil, which has the taste of peanuts in it, unlike other neutral tasting oils. It's available at markets that specialize in Asian foods. If unavailable use another peanut oil or another oil.
Chile Peppers and Spicing: Because everyone has different heat tolerances and chiles vary depending on where you live (the red ones I used were called, simply, "Petit Piment Rouge" (little red pepper). I sent a picture of two of them to my friends Todd and Diane and asked what they were called, and they said they have similar peppers in their garden which were red Serrano and red Jalapeño chiles. Both were quite hot when I tasted them before using.
But it's not necessary to get caught up in the nomenclature, especially for those of us that live in Paris where are choices are limited. Feel free to make your own call on what chiles you wish to put in your peanut sauce. I tend to like things spicy, but use just one chili pepper and see how it like it before adding more, if you're unsure of your chiles.
Shanghai Noodles: These are the widest wheat flour noodles (Cu mian) that you'll find in the refrigerated section of Asian supermarkets. Look for ones made locally, if possible, or ones without additives. Some do have natural coloring agents. Of course, you can substitute another noodle, including gluten-free noodles. But do try to find the widest round noodles you can and don't overcook them.
Related Links and Recipes
Vegan Fish Sauce (The Kitchn)
How to Buy Fish Sauce (Viet World Kitchen)
Perfect Peanut Sauce (Cooking with Amy)
Fresh Ginger Ginger Ale (by Bruce Cost)
Brocolli Beef Noodle Stir-Fry (Steamy Kitchen)